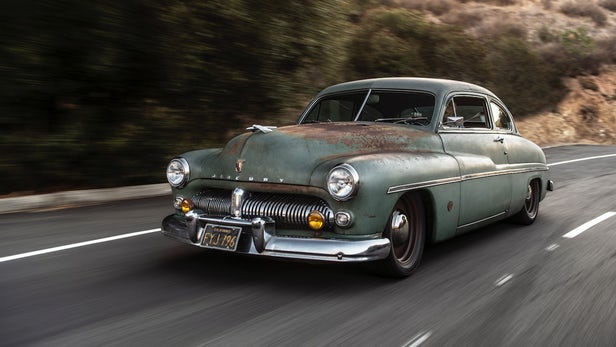 We've seen a number of electrified classic projects from companies like Zelectric Motors, and usually they involve dropping a state-of-the-art electric powertrain into a meticulously reconditioned original or freshly built replica. But Los Angeles-based Icon does things a little differently, preserving the aged look and patina of a 1949 Mercury that's been around the block more than a few times, while updating key components. Most notable among those components is the 200-mile (322-km), 400-hp (298-kW) dual-motor electric powertrain.
Icon's Derelict program takes classic vehicles from just about any era and reinvents them into practical, modernized drivers, all without altering the original patina or exterior trim that give them character. These driving contrasts end up looking a half-step from the junkyard but humming along as if they just rolled off the lot for the very first time.
With its latest Derelict build, Icon sourced a 1949 Mercury Coupe from the original owners in Southern California, rolled its sleeves up and got to work. The exterior still looks like it was pulled just seconds ago from a dusty barn after decades of idleness, but Icon has done some serious work down below those big, rusty curves. It fully disassembled the body, replacing all rubber parts and adding in insulation and sound-deadening materials throughout before carefully putting it back together, mindful of not altering the exterior look. It also updated the chassis with help from Art Morrison Enterprises and added in Brembo brakes.
The biggest modification, of course, is the fully electric powertrain, co-engineered with electric vehicle solutions company Stealth EV, which has also collaborated with Zelectric. The two companies went with a transmission-free, dual-motor layout that develops up to 400 hp (298 kW) and 470 lb-ft (637 Nm) of torque.
The 85-kWh battery pack from Tesla provides for a range between 150 and 200 miles (241 and 322 km), and the electrified Mercury can hit a top speed of 120 mph (193 km/h). The battery modules have been split up around the vehicle for better weight distribution. The car includes a CHAdeMO 125A fast-charge plug below the tilt-away front license plate holder, along with a Tesla Supercharger plug behind the fuel door for on-the-move power-ups.
The electric motors fit entirely in the transmission's footprint, leaving the engine bay open for an extra touch of style. Here, Icon added a V8-styled aluminum housing around the battery controllers and Tesla modules. It even covered the wiring in custom-made cloth-braided sheathing to stay true to the vintage look.
Icon followed the same pattern of "new equipment, classic looks" inside, using vintage-appropriate fabrics and leathers. The power windows are activated via the original hand cranks; digital gauges feature classic graphics and framing; and old-school switches and knobs operate modernized components.
Icon is showing the 1949 Mercury EV Derelict at this week's SEMA Show. Take a closer look at the project in our gallery.