Why North American Lithium Player Usha Resources (TSXV:USHA) (OTC:USHAF) is Focusing on Promising Nevada Claims Ahead of New Resource Estimates Anticipated in 2023
We're sitting at the precipice of a lithium explosion, with the white metal's high demand and prices sending mines into overdrive.[1]
According to the World's 2nd Largest Lithium Producer, Sociedad Química y Minera (SQM), momentum for the battery material will continue into 2023, predicting another 40% increase in demand.[2]
And that's being CONSERVATIVE, because according to the International Energy Agency (IEA), there are two possible scenarios, which they've dubbed: the Stated Policies Scenario (STEPS), and the Sustainable Development Scenario (SDS)—each skyrocketing demand by 10-30x.[3]
In 2022 the Office of the White House TWICE signaled the importance of Securing a Made in America Supply Chain for Critical Minerals with the hopes of Driving US Battery Manufacturing and Good-Paying Jobs.[4],[5]
Honing their focus towards the battery material, Usha Resources Ltd. (TSXV:USHA) (OTC:USHAF) is aggressively embarking on developing out a lithium resource in Nevada, USA, backed by one of the world's most sought after QPs in the industry, whose experience includes world class lithium brine projects such as Sal de Vida, Pasto Grandes, and Cauchari-Olaroz.
Even the World Bank has stated it expects copper and lithium prices to remain high due to demand related to the energy transition.[6]
The narrative surrounding securing domestic lithium supplies is already gaining momentum, especially while lithium hungry China works its way through some of the world's largest lithium locations, such as Australia and the Lithium Triangle in South America.[7],[8]
The Government of Canada has seen the situation become serious enough to order three Chinese companies to divest their lithium mining holdings within the country.[9] Meanwhile, Canada's struggling to keep up with the green incentives coming from the USA,[10] pushing the North American lithium scene more towards being solely focused in the United States.
And now it's official, the supply chain for electric vehicle batteries is coming to America[11]—meaning it's GAME ON.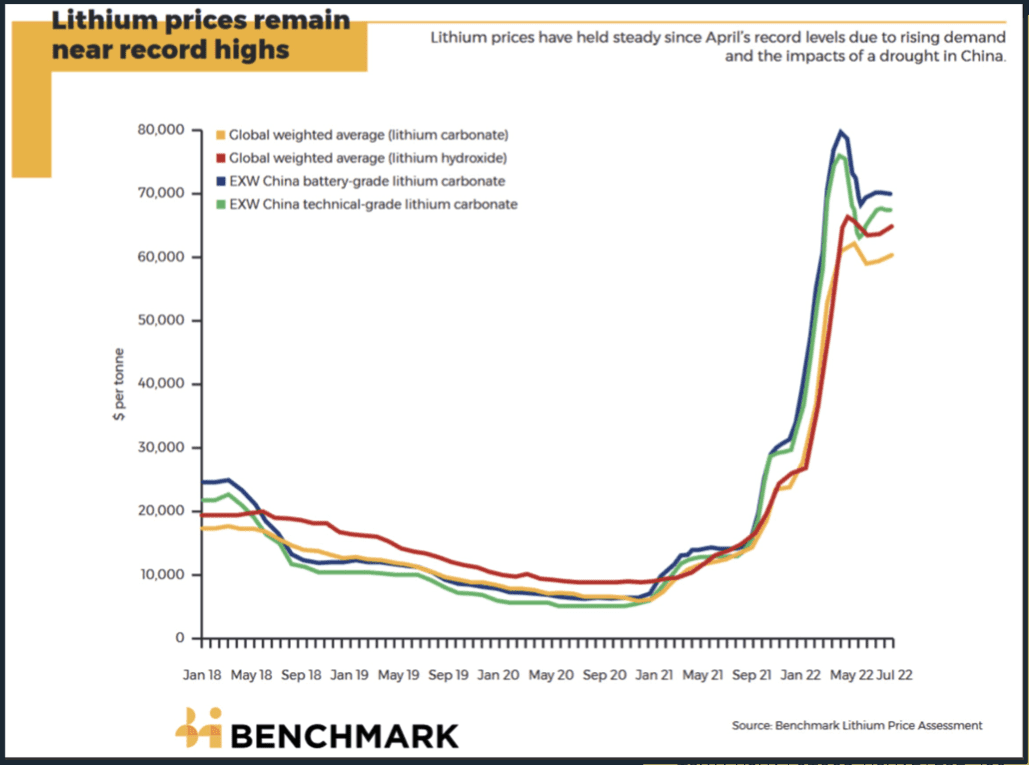 Given its timing right at beginning of a campaign to generate a resource estimate in 2023, Usha Resources Ltd. (TSXV:USHA) (OTC:USHAF) is currently at a crucial catalyst point in its story, with plenty of opportunity to look forward to ahead.
Let's now dive deeper into why Usha Resources Ltd. (TSXV:USHA) (OTC:USHAF) is positioned to be an important player in the domestic lithium supply chain shift to come…
7 Reasons Investors Should HONE IN on Usha Resources Ltd. (TSXV:USHA) (OTC:USHAF)
1  Lithium Demand and Prices Continue to Gain Momentum: The IEA predicts a jump in demand of 10-30x by 2040. There is also a significant lithium supply gap emerging that's expected to grow to over 2 Mt in 2030 and growing.
2  Exceptional Assets in Mining Friendly Jurisdictions: Ranked as the World's #1 Mining Jurisdiction by the Fraser Institute as recently as 2020 and still in the Top 3 in 2021[12], there are a lot of eyes on Nevada as the center of lithium activity in the United States, as it still currently hosts the country's only producing lithium operation. Usha also has projects in Arizona (#2) and Ontario (#20).
3  Fully-Funded with Tight Capital Structure: With just ~35.6 million shares outstanding (70%+ of which are owned by insiders, management, and strategic shareholders). Usha is fully-funded to complete its drilling programs, and to develop out its resource at its Jackpot Lake Project, where the company recently more than TRIPLED its land position.
4  ESG Friendly: By contributing more lithium to the market help assist in the achievement of greater macro climate goals, Usha's favourability in terms of ESG goals are improved. As well, the company is exploring the possibility of using Direct Lithium Extraction (DLE) methods that are being championed by the US Department of Energy.
5  Early-Mover Timing: At the company's current ~C$7M market cap, USHA's peers are trading at +5X ahead of their 2,700-metre drilling program planned at Jackpot Lake, and an anticipated resource calculation.
6  Strongly Qualified Team: The Usha management team consists not only of experienced professionals with strengths in finding and financing, but is also backed by highly sought after Qualified Persons, including the mind behind Tier 1 assets such as Galaxy's Sal de Vida, Millennial Lithium's Pasto Grandes, and Lithium America's Cauchari-Olaroz Deposits.
7  Share Dividend: As a nice bonus for all of its investors, Usha's portfolio also includes a pair of other valuable assets beyond Jackpot, including the Nicobat Nickel project that provides a 20% "share dividend" to shareholders at no extra cost to them, as long as shares are obtained before a record date that will occur in early 2023.
---
"In both scenarios, EVs and battery storage account for about half of the mineral demand growth from clean energy technologies over the next two decades, spurred by surging demand for battery materials… Mineral demand from EVs and battery storage grows tenfold in the STEPS and over 30 times in the SDS over the period to 2040." – International Energy Agency

---

Lithium Demand Predicted to Skyrocket
The International Energy Agency projects a 13x increase in demand for lithium between 2020-2040, based on policies in place in May 2021.[13]
According to S&P Global Market Intelligence's Lithium and Cobalt September 2022 Commodity Briefing Service, there's a significant lithium supply deficit forecast to start as early as 2024 due to sustained demand growth and a lack of producing mines.[14]
Within the report, S&P stated that assuming aggressive development of all 53 of the lithium projects currently in the pipeline, there will still be a demand gap by 2029, requiring $37.8 billion of capital investment to meet a deficit of 605,000 tonnes of LCE in 2030.
It's important to note that S&P also states Argentina, Canada, and the USA host more than half of the projects in the post-PEA pipeline.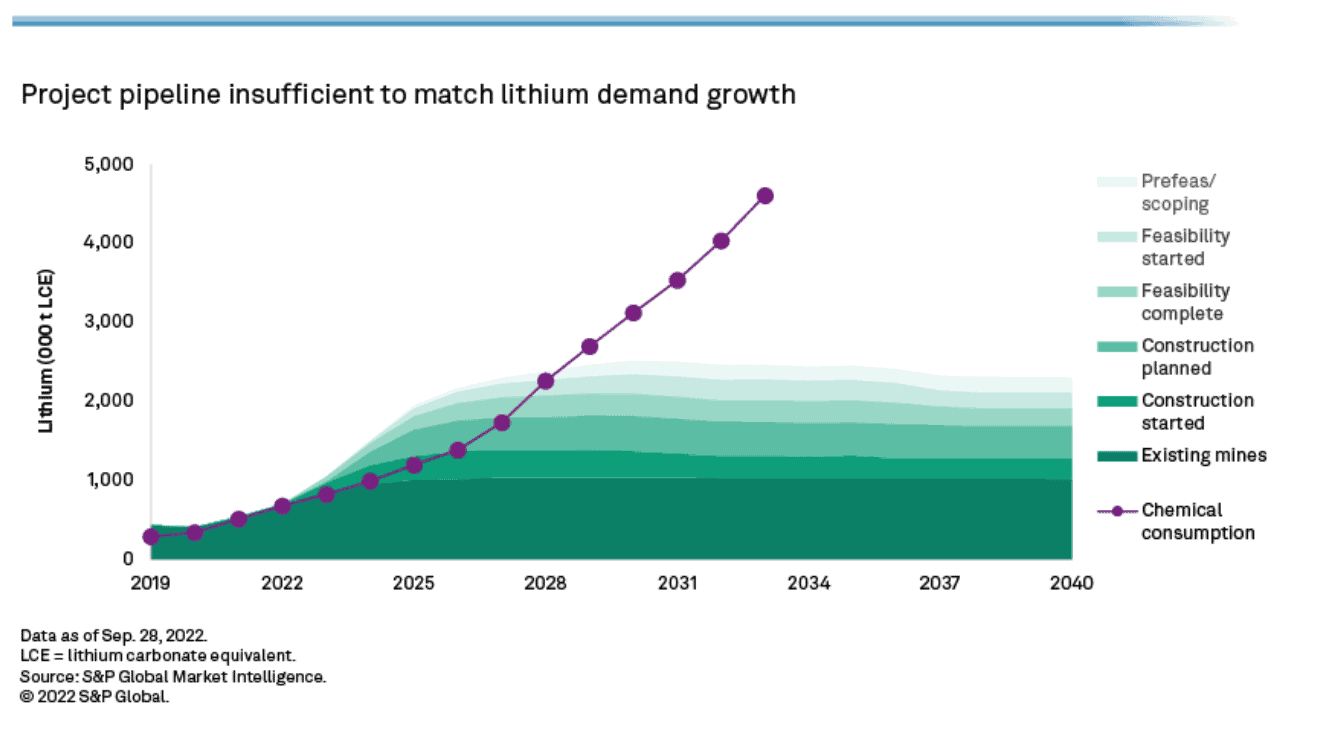 Back in June 2021, the Federal Consortium for Advanced Batteries (FCAB) developed what it called the National Blueprint for Lithium Batteries 2021-2030.[15]
According to the USGS, the country has just 3.6% of global reserves,[16] meaning U.S. access to the critical mineral is vital to the country's sustainable energy plans, with bipartisan funding for infrastructure already in place:[17]
$7B allocated to fund improvements in the country's battery supply chain;
$320M in funding for critical minerals mapping;
$140M for the U.S.'s first rare earth element and critical minerals extraction and separation refinery
Lithium prices have already shot up more than 500% since mid-2021.[18]
JACKPOT, JACKPOT, JACKPOT!
What Usha Resources Ltd. (TSXV:USHA) (OTC:USHAF) has in its flagship Jackpot Lake Project is a drill-ready lithium brine project that's located only 35km NE of Las Vegas, Nevada.
After more than TRIPLING its land position, USHA's flagship Jackpot Lake Project is now comprised of 442 optioned and staked mineral claims totaling 8,714 acres (approximately 35.3 km2).[19]
The expansion of the land position aligns with how Usha's project is targeting an underground lake with a total closed basin of approximately 10,900 acres—as identified by gravitational surveying. Modelling indicates that the target comprises the entirety of the Company's existing claim block, is shallow, and is approximately 450 metres thick, making this a prime candidate for development if lithium is discovered.

And as Usha begins to learn more about the value of what they have underneath them at Jackpot Lake, it's worth noting that the property is open for expansion in all directions, affording the potential for total control over the basin.
The Jackpot Lake Project's geologic setting is similar to that of Albemarle's Silver Peak Nevada Lithium Mine, the only producing lithium mine in North America, which has operated continuously since 1966, where sediments from lithium‑rich surrounding source rocks accumulate and fill the deposit leading to a potential concentration of lithium brine due to successive evaporation and concentration events.
Considering the elevated lithium concentrations identified in historic soil samples, such events could theoretically concentrate lithium as rainwater passes through these materials, developing enriched brines at depths.
Usha Resources Ltd. (TSXV:USHA) (OTC:USHAF) has permitted 2,700 metres over six holes and has commenced a maiden drill program with the goal of defining a 43-101 resource. The Project target was identified based on geophysical studies and 129 core samples collected by the USGS with an average lithium value of 175 ppm with a high of 550 ppm. Samples from the first hole of its drilling program have identified lithium is present at a grade of up to 300 ppm within ten samples collected from shallow surface soils (<442 ft).
(For Reference: The present average grade for Albemarle's project is approximately 121 ppm.)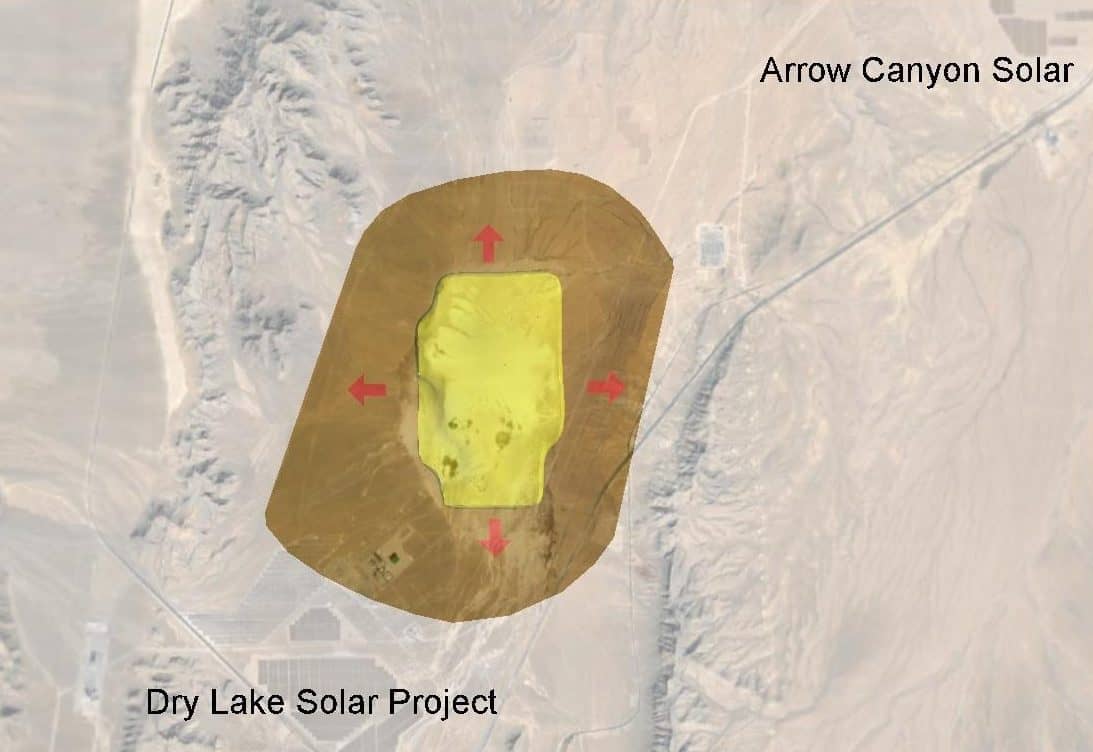 This is key, because from a geological standpoint, Jackpot Lake's deposit style is similar to Albemarle's Silver Peak Lithium Mine—the ONLY operating lithium mine in the United States today.
Nearby surrounding mountain formations are known to contain clay-rich altered volcanic units with reported samples as high as 3,761 ppm Li.
To date there has been 129 samples by the USGS, with an average Li value of 175 ppm and a sampled high of 550 ppm. To put that in perspective, the current grade of Albemarle's resource is 121 ppm.
Now the ball is in Usha's court, and they're fully financed for their near-term goals, including completing a 43-101 resource estimate by early Q2 of 2023.
With the contractor's site visit already completed, drill permits granted, and equipment mobilized, it's official that USHA's drill rig is on site[20], and drilling is underway NOW.[21]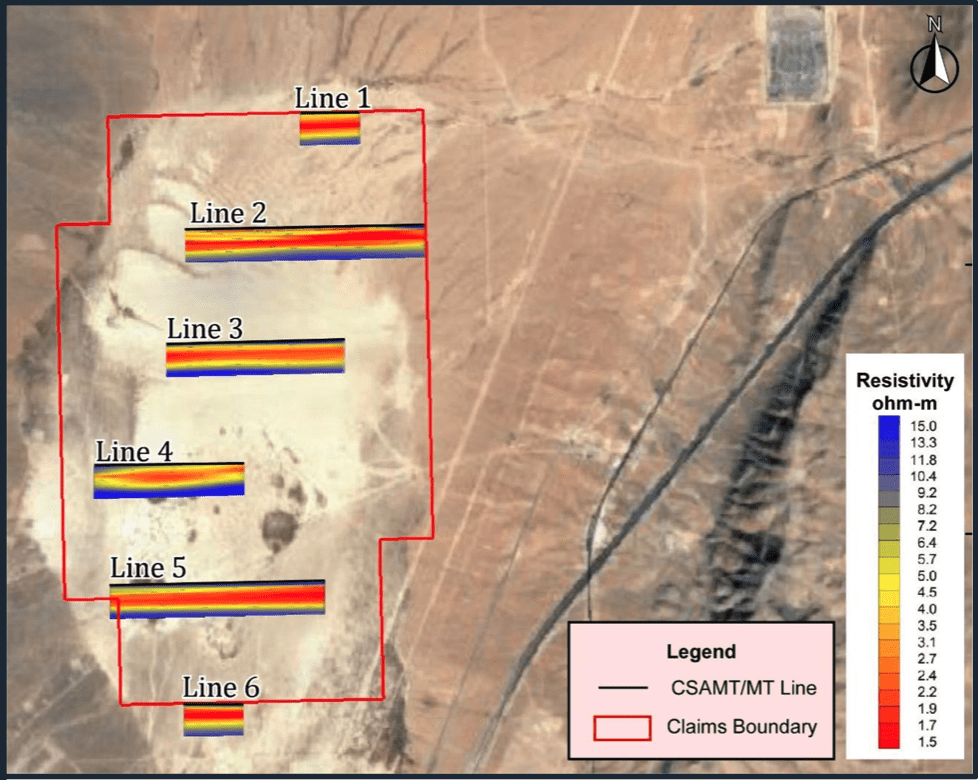 NEW – Hard Rock Lithium in Canada
After making significant development on its Jackpot Lake Lithium Brine Project in Nevada, USA, Usha Resources Ltd. (TSXV:USHA) (OTC:USHAF) recently expanded into Canada, with the acquisition of its first hard-rock pegmatite asset,[22] with the White Willow Lithium-Tantalum Property comprised of 712 unpatented mining claims in the Thunder Bay Mining Division of Ontario, and spanning 15,510 hectares in proximity to other lithium projects in the region.
Based on map geology, many companies have recently staked properties in Ontario and Quebec, but Usha's management believes they have something special in the White Willow. Not only does the property have a significant number of mapped pegmatites, but it is also a confirmed highly evolved lithium-cesium-tantalum (LCT) system with high-grade tantalum that shows excellent potential for high-grade lithium bearing pegmatites.
Usha Resources Ltd. (TSXV:USHA) (OTC:USHAF)  is set to develop White Willow out as an advanced grassroots project. The project comes with excellent access with Highway 11 running adjacent to the property and logging roads present throughout, while a main power transmission line runs through the property. But overall, the property is under explored with over 75 outcropping white pegmatites identified in limited exploration, almost all of which hasn't been sampled.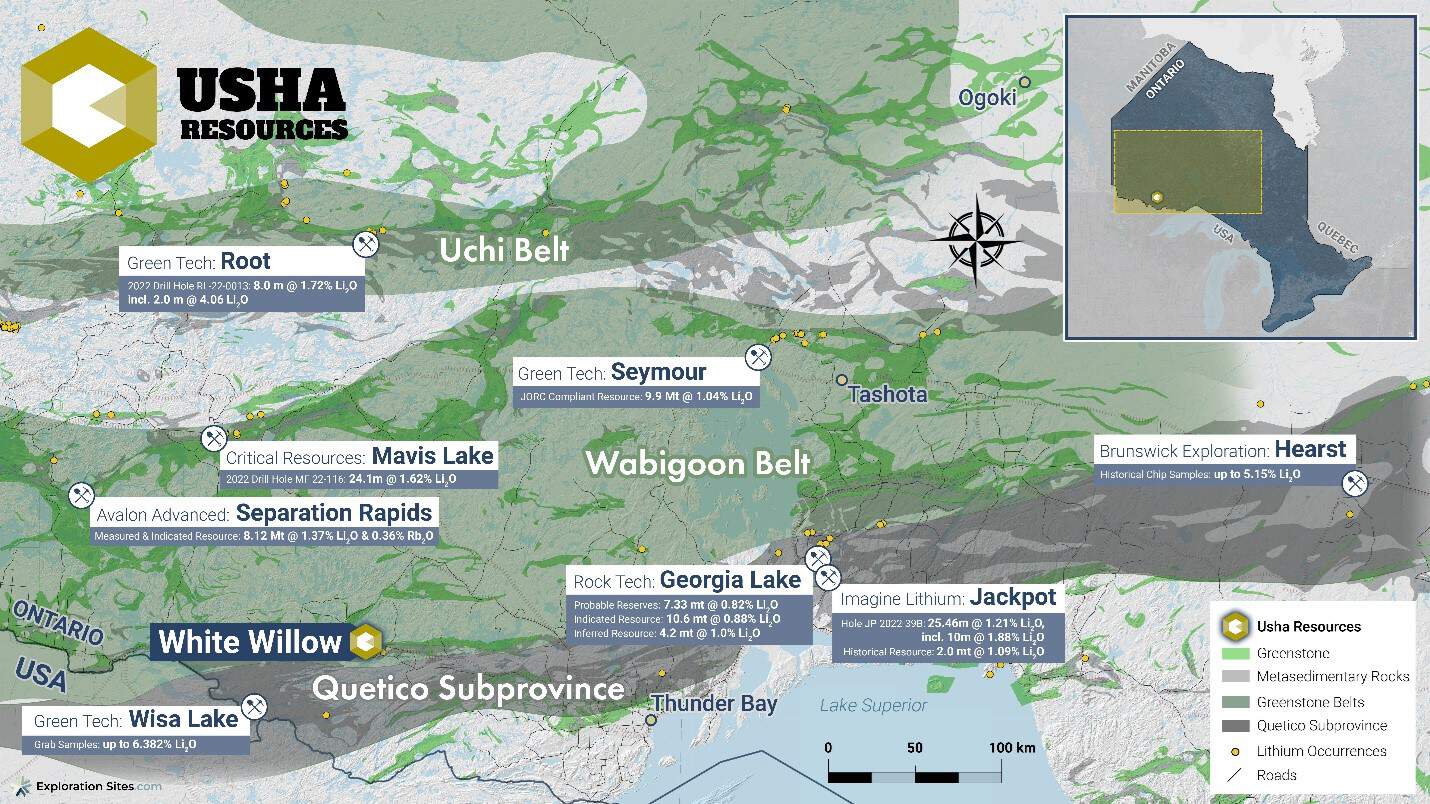 The White Willow Property is confirmed to host a fertile LCT system with a presence of two highly evolved LCT-pegmatite dikes, which came with samples assaying as high as 0.5% Li2O and 14.64% Ta2O5 in and around the dikes. As well, limited surface sampling has identified very anomalous lithium values in numerous samples above 300ppm with several samples assaying above 0.40% Li2O.
Usha Resources Ltd. (TSXV:USHA) (OTC:USHAF) emphasizes that the new property is on trend to the east of the Wisa Lake Lithium project where an exploration target of 8-10 Mt at 0.8-1.5% Li2O, and where grab samples have assayed over 1% Li2O and as high as 6.38% Li2O.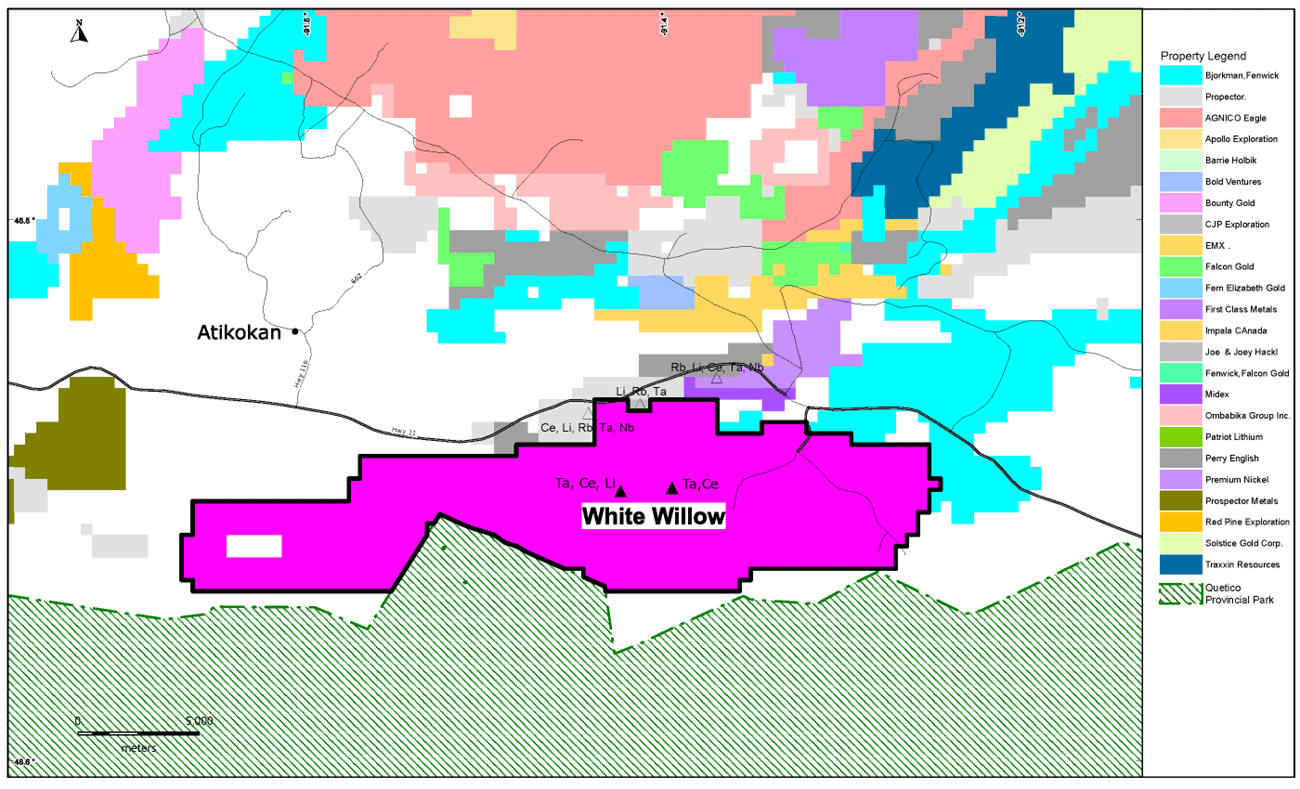 USHA's Premium Timing
Typically, the biggest gains of a mining story happen closer to the beginning of a breakout opportunity, like a new discovery, favorable resource estimate.
Despite being armed with historical data, and non-compliant resource estimates near the Jackpot Lake Project, Usha Resources Ltd. (TSXV:USHA) (OTC:USHAF) remains at this stage in what's known as the Pre-Discovery phase, as drills are on site, but we haven't received their results yet.
And it's because of this that the market is on standby before it gives USHA a proper valuation based on the lithium under its property.
As of November 29, 2022, USHA is only being given a valuation of US$5.29M (or C$7.57M).
What's fascinating is how this is roughly the SAME market cap as USHA was given back in November 2021.[23]
This is despite all the progress that the company has made in that time, including (but not limited to) the acquisition of the Jackpot Lake project itself earlier in March 2022[24] and the announcement of the Nicobat spinout in February 2022[25] and the subsequent "dividend" for USHA shareholders gaining 20% of their shares into the new Formation Metals as updated in late November 2022.[26]
(!!!MORE ON THIS BELOW!!!)
Something's gotta give.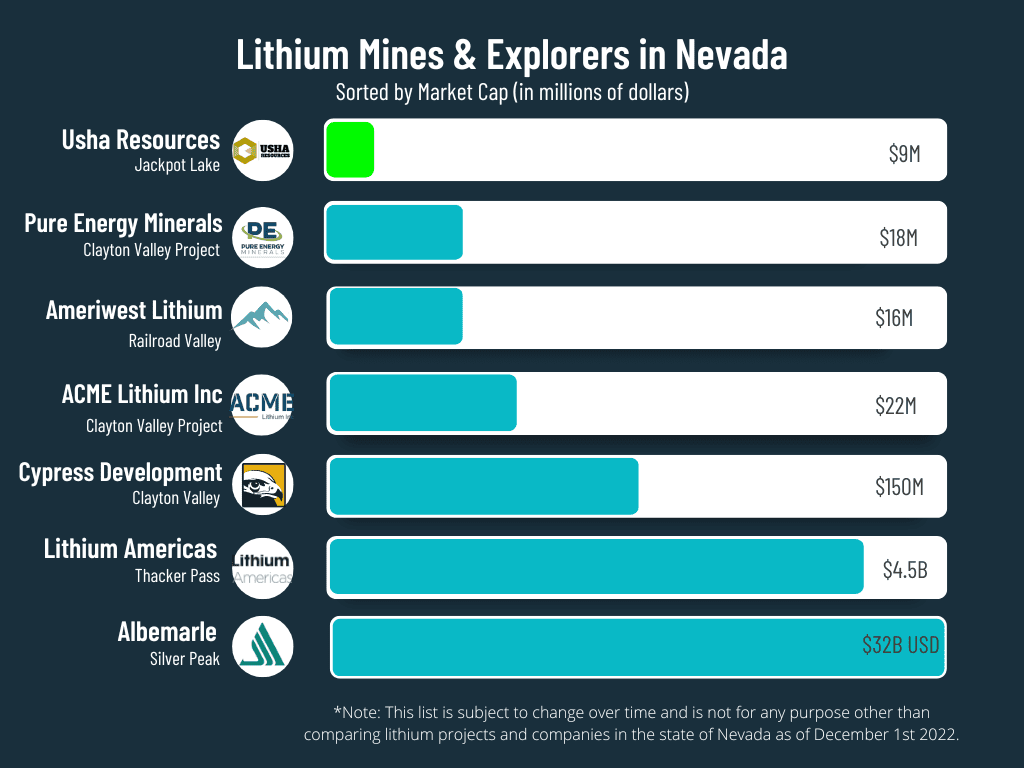 Solid Share Structure + Stellar Balance Sheet
Since inception Usha Resources Ltd. (TSXV:USHA) (OTC:USHAF) has kept a tidy share structure, with only 35.6M shares outstanding, and only ~8.5M warrants issued.
Ahead of the start of its fully funded drilling campaign that will take the company through milestones in 2023, USHA has ~$2.53M as recently as September 30, 2022.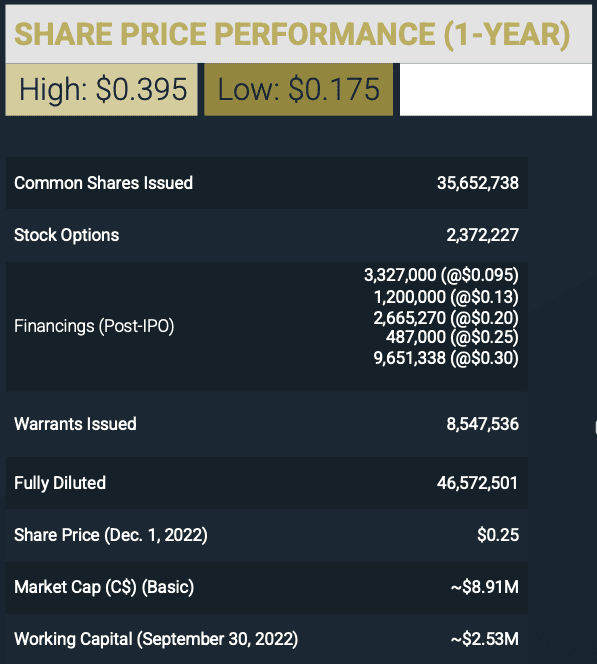 The Nicobat Spinout: A Free 20% Dividend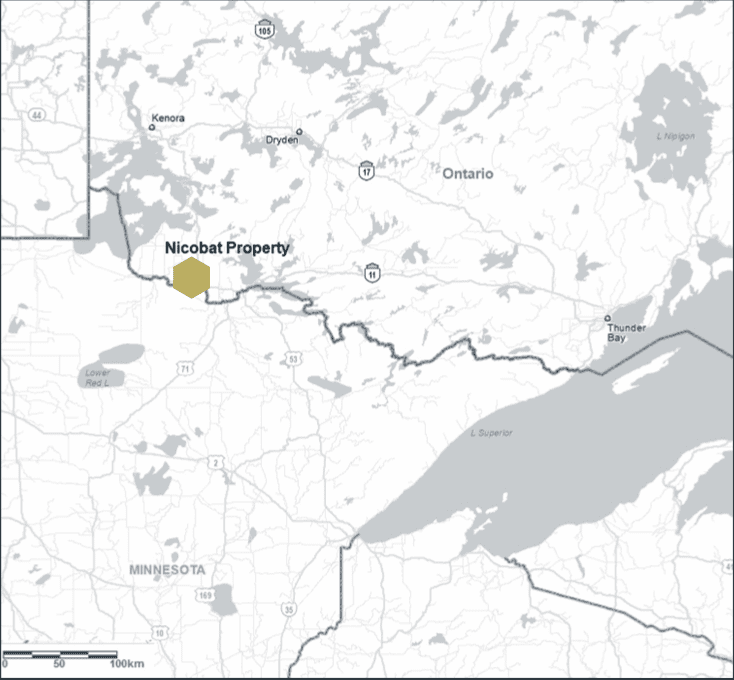 Outside of the lithium space, Usha Resources Ltd. (TSXV:USHA) (OTC:USHAF) has another significant battery material operation in northwest Ontario, Canada, known as the Nicobat nickel-copper-cobalt project.
As already announced by the company, the project is destined to be spun-out into a separate public vehicle, Formation Metals Inc., with USHA shareholders receiving a 20% "dividend" on a 5 to 1 basis in the spin out asset, following regulatory approval.
---
!!UPDATE!!
The new OFFICIAL DEADLINE for the spin-out of Formation Metals is April 12, 2023.
As per the official news release of Usha Resources Ltd. (TSXV:USHA) (OTC:USHAF):
Under the terms of the Arrangement and upon completion of the share exchange prescribed by Article 3 of the Arrangement, the USHA Shareholders of record at the close of  business on the Record Date will receive one (1) common share of FMI (each a "Formation Metals Share") with respect to every five (5) common shares of USHA ("USHA Share") held on the Record Date, with fractions rounded down to the nearest whole number. For example, upon completion of the Arrangement, for each 10,000 common shares of USHA owned on the Share Distribution Record Date, the USHA Shareholder will own 2,000 common shares of FMI. USHA common shares will be exchanged for new USHA common shares on a one-to-one basis. USHA Shareholders will continue to own the same number of USHA common shares as they did on the Record Date. The Formation Metals Shares will be issued to the USHA Shareholders on or around April 17, 2023 (the "Payment Date").
---
This means if you own shares in USHA ahead of the April 17, 2023 deadline date, you get a 20% dividend as a bonus while you wait for drilling results!
Modern exploration on Nicobat includes over 4,000 metres of drilling that has identified high-grade nickel including 64 metres of 1.05% Ni from surface and 10 metres of 1.92% Ni from 54 to 64 metres depth.
Nicobat's historic work includes over 15,000 metres of drilling and metallurgical studies on numerous bulk samples between 1952-72.
During that time, Stratmat Ltd. Reported a non-compliant historic resource of 6.35 million short tons, while Chibtoen Copper Corporation reported a non-compliant historic resource of 5.3 million short tons grading 0.24% Ni, including a mineral zone with 225,000 short tons grading 0.87% Ni.
Usha completed a 1,439 metre 7-hole drilling program that intersected a potential magma conduit with disseminated, net-textured to massive sulphide Cu-Ni mineralization, back in 2020.
In 2023, future work at Nicobat will focus on making the historic resource compliant, current, and expanding on the work completed to assess for other high-grade "ribs" and the potential high-grade feeder zone.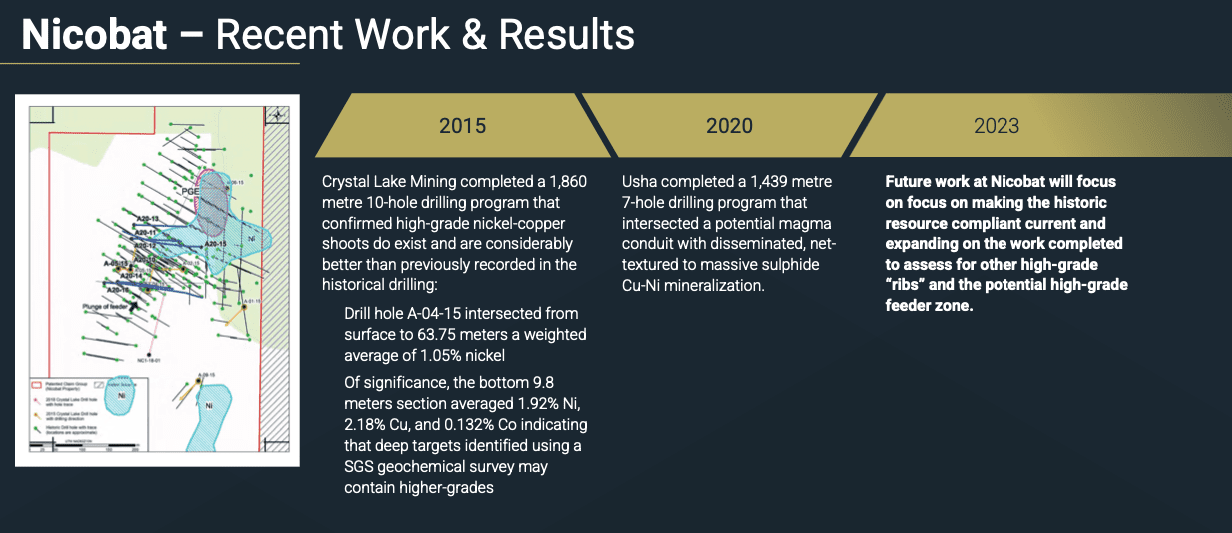 ---
Well Managed with Important Experience
Heading up the Usha Resources Ltd. (TSXV:USHA) (OTC:USHAF) is a group of industry experts with a history of wins, with one of the most sought-after QPs in the lithium space. The USHA team includes:
Deepak Varshney, P.Geo. – CEO and Director:  Varshney brings over 14 years of experience in the capital markets and mineral exploration and development sector. He's been responsible for raising tens of millions of dollars in equity financings.
Adrian Smith – Director: Smith brings over 14 years of experience working in the mining and exploration industries. He currently serves as CEO of ArcPacific Resources and Board member of ML Gold Corp. and Go Cobalt Mining Corp. Smith has been responsible for raising tens of millions of dollars in equity financings.
Navin Varshney, P.Eng. – Director: Varshney brings over 30 years of experience in the capital markets and mineral exploration and development sector. He has significant experience specializing in developing, structuring and financing venture capital companies. Varshney has founded multiple TSX-listed issuers, and is the former President, CEO, and CFO of multiple TSX-listed issuers and serving on many public company boards including Manganese X Energy Corp.
Andrew Tims, P.Geo. – Qualified Professional: Exploration geologist with over 30 years of experience, spending significant time in the Kirkland Lake, Timmins, and Red Lake gold camps. Tims has served as senior exploration geologist at Rainy River Resources that developed the Rainy River resource from 550,000 ounces of gold in 2005 to over six million when it was acquired by New Gold.
Mike Rosko, P.G. – Qualified Professional: Professional geologist with over 30 years of experience, spending significant time assessing aquifer conditions in arid environments throughout the southwestern United States and South America. Rosko brings extensive experience with lithium brine projects including Tier 1 assets such as Galaxy's Sal de Vida, Millennial Lithium's Pasto Grandes, and Lithium America's Cauchari-Olaroz Deposits.
---
RECAP: 7 Reasons To Seriously Look Into Usha Resources Ltd. (TSXV:USHA) (OTC:USHAF) RIGHT NOW! 
Lithium Demand and Prices Continue to Gain Momentum

Exceptional Assets in Mining Friendly Jurisdictions

Fully-Funded with Tight Capital Structure

ESG Friendly

Early-Mover Timing

Strongly Qualified Team

Share "Dividend" Through Nicobat Spin Out
---
After considering the opportunity presented in this report, it should be clear that now is the perfect time to seriously discern the domestic lithium space.
However, not all lithium opportunities are equal, especially given the various available options that investors have to choose from.
THIS IS THE PERFECT TIME for smart investors to seriously follow the ongoing Usha Resources Ltd. (TSXV:USHA) (OTC:USHAF) story—because the drilling rigs are in motion, and in 2023 we should be receiving updates that could move the needle.
So, do your due diligence, and don't forget to click here to subscribe for email updates and make sure not to miss any of USHA's news and milestones.
– Editorial Staff
---
DISCLAIMER:
Nothing in this publication should be considered as personalized financial advice. We are not licensed under securities laws to address your particular financial situation. No communication by our employees to you should be deemed as personalized financial advice. Please consult a licensed financial advisor before making any investment decision. This is a paid advertisement and is neither an offer nor recommendation to buy or sell any security. We hold no investment licenses and are thus neither licensed nor qualified to provide investment advice. The content in this report or email is not provided to any individual with a view toward their individual circumstances. USA News Group is a wholly-owned subsidiary of Market IQ Media Group, Inc. ("MIQ"). MIQ has been paid a fee for Usha Resources Ltd. advertising and digital media from the company directly ("the Company"). There may be 3rd parties who may have shares of Usha Resources Ltd., and may liquidate their shares which could have a negative effect on the price of the stock. This compensation constitutes a conflict of interest as to our ability to remain objective in our communication regarding the profiled company. Because of this conflict, individuals are strongly encouraged to not use this publication as the basis for any investment decision. MIQ reserves the right to buy and sell shares of Usha Resources Ltd.  at any time hereafter without any further notice. We also expect further compensation as an ongoing digital media effort to increase visibility for the company, no further notice will be given, but let this disclaimer serve as notice that all material disseminated by MIQ has been approved by the above mentioned company; this is a paid advertisement, and we own shares of the mentioned company which were purchased through a private placement and in the open market that we will sell commencing immediately, and we also reserve the right to buy shares of the company in the open market, or through further private placements and/or investment vehicles.
While all information is believed to be reliable, it is not guaranteed by us to be accurate. Individuals should assume that all information contained in our newsletter is not trustworthy unless verified by their own independent research. Also, because events and circumstances frequently do not occur as expected, there will likely be differences between any predictions and actual results. Always consult a licensed investment professional before making any investment decision. Be extremely careful, investing in securities carries a high degree of risk; you may likely lose some or all of the investment.
---
SOURCES CITED:
[1] https://www.npr.org/2022/11/23/1135952359/lithium-mines-batteries-electric-vehicles-climate-change-carbon
[2] https://www.theglobeandmail.com/investing/markets/stocks/FE-CN/pressreleases/11889517/lithium-giant-says-global-lithium-demand-will-increase-by-40-this-year/
[3] https://www.iea.org/reports/the-role-of-critical-minerals-in-clean-energy-transitions/mineral-requirements-for-clean-energy-transitions
[4] https://www.whitehouse.gov/briefing-room/statements-releases/2022/02/22/fact-sheet-securing-a-made-in-america-supply-chain-for-critical-minerals/
[5] https://www.whitehouse.gov/briefing-room/statements-releases/2022/10/19/fact-sheet-biden-harris-administration-driving-u-s-battery-manufacturing-and-good-paying-jobs/
[6] https://www.bnamericas.com/en/news/world-bank-sees-copper-lithium-prices-staying-high-on-energy-transition-demand
[7] https://asia.nikkei.com/Spotlight/Supply-Chain/Australia-draws-Chinese-U.S.-lithium-processors-in-EV-supply-chain-shift
[8] https://www.forbes.com/sites/miltonezrati/2022/11/07/chinas-latin-america-move/?sh=1d7be1fd1d52
[9] https://apnews.com/article/technology-canada-business-china-ontario-b8c72593b341d113cfb74c9cbddafa0c
[10] https://www.mining.com/web/trudeau-faces-tough-choices-in-countering-us-green-incentives/
[11] https://www.mining.com/web/the-battery-supply-chain-is-finally-coming-to-america/
[12] https://www.fraserinstitute.org/studies/annual-survey-of-mining-companies-2021
[13] https://www.iea.org/reports/the-role-of-critical-minerals-in-clean-energy-transitions/executive-summary
[14] https://www.spglobal.com/marketintelligence/en/news-insights/research/lithium-project-pipeline-insufficient-to-meet-looming-major-deficit
[15] https://www.energy.gov/sites/default/files/2021-06/FCAB%20National%20Blueprint%20Lithium%20Batteries%200621_0.pdf
[16] https://pubs.usgs.gov/periodicals/mcs2021/mcs2021-lithium.pdf
[17] https://www.utilitydive.com/news/us-strengthening-lithium-supply-processing-ev-batteries/635338/
[18] https://tradingeconomics.com/commodity/lithium
[19] https://usharesources.com/usha-resources-more-than-triples-land-position-at-its-jackpot-lake-lithium-brine-project-in-nevada/
[20] https://finance.yahoo.com/news/usha-resources-announces-arrival-drill-120000076.html
[21] https://usharesources.com/usha-resources-announces-completion-of-site-visit-by-drill-contractor-at-the-jackpot-lake-lithium-brine-project/
[22] https://finance.yahoo.com/news/usha-resources-enters-hard-rock-110000981.html
[23] https://ycharts.com/companies/USHAF/market_cap
[24] https://usharesources.com/usha-resources-acquires-drill-ready-lithium-project-in-nevada/
[25] https://usharesources.com/usha-resources-announces-intention-to-spin-out-nicobat-nickel-property-to-newly-formed-subsidiary/
[26] https://usharesources.com/usha-resources-provides-update-for-proposed-spin-out-of-nicobat-nickel-project/