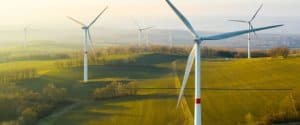 National Grid forked out £82m to operators of wind farms last month to constrain supplies and reduce output amid blustery conditions, to prevent the UK's energy network from being overwhelmed.
This is on top of £122m it has paid out over the first 11 months of 2022 – as part of £1.34bn it spent to manage supplies last year.
Contrary to popular perception, wind turbines do not thrive in stormy or overly windy conditions – as National Grid typically tells producers to reduce output to stop power spiking across the grid and to reduce pressure on the network.
The latest data on constraints from National Grid's electricity system operator (NGESO) comes amid reports of record wind power generation this month.
NGESO has revealed that wind power generated record amounts of energy last Tuesday, topping 21 gigawatts (GW) for the first time ever.
It confirmed that between 6pm and 6.30pm on Tuesday 10th January, it generated 21.6GW in power – providing 50.4 per cent of the UK's energy mix.
This is the most wind has ever generated, and beats the previous record of 20.9GW set on 30 December, which was the third wind energy record set last year.
When approached for agreement, an NGESO spokesperson said: "Like many system operators across the world, we make constraint payments to help us keep the electricity network in balance at all times. These payments to temporarily reduce generation output are more economical than to over-build expensive new infrastructure.
"We constantly analyse the balance between constraint costs versus the cost of building new assets and are working with industry to reduce the impact of network constraints whilst building a greener system."
Kona urges National Grid to back batteries to boost green energy drive
The latest developments will be encouraging to the Government, which is targeting 50GW of offshore wind generation by the end of the decade as part of its energy security strategy.
However, the costs in easing pressure on the grid will also be concerning, with the energy sector looking for future solutions.
Clean energy development specialist Kona Energy told City A.M. that such wastage in energy supplies was becoming an increasing factor in the net zero debate.
Founder Andy Willis urged National Grid to bring more batteries online to deal with demand, while offering a cleaner substitute for renewable generation than reverting to gas or coal.
He argued new battery projects needed to be accelerated, so that renewable storage can play a greater part in meeting the UK's energy needs.
Willis noted that – as it stands – green energy projects are having to wait years and years before a connection date becomes available.
"The solution is simple – get more battery storage capability online, as quickly as possible. Battery storage facilities store clean energy at times of high generation, releasing that onto the grid at times of high demand – balancing the system and reducing waste," he said.
Kona has revealed it has several ongoing projects which could be completed and online in months, yet Willis feared it will "currently will take years due to bureaucratic delays" – in sharp contrast to the clamour to reach net zero carbon emissions.
He said: "With the net zero timetable as short as it is, there is really no time to waste. National Grid are aware of the issue, with policies being introduced, however it needs political impetus from the top to deliver the scale of rapid change which is required."
As things stand, proposed new renewable energy projects enter the Transmissions Entry Capacity queue, which are approved on a first come first serve basis, rather than whether they are fully funded and ready to go.
But if projects want to exit the queue, due to issues with funding or planning, they face financial penalties.
This system has led to viable renewable energy projects being delayed – with nervous project managers in the queue fearing losses if they step aside.
To address this, National Grid has set up a temporary amnesty – providing companies with the ability for people to exit the queue if they feel the project is not going to go ahead without having to suffer financial penalties.
It is unclear if this will remain in place as the energy crisis eventually eases.