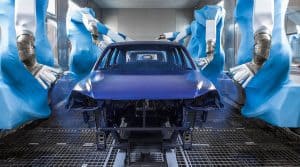 Volkswagen AG has begun searching for a site in Canada where to build its first battery cell factory in North America, a part of the German carmaker's planned expansion of its electric vehicle (EVs) battery business outside Europe.
Canadian Industry Minister François-Philippe Champagne signed the document — described as an addendum to a memorandum of understanding inked with VW in August this year — during his visit to Germany.
The search will be headed by Volkswagen's battery unit, known as PowerCo, and will take into account the availability of enough sources of renewable energy to power the plant.
Ontario and Quebec, Canada's two largest provinces, already have vast sources of clean power generation, which includes hydroelectric capacity.
The agreement also includes a pledge by PowerCo and Umicore to explore a strategic supply agreement on cathode material for North America.
Belgium's materials technology and recycling company announced in July a C$1.5 billion ($1.1 billion) cathode and precursor materials manufacturing plant in Ontario, with operations planned to start in 2025.
Automakers from VW to General Motors Co. are exploring different business models as they race to electrify their lineups and catch Tesla, the world's top seller of electric vehicles. They're forging partnerships with battery cell makers and mining companies as they try to secure materials and know-how.