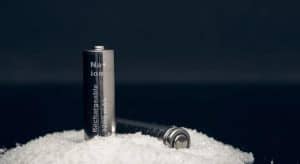 Sodium-ion batteries have been showing up as real heroes of sustainability as their chemistry is readily available, and their prices are much cheaper than their lithium-ion counterparts. The problem is getting their formulation just right so they can work and work well in a variety of temperatures.
A viable alternative to lithium-ion batteries
Now, researchers from Skoltech and Lomonosov Moscow State University have developed a material for sodium-ion batteries which may offer a viable alternative to lithium-ion batteries, according to a press release by Skoltech published on Monday.
The new material is a powder of sodium-vanadium phosphate fluoride with a particular crystal structure that provides record-high energy storage capacity when used in the battery cathode. According to the researchers, the new cathode material ensures 10 percent to 15 percent better battery energy density than the current top contender.
"Both our new material and the one the industry has recently deployed are called sodium-vanadium phosphate fluoride — they're made of atoms of the same elements. What makes them different is how those atoms are arranged and in what ratio they are contained in the compound," study co-author, Assistant Professor Stanislav Fedotov of Skoltech, said.
Same battery capacity, better stability
"Our material also compares well with the class of layered materials for cathodes: It provides roughly the same battery capacity and greater stability, which translates into longer life and higher cost-efficiency of the battery," Fedotov went on. "Remarkably, even the theoretical predictions for the competing materials fall short of the practical performance of ours, and this is far from trivial because the theoretical potential is never fully realized."
With the proper research and development, the scientists hope their new batteries will be able to replace lithium-ion ones in heavy electric vehicles, such as buses & trucks, as well as in stationary energy storage at the wind, solar farms and elsewhere in all kinds of temperatures.
"Higher energy storage capacity is just one of the advantages of this material. It also enables the cathode to operate at lower ambient temperatures, which is particularly relevant for Russia," Fedotov said.