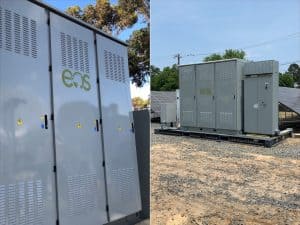 A project developer in the US has more than doubled its order for zinc-based battery energy storage systems from manufacturer Eos Energy Enterprises.
Eos announced today that renewable energy EPC and developer Bridgelink Commodities has upped the terms of a multi-year master supply agreement to 1GWh of systems for delivery over the next three years.
The original agreement for 240MWh, potentially rising to 500MWh, as reported by Energy-Storage.news in March, was said to be worth US$150 million, with the additional orders announced today by Eos worth another US$180 million.
At that time, Eos said it anticipated its Znyth brand zinc battery storage units would be used by Bridgelink at projects in Texas, US. The company did not disclose if the added-on orders would also be for Texas, or for another territory.
However, Bridgelink managing director Bull Flaherty did say of the deal that his company was "proud to bring American-made technology to the ERCOT market in Texas."
"Eos' technology allows us the flexibility to meet the growing demand profile of ERCOT and bring more power to US consumers when needed," which of course strongly implies the orders will be for Texas projects.
An Eos representative did tell Energy-Storage.news that the vast majority of demand for its batteries are coming from customers in the US, perhaps as much as 90% of its pipeline. Outside the US, customers in Europe and India had shown the most interest, they said.
Like other non-lithium battery storage companies, Eos is seeking to commercialise its technology and scale up to take market share, particularly for long-duration applications up to about 12 hours' duration, for which Eos claim Znyth is well-suited.
Eos listed on NASDAQ in late 2020 after a special purpose acquisition company (SPAC) merger. In reporting its Q1 2022 financial results, it said quarterly revenues had risen year-on-year from US$164,000 to US$3.28 million.
Its bill of materials costs had been reduced from the beginning of this year by 14% and it was progressing work to expand its Pittsburgh manufacturing plant to 800MWh annual production capacity, the company said in May.
Zinc battery company seals further 340MWh of new orders
Along with the Bridgelink deal, the company said today it has received a further 40MWh new order from an undisclosed customer, worth US$13 million, for delivery in Q4 2022.
A 300MWh agreement previously announced with another undisclosed customer, described only as a solar developer in the US northeast, has also been sealed and a master supply agreement signed, the company said in today's announcement. That customer has ordered Znyth systems for a mix of front-of-the-meter solar-plus-storage and standalone storage projects over the next three years.
Last month, installation began of a 72MWh Eos Znyth system at a 102MW solar-plus-storage system in South Carolina, US. Again, when asked, the company told Energy-Storage.news that the customer wants to not be named, in this case until the project nears completion.
The customer is understood to want to make its own announcement on the project, the representative said.
Eos now has US$460 million worth of claimed orders in its backlog, while CEO Joe Mastrangelo recently said its pipeline of opportunities stands at more than 20GWh. At the time of its listing, the company's leadership said it could expect to come close to reaching profitability by about the middle of 2023.