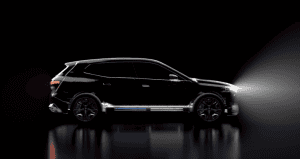 BMW announced Tuesday it plans to test a 600-mile range battery manufactured by Michigan-based startup Our Next Energy Inc. (ONE) in its BMW iX electric SUV.
The companies signed an agreement Tuesday to build a prototype BMW iX integrating ONE's battery technology. It is expected by year's end with the ability to run 600 miles between charges.
"We are thrilled to be working with BMW to demonstrate our Gemini long-range battery technology to consumers," said Mujeeb Ijaz, founder and CEO of ONE. "We plan to pack twice as much energy into batteries, so EVs can easily handle long-distance driving in real-world conditions."
A novel chemistry
The battery, dubbed Gemini, reduces the use of traditional EV battery materials as cobalt, nickel, graphite and lithium by combining two types of batteries in one. The first uses cobalt and nickel-free cathodes, while eliminating graphite, offering advantages such as lower costs. The second stores significantly more energy and effectively recharges the first pack as the vehicle is driven.
The battery's chemistry doesn't appear to be finalized. Ijaz said the company is still evaluating various electrode chemistries in Gemini, for tradeoffs in cost, energy density and sustainability.
"We are well-positioned to incorporate ONE's IP into BMW's SAV line," said Jürgen Hildinger, BMW Group New Technologies Head of High Voltage Storage. "We are confident that given economic viability, this can lead to commercial opportunities and strategies to integrate ONE's battery technologies into models of our future BEV product line-up."
But BMW is not the only automaker on ONE's wish list, as the company is talking with other automakers about similar prototype tests.
The company is also considering marketing batteries with lower ranges, to reduce their cost to that of current conventional nickel- and cobalt-based batteries.
Investors line up
The collaboration between the two isn't unexpected, as BMW's venture-capital division, BMW i Ventures, invested in the suburban Detroit-area startup. Breakthrough Energy Ventures, a climate-oriented venture capital fund started by Bill Gates, as well as Volta Energy Technologies, in partnership with Argonne National Laboratories, are among ONE's investors.
Investors' faith was well founded. In January, ONE demonstrated a "proof-of-concept" battery that logged 752 miles without charging. The company claims a third-party tester, using a dynamometer to validate the results, actually got 882 miles at a steady 55 mph.
"We want to accelerate the adoption of electric vehicles by eliminating range anxiety, which holds back most consumers today," said Ijaz at the time "We are now focused on evolving this proof-of-concept battery into a new product called Gemini, which will enable long distance trips on a single charge while improving cost and safety using sustainable materials."
ONE did not announce pricing of its Gemini batteries.
Seeking more range
While Ijaz now seeks to produce batteries that can deliver ever-greater range, he initially thought that a 100-mile battery would be sufficient given that Americans, on average, drive little more than 40 miles a day, and started his company in 1990 with that belief.
Now, he believes he can deliver 800 miles between charges. That range would be a boon to consumers, given the dearth of functioning or available high-speed public chargers. Nearly half of US consumers say that battery or charging issues are their top concerns about buying EVs according to a report by McKinsey & Co.
Those fears have some basis in merit.
While the Bipartisan Infrastructure Law provides $7.5 billion to develop the country's EV-charging infrastructure, including 500,000 public chargers, McKinsey estimates that if zero-emission vehicles account for half of all new vehicle sales by 2030, America will need 1.2 million public EV chargers and 28 million private EV chargers by then, 20 times what it has now.
In the meantime, ONE's battery development continues, one that could lead to a breakthrough from a small, midwestern battery startup. Stay tuned.