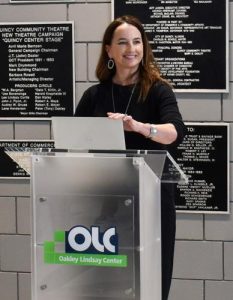 QUINCY — City, state and business representatives gathered Friday morning at the Oakley-Lindsay Center to celebrate the official unveiling of a solar roof panel project that will generate as much as 70% of the building's annual electric usage.
As OLC Executive Director Chris Landwehr explained in his opening remarks, "The OLC dream of becoming a state-of-the-art facility in green energy has become a reality."
The 391 kilowatt solar photovoltaic system will produce an estimated 463,100 kilowatt hours of energy in the first year.
A "unique" power purchase agreement with StraightUp Legacy Fund, LLC, will enable the OLC to receive a 14% reduction in their electric rates over the next 25 years, an estimated savings of more than $100,000.
The $550,000 solar panel installation required no initial investment from the OLC, according to Shannon Fulton, StraightUp Solar's vice president of development.
StraightUp Solar installation teams built the system by attaching 1,046 solar roof modules with six inverters to the arrays. The system was completed in late January.
"Even on a cloudy day like today, the solar modules on the roof of the Oakley-Lindsay Center are powering this facility," Fulton said. "The energy production from this system, on an annual basis, is enough to power nearly 80 local residential homes in this community.
"And all of it comes at no capital investment from the OLC. It's a fruitful match between the sun, the strong state and federal incentives, and a unique financial structure involving a power purchase agreement."
Sen. Jil Tracy, R-Quincy, and Quincy Mayor Mike Troup also attended the unveiling announcement.
"This is a great day to start with, going into green energy," Troup said. "To have an organization like the Oakley-Lindsay Center take the lead and establish an alternative, and bring their operating costs down by going into solar energy. It's hard to find projects like this, so we need to celebrate. Hats off to the Oakley-Lindsay Center board for taking this step forward."