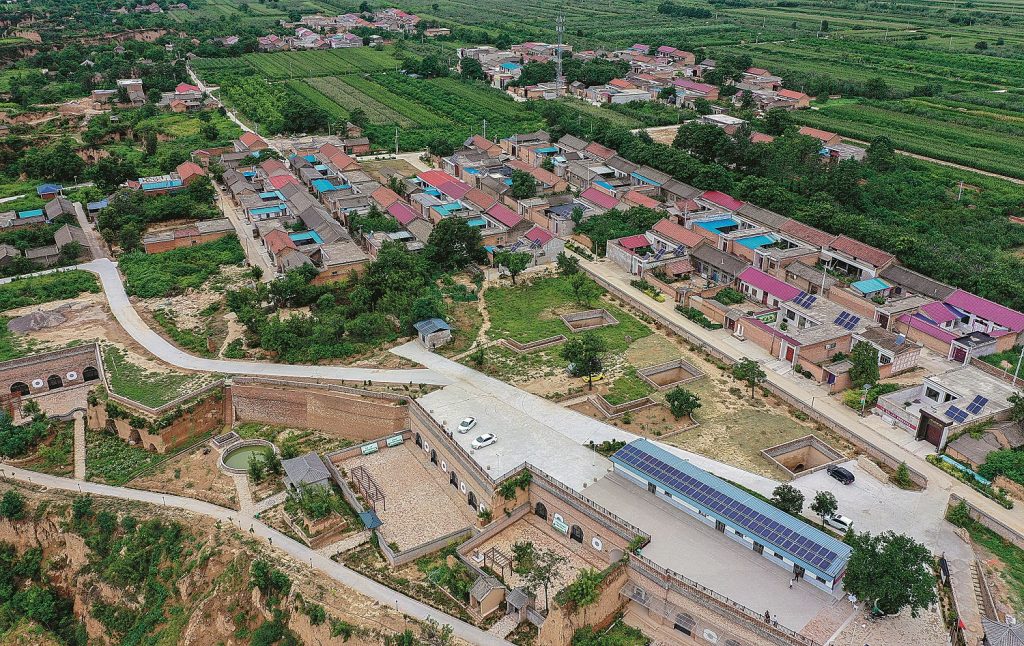 Villagers in Shanxi province are getting closer to realizing their goal of energy self-sufficiency.
Residents of Zhuangshang village, Ruicheng county, are installing solar panels on their roofs and using some of the electricity generated. They also use batteries to store power and sell surplus electricity to State Grid Corp of China.
In the past 17 months, 27 families installed solar panels capable of supplying power to 82 households. Trials for the panels progressed smoothly, and next month a new micro power network will cover all 233 households in the village, according to the network's designer, Chen Wenbo.
One of the first villagers to benefit from the new system, Chen Yongmin, said four solar panels installed on the roof of his house in April last year had generated 3,143 kilowatt-hours of electricity by early last month.
A monitoring system showed that about one-third of the power generated by the panels at his home was used to power electrical appliances, one-third went to charging batteries and the remainder was sold to State Grid.
Chen Wenbo, who is also an electricity expert and president of Shanxi Golden Cooperate DC Power Distribution Technology Co, said, "By next month, solar panels will have been installed on the roofs of 131 households and other buildings in Zhuangshang, forming an integrated micro power network to benefit all villagers."
The village would have a total installed capacity of 2 million watts by next month, he added.
A native of Zhuangshang, Chen Wenbo returned to his home area from Nanjing, capital of Jiangsu province, to explore the possibilities offered by the new solar power system.
"The micro network can meet the village's electricity requirements and supply surplus power to the overall grid, drawing electricity from the latter when insufficient power is generated locally, for example when it rains for several days," he said.
"The system consists of solar panels, batteries, a converter to handle direct current and alternating current, and electrical appliances that apply both types of current."
Chen Wenbo said the idea for the network was put forward by Jiang Yi, a member of the Chinese Academy of Engineering and director of Tsinghua University's Building Energy Research Center in Beijing.
In 2014, the eastern province of Anhui began to promote solar power generation, starting in rural areas. The power generated goes to the overall grid, helping families earn more. Such measures have since been widely adopted to alleviate poverty.
In Anhui, residents still consume power from State Grid, according to Chen Wenbo.
State Grid buys the power for about 0.33 yuan (0.051 cents) per kWh and sells it to consumers for about 0.48 yuan per kWh.
"Direct current electricity is generated by solar photovoltaic power, but it needs to be converted into alternating current before going to the power grid," Chen Wenbo said, adding that some 16 percent of electricity can be wasted during the conversion process.
However, he said lost energy is just a minor problem, compared with others.
Ambitions, solutions
China has pledged to increase the proportion of non-fossil fuels in primary energy consumption to about 25 percent and bring its total installed wind and solar power capacity to more than 1.2 billion kW by 2030, according to the National Energy Administration, or NEA.
The National Development and Reform Commission's Energy Research Institute expects 40 percent of the country's electricity to come from solar power by 2050.
Jiang said that in addition to building large solar farms, installing solar panels on villagers' roofs is also an important option.
"If such panels are installed on all the roofs of China's rural residences, they will have a total capacity of 2 billion kW, enough to produce 3 trillion kWh of power annually, or 40 percent of the electricity consumed by the entire country last year," Jiang said.
Chen Wenbo, who expects solar panel installation to be expanded in rural areas, said, "Not every roof is suitable for such installation."
According to a document issued by the NEA earlier this year, counties nationwide are being encouraged to apply for a pilot program to use the roofs of local buildings to develop solar power for distribution.
To meet the program's requirements, solar panels should be installed on at least 50 percent of the roof areas of government buildings. For schools, hospitals and village offices the proportion is 40 percent, for factories 30 percent, and for rural residences 20 percent.
As power generation capacity increases, investment in additional equipment used to transmit electricity will rise significantly, Chen Wenbo said.
The NEA document also requires applicants to have sufficient capacity to handle power supply and demand peaks.
With more solar panels being installed, Chen Wenbo said peak demand for power supply will be at about noon, while the peak for consumption will usually be in the evening.
He said both peaks could be extremely dangerous if the power grid fails to handle them, but the micro power networks are well equipped to relieve the pressure.
In Zhuangshang, for example, the local network will operate independently of the overall grid, with power cut and restored when needed.
Jiang said that in contrast to urban residents, those living in rural areas use more mobile machinery, including agricultural vehicles, which can be powered by batteries.
Coal used to fuel the heating system in Zhuangshang was replaced by electricity by 2018, and the villagers are also using more electricity instead of firewood for cooking.
Villagers charge their batteries during peak hours for power generation, while a large-capacity power bank meets demand at night, Chen Wenbo said.
Air conditioners use alternating current. Variable frequency models also use this type of current with some minor adjustments, which cost about 100 yuan for each machine, he added.
Chen Wenbo and other experts are hoping the China Household Electrical Appliances Association modifies some major national standards to make air conditioners compatible for both alternating current and direct current.
Li Junlong, deputy mayor of Ruicheng county, said the new power network in Zhuangshang will be completed soon and there are plans to extend it to more villages this year.
The network is one of the measures aimed at meeting the county's ambitious target to peak its carbon dioxide emissions in five years and achieve carbon neutrality by 2035, a pace significantly faster than the national goal.
While the nation plans to peak carbon dioxide emissions before 2030 and achieve carbon neutrality before 2060, the NEA pledged earlier this year to support regions with good conditions to achieve these goals in advance.