Higher Gold Prices Driving Canadian Mining Plays, Such as West Red Lake Gold Mines Inc. (CSE:RLG) (OTC:RLGMF) Region Dubbed "Canada's Fort Knox"
The trend of countries, institutions and investors hoarding record amounts of bullion, researchers are predicting the price of gold to reman bullish in the coming years. Exchange traded funds (ETFs), which stockpiled 1,205 tonnes of gold this year (3x the 2019 amount), and are set for another 1,362 tonnes in 2021—the most ever. [1]
As Governments worldwide print money endlessly, their balance sheets go way out of wack. Gold is the only asset that can re-balance them. The race for gold stock piling has begun and the gold rush of the 21st century is on.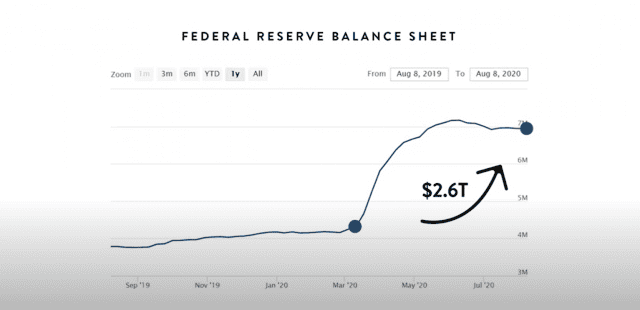 And it isn't just investors who are stockpiling, as economic superpowers began boosting their gold reserves en masse. Russia's Central Bank increased their gold stockpile by 28% in just one year.[3] The United Arab Emirates Central Bank's gold reserves surged by 51%, and their bullion assets more than doubled since December 2019.[4] The USA, China, France, Germany, Italy, Russia, Switzerland, to name just a few are stockpiling gold. Central Banks in 2019 accumulated over 668 tons in gold purchases—the highest amount of gold buying since the 1970s. [6]
Gold is still clearly the safe haven investment, exemplified by a statement from De Nederlandsche Bank (which holds more than 600 tonnes of gold):
"It's the anchor of trust for the financial system. If the system collapses, the gold stock can serve as a basis to build it up again."
Moving forward, the demand for gold is firmly in place. The price is predicted to remain high in the near future. The economics of the precious metal have indeed shifted—giving rise to a much more serious look at the mining sector that will provide tomorrow's gold supply. In particular, coming from Canada, in particular from a region in Ontario currently being dubbed as "Canada's Fort Knox".[7]
Intro to West Red Lake Gold Mines Inc. (CSE:RLG) (OTC:RLGMF)
Meet West Red Lake Gold Mines Inc. (CSE:RLG) (OTC:RLGMF), a Canadian mining company focused on gold exploration and development in the prolific Red Lake Gold District, located in Northwestern Ontario, Canada—which is host to some of the world's richest gold deposits, and has produced 30 million ounces of gold from high grade zones.
Strategically located only 15km away from the Red Lake Mine Complex (comprised of three mines and two mills operated by Evolution Mining), the West Red Lake Gold Mines property consists of 3,100 hectares that include a 12km strike length on the Pipestone Bay St Paul Deformation Zone (PBS Zone) and 3 former gold mines located on the PBS Zone .
The nearby mines currently operated by Evolution Mining (Campbell and Red Lake Mines), have produced to date more than 24 million ounces of gold.
Among West Red Lake Gold Mines' assets is a joint venture with Evolution Mining on the Rowan Mine property (RLG 64% and operator; Evolution 36% partner).
What's at stake?
West Red Lake Gold Mines Inc. (CSE:RLG) (OTC:RLGMF) has a NI 43-101 Inferred Resource of 1,087,700 ounces from 2016. With resource potential open at depth, the company is now set to not only upgrade the status of this resource, but expand upon it.
At todays gold prices, One Million Ounces of gold bullion is worth approximately $1.85 Billion Dollars USD.
Now the company has commenced drilling on the high-grade, near surface gold zones situated at the NT Zone structure located less than a kilometre south of the Rowan Mine gold deposit.
Nearby explorers and operators have dubbed this region Canada's Fort Knox. Already, multiple majors have invested into another peer in the Red Lake district, and another to the southeast has become one of Canada's best performing gold stocks in 2020.
MINING GIANTS INVESTING IN RED LAKE DISTRICT
Mining magnate and billionaire investor Eric Sprott closed out 2019 on an investment spree, focusing heavily on junior gold miners that were on the verge of striking the motherlode. He expressed his optimism to the Financial Post, stating "It's like being at a table with a winning run."[8] Sprott carried that enthusiasm into 2020, with a particular focus on investing in junior miners.
Among these was a company focused in the Red Lake district called Pure Gold Mining Inc. (TSXV:PGM / OTC:LRTNF)—which attracted nearly CAD$20 million of Sprott's personal investment.[9]
Holding an even larger stake than Sprott is the world's third-largest gold producer, AngloGold Ashanti (NYSE: AU).[10] They're joined by former CEO of Goldcorp, Rob McEwen, and the world's largest gold producer Newmont Goldcorp (NYSE: NEM / TSX: NGT).
Between March 12th and September 10th, Pure Gold saw its stock grow from $0.48 to $2.74—an increase of +470% in under 6 months.
Another Red Lake district neighbour is Great Bear Resources (TSX.V: GBR / OTC: GTBAF), which grew from $4.20 on March 13th to $19.63 by June 29th—an increase of 367% in just 3.5 months.
Other mining companies with strong Red Lake mining interests have had a fantastic 2020*:
GoldOn Resources Ltd. (TSX.V: GLD / OTC: NCMBF) — Up 245%
Evolution Mining Limited (OTC: CAHPF) — Up 50%
Yamana Gold Inc. (NYSE: AUY / TSX: YRI) — Up 99%
Premier Gold Mines Limited (TSX: PG / OTC: PIRGF) — Up 174%
* – Prices measured between March 13th and October 30th
Between March 12th and July 23rd, West Red Lake Gold Mines Inc. (CSE:RLG) (OTC:RLGMF) saw its stock gain 400%.
As of October 30th, RLG is still trading 125% higher than its price in early April.
ROWAN MINE PROPERTY
Through an extensive drilling effort, West Red Lake Gold Mines Inc. (CSE:RLG) (OTC:RLGMF) earned a majority stake (64% and operatorship) from JV partners Evolution Mining.
The property is only 15kms to the west of the world class Red Lake Mine and Campbell Mine, which have a geologically similar setting illustrating the exploration potential for high-grade gold zones on the Company's West Red Lake Project – which hosts three former gold mines.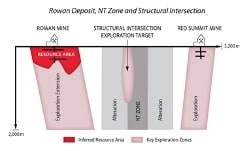 The Rowan Mine property is situated in the Red Lake Archean Greenstone Belt which hosts the high-grade gold mines of the Red Lake Gold District.
Central to the project is its good potential to expand the Rowan Mine Gold Zones to depth and to upgrade upon the current 1,087,700-ounce inferred gold resource—published in 2016.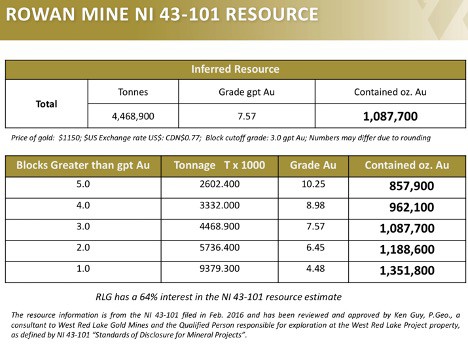 There are now preliminary studies ongoing, including the commencement of drilling on the NT Zone and the Structural Intersection target 1.5km east of the Rowan Mine Shaft. These targets in particular provide significant exploration potential.
"We are increasing the amount of drilling on the West Red Lake Project to continue the expansion of property gold mineralization," said John Kontak, President of West Red Lake Gold. "We believe the project has a potential which may be multiples of the mineral resource outlined to date. Ongoing drilling in 2020 and 2021 is planned for expansion of gold zones and new discoveries."
The NT Zone is to be the focus of the company's exploration drilling over the next 12 months.
Drilling results in late September were impressive, including several high-grade gold intercepts including 5.91 g/t Au over 6.0 metres[11] which followed up on previous impressive results at the NT Zone news released on January 15, 2020.
Highlights from September results included:
3.41 g/t Au over 13.5m, including 5.91 g/t over 6.0 m
7.92 g/t Au over 3.0m, including 14.71 g/t over 1.50 m
3.96 g/t Au over 4.50m, including 7.31 g/t over 1.50 m
7.34 g/t Au over 1.50m
Highlights from January results included:
12.14 gpt Au over 13.5 m
9.14 gpt Au over 7.5 m
5.38 gpt Au over 21.0 m
11.13 gpt Au over 3.0 m
4.99 gpt over 5.2 m
6.34 gpt over 3.0 m
The initial phase of the exploration program in October and November 2020 will be approximately 12 drill holes totalling an estimated 4,000m. The drill holes are targeting below the positive results from the NT Zone intersected to date and further along strike to the northeast within the NT Zone structure. After a break during the month of December the Company plans to start drilling again in January 2021.
MOUNT JAMIE MINE PROPERTY
Complimenting the Rowan Mine Property for West Red Lake Gold Mines Inc. (CSE:RLG) (OTC:RLGMF) is the Mount Jamie Mine property.
Unlike Rowan, the Mount Jamie Mine property is 100% owned by West Red Lake Gold Mines.
During the 1930s, the property produced gold from a 770-foot-deep shaft. The property also contains the PBS Zone, which crosses the property and hosts the former Mount Jamie Mine, the Rowan Mine, and the Red Summit Mine.
RED SUMMIT MINE PROPERTY
The Red Summit Mine Property is also 100% owned by West Red Lake Gold Mines Inc. (CSE:RLG) (OTC:RLGMF).
It consists of 2 claims within the Rowan Mine property, and also situated on the PBS Zone.
The Red Summit Mine property hosts several known gold zones and a 575 foot shaft last in production in the 1930s with an average grade of 14.6 g/t gold.
Previous drilling provided high grade results and highlighted an opportunity for expansion of gold mineralization.
ONGOING STRATEGY
In the near term, the strategy for West Red Lake Gold Mines Inc. (CSE:RLG) (OTC:RLGMF) is to explore high grade gold at the 2km long NT Zone and to explore the Rowan Mine to greater depth.
Long term, the strategy is to realize the greater potential of the West Red Lake Project including the NT Zone, Rowan Mine, Mount Jamie and Red Summit Mines, and the Structural Intersection of the PBS Zone and the NT Zone.
Overall, the strategy for the company is to explore and develop a gold property asset that is attractive to the mining industry and the investment community.

VETERAN MINING MANAGEMENT TEAM AND BOARD
Tom Meredith – Executive Chairman
Former President & CEO of Lexam VG Gold
John Heslop – Vice Chairman
Former President & CEO of Thundermin Resources, and former President of PDAC
John Kontak – President & Director
Former President of Victory Gold Mines

Ken Guy – Exploration Manager
Over 30 years' experience in exploration and development projects in Northern Ontario
Dan Crandell – Director & Audit Committee Chair
CFO of several publicly traded resource companies
Michael Deyn – Director
Former Senior Geologist with Goldcorp and former President & CEO of Nayarit Gold
---
7 Key Highlights to Remember for West Red Lake Gold Mines Inc. (CSE:RLG) (OTC:RLGMF)
Gold's price is projected to stay high into 2021 based on investors hoarding the precious metal as a safe haven investment.
Inferred Resource of 1,087,700 ounces of high grade gold in Ontario's prolific Red Lake Gold District—with resource upgrade potential open at depth.
West Red Lake Project property consists of 3,100 hectares, hosts three former gold mines, and is located only 15km west of the Red Lake Mine Complex of Evolution Mining (previously owned by Goldcorp).
Joint Venture partnered with Evolution Mining at the Rowan Mine property with RLG retaining 64%, and operator distinction with high grade gold near surface.
Diamond drill programs and Drone MAP Geophysics in 2020/21 at the NT Zone scheduled and underway.
Additional Red Lake District properties that are 100% owned by West Red Lake Gold Mines that share geological structures as Rowan Mine Property
Management Team and Board built from leaders with multiple former presidents of successful mining companies.
---
[1] https://www.kitco.com/news/2020-10-23/Investors-will-hoard-gold-even-faster-next-year-keeping-prices-high-Refinitiv.html
[2] https://www.reuters.com/article/us-gold-wgc-idUSKBN22C0H6
[3] https://sputniknews.com/business/202007191079931373-russia-boosted-international-reserves-by-over-10-gold-stockpile-by-28-in-one-year/
[4] https://www.zawya.com/mena/en/markets/story/Yellow_metals_golden_era_UAE_Central_Banks_gold_reserves_surge_by_51-ZAWYA20201020054030/
[5] https://www.bangkokpost.com/business/1996595/central-banks-set-to-top-up-gold-holdings
[6] https://www.deccanchronicle.com/business/in-other-news/020120/central-banks-gold-buy-highest-since-1970s.html#:~:text=Gold%20purchases%20by%20central%20banks,the%20data%20from%20Metals%20Focus.
[7] https://www.moneyshow.com/video/a75fd025750940d69caed43c83584db91/welcome-to-the-heart-of-red-lake-canadas-fort-knox/
[8] https://business.financialpost.com/commodities/mining/billionaire-eric-sprott-dishes-on-his-golden-investment-spree-its-like-being-at-a-table-with-a-winning-run
[9] https://ca.proactiveinvestors.com/companies/news/224175/pure-gold-mining-shines-with-closing-of-c475-million-in-financing-led-by-billionaire-investor-eric-sprott-224175.html
[10] https://resourceworld.com/canadas-highest-grade-gold-development-launched/
[11] https://finance.yahoo.com/news/west-red-lake-gold-drilling-143000339.html
---
DISCLAIMER
Nothing in this publication should be considered as personalized financial advice. We are not licensed under securities laws to address your particular financial situation. No communication by our employees to you should be deemed as personalized financial advice. Please consult a licensed financial advisor before making any investment decision. This is a paid advertisement and is neither an offer nor recommendation to buy or sell any security. We hold no investment licenses and are thus neither licensed nor qualified to provide investment advice. The content in this report or email is not provided to any individual with a view toward their individual circumstances. Energymetalsnews.com is a wholly-owned subsidiary of Market IQ Media Group, Inc. ("MIQ"). MIQ has been paid a fee for West Red Lake Gold Mines Inc. advertising and digital media from the company directly. There may be 3rd parties who may have shares of West Red Lake Gold Mines Inc., and may liquidate their shares which could have a negative effect on the price of the stock. This compensation constitutes a conflict of interest as to our ability to remain objective in our communication regarding the profiled company. Because of this conflict, individuals are strongly encouraged to not use this publication as the basis for any investment decision. The owner/operator of MIQ own shares of West Red Lake Gold Mines Inc. which were purchased as a part of a private placement. MIQ will not buy or sell shares of West Red Lake Gold Mines Inc. for a minimum of 72 hours from the publication date on this website (November 12, 2021), but reserve the right to buy and sell, and will buy and sell shares of West Red Lake Gold Mines Inc. at any time thereafter without any further notice. We also expect further compensation as an ongoing digital media effort to increase visibility for the company, no further notice will be given, but let this disclaimer serve as notice that all material disseminated by MIQ has been approved by the above-mentioned company; this is a paid advertisement, and we own shares of the mentioned company that we will sell, and we also reserve the right to buy shares of the company in the open market or through further private placements and/or investment vehicles.
While all information is believed to be reliable, it is not guaranteed by us to be accurate. Individuals should assume that all information contained in our newsletter is not trustworthy unless verified by their own independent research. Also, because events and circumstances frequently do not occur as expected, there will likely be differences between any predictions and actual results. Always consult a licensed investment professional before making any investment decision. Be extremely careful, investing in securities carries a high degree of risk; you may likely lose some or all of the investment.