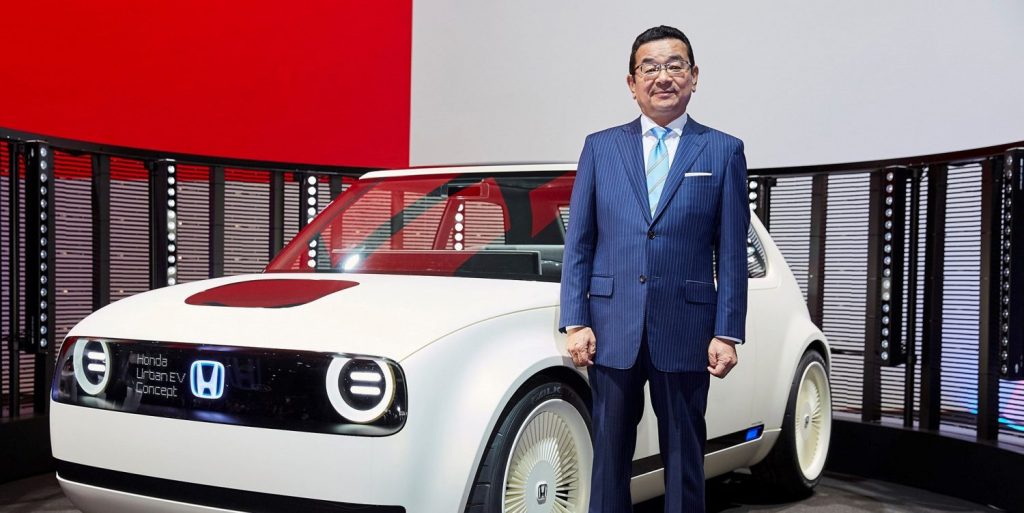 Honda CEO Takahiro Hachigo wants to plot a new course for the Japanese automaker. He plans to simplify the product line, overhaul the production process, and re-align engineering resources to work on new technologies such as driver-assist features. However, EVs are not a priority. "I do not believe there will be a dramatic increase in demand for battery vehicles," he told Automotive News this week.
Hachigo will emphasize hybrids over EVs, with the goal of making two-thirds of global sales come from "electrified "vehicles by 2030.
I believe hybrid vehicles will play a critical role. The objective is not electrification, per se, but improving fuel efficiency. And we believe hybrid vehicles are the way to abide by different environmental regulations.
As Hachigo makes clear, Honda's forays into EVs – such as the introduction of the compact Honda e in Europe in 2020 – is about compliance. He cast doubt on consumer demand for EVs and questioned the readiness of the EV technology and infrastructure.
There are different regulations in different countries, and we have to abide by them. So it's a must to continue with R&D. But I don't believe it will become mainstream anytime soon.
I do not believe there will be a dramatic increase in demand for battery vehicles, and I believe this situation is true globally.
As we posted a few weeks ago, Europe will be the focus of Honda's EV efforts, where emissions standards will get tougher in 2020. Tom Gardner, senior vice president of Honda Motor Europe Honda, in October, said, "The pace of change in regulation, the market, and consumer behavior in Europe means that the shift toward electrification is happening faster here than anywhere else in the world," Gardner said.
The retro all-electric Honda E city car will arrive on European roads in summer 2020. Unfortunately, the $33,000 small EV with a 35.5-kWh pack (offering about 125 miles of range) is not coming to the United States.
Gardner added, "We will bring further battery-electric products to the market." He said that Honda Europe would only sell hybrids and EVs by 2022, three years sooner than previously announced. The automakers will stop selling diesel-powered cars in 2021.
Hachigo's conservative approach also applies to vehicle autonomy. Honda will rely on partnerships, such as with US-based Cruise Automation, for robust self-driving platforms. And in the meantime, Honda will work on bringing affordable driver-assist functions into mainstream models like the Civic and Accord.
Honda will dangle visions of its future next month at CES 2020 when it unveils its Augmented Driving Concept vehicle with a re-imagined steering wheel and no foot pedals. To start the concept car, which is always on standby, you pat the steering wheel twice. Push the steering wheel away to speed up or pull on it to slow down.
Honda will also show off the Honda Energy Management Concept. The details are murky, but apparently, the concept is for society to use ubiquitous portable, swappable, 1-kWh battery packs to power home devices, delivery robots, and small mobility vehicles. At CES, the company will debut one of these seated electric scooters, a concept called Electric Smart Mobility (ESM).