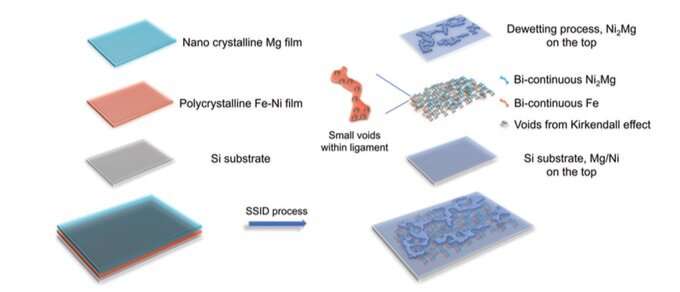 Scientists have developed a new approach for making metal-metal composites and porous metals with a 3-D interconnected "bicontinuous" structure in thin films at size scales ranging from tens of nanometers to microns. Metallic materials with this sponge-like morphology—characterized by two coexisting phases that form interpenetrating networks continuing over space—could be useful in catalysis, energy generation and storage, and biomedical sensing. Called thin-film solid-state interfacial dealloying (SSID), the approach uses heat to drive a self-organizing process in which metals mix or de-mix to form a new structure. The scientists used multiple electron- and X-ray-based techniques ("multimodal analysis") to visualize and characterize the formation of the bicontinuous structure.
"Heating gives the metals some energy so that they can interdiffuse and form a self-supported thermodynamically stable structure," explained Karen Chen-Wiegart, an assistant professor in Stony Brook University's (SBU) Materials Science and Chemical Engineering Department, where she leads the Chen-Wiegart Research Group, and a scientist at the National Synchrotron Light Source II (NSLS-II)—a U.S. Department of Energy (DOE) Office of Science User Facility at Brookhaven National Laboratory. "SSID has been previously demonstrated in bulk samples (tens of microns and thicker) but results in a size gradient, with a larger structure on one side of the sample and a smaller structure on the other side. Here, for the first time, we successfully demonstrated SSID in a fully integrated thin-film processing, resulting in a homogenous size distribution across the sample. This homogeneity is needed to create functional nanostructures."
Chen-Wiegart is the corresponding author on a paper published online in Materials Horizons that is featured on the Nov. 18 online journal issue cover. The other collaborating institutions are the Center for Functional Nanomaterials (CFN)—another DOE Office of Science User Facility at Brookhaven Lab—and the National Institute of Standards and Technology (NIST).
To demonstrate their process, the scientists prepared magnesium (Mg) and iron (Fe) and nickel (Ni) alloy thin films on silicon (Si) wafer substrates in the CFN Nanofabrication Facility. They heated the samples to high temperature (860 degrees Fahrenheit) for 30 minutes and then rapidly cooled them down to room temperature.
"We found that Mg diffuses into the Fe-Ni layer, where it combines only with Ni, while Fe separates from Ni," said first author Chonghang Zhao, a Ph.D. student in the Chen-Wiegart Research Group. "This phase separation is based on enthalpy, an energy measurement that determines whether the materials are "happily" mixing or not, depending on properties such as their crystal structure and bonding configurations. The nanocomposite can be further treated to generate a nanoporous structure through chemically removing one of the phases."