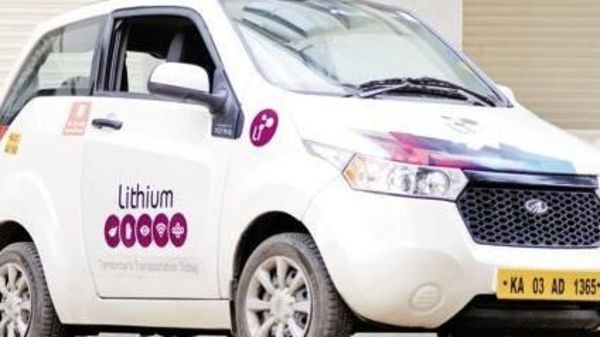 Electric cab services firm Lithium Urban Technologies plans to foray into the logistics segment and plug gaps in the last-mile connectivity area, head of external relations of the company Vikash Mishra said.
In line with the government's push for electric mobility, the corporate transport service provider, which has a fleet comprising four-wheelers also plans to provide pick and drop services to corporate employees by offering bus services.
"We want to try and test with multiple form factors. Right now, the viable business model is four-wheelers. Eventually, we will move to bus and start the logistics business as well," Mishra told Mint.
The Bengaluru-based company on Monday said it has tied up with Wipro to provide transportation services to the information technology company's India campuses. Lithium had started servicing Wipro's Hyderabad campus over a year ago. "The aim is to rollout in a phased manner over the next 12-18 months EV (electric vehicle) fleet powered by renewables, catering to Wipro's employee transportation needs across the country," the company said in a statement.
The electric mobility transport provider is in also in talks with real estate companies offering office spaces to offer mobility services to address the last and first mile connectivity issue, Mishra said.
Founded in 2015, Lithium claims to own the largest fleet of electric vehicles (EV) in the world outside of China. The company owns and operates country's largest EV charging network spread across seven cities such as Delhi/National Capital Region, Bengaluru, Hyderabad, Pune, among others. With a fleet size of over 1,000 electric cars, the company has hired 2,000 drivers to drive them.
The company procures vehicles from Mahindra Electric and is in talks with other original equipment manufacturers (OEMs) for similar tie ups.
"In the next 6-12 months, more OEMs will come to us with their products…We are testing with couple of OEMs," Mishra said.
Lithium's plans comes against the backdrop of the National Democratic Alliance (NDA)-led government making an aggressive push for a cleaner and cost-effective mode of transport to reduce India's dependence on oil imports.
As part of the strategy, the government has also been trying to incentivize the adoption of EVs through several steps in the past few months, similar to those taken by governments in China and Europe. Apart from reducing taxes on EVs and chargers, the government announced tax rebates of up to Rs1.5 lakh to customers on interest paid on loans to buy EVs, with a total exemption benefit of Rs2.5 lakh over the entire loan period. Customs duty exemption on lithium-ion cells, as announced in the Union Budget in July, is expected to help lower the cost of lithium-ion batteries in India, as they are not produced locally. In March, the Faster Adoption and Manufacturing of Hybrid and Electric Vehicles or FAME 2 scheme—to expand commercial vehicle fleet—was also announced with an outlay of Rs10,000 crore.
While Mishra lauded the steps taken by the government on a policy level, towards promoting electric mobility, there are challenges as far as implementation is concerned.
"For example, in Maharashtra, a policy was announced in announced last year our fleet is yet to get subsidy from the government. Similarly, Telangana had announced EV tariff policy. But there is a lot of confusion related to EV tariff implementation," he said.