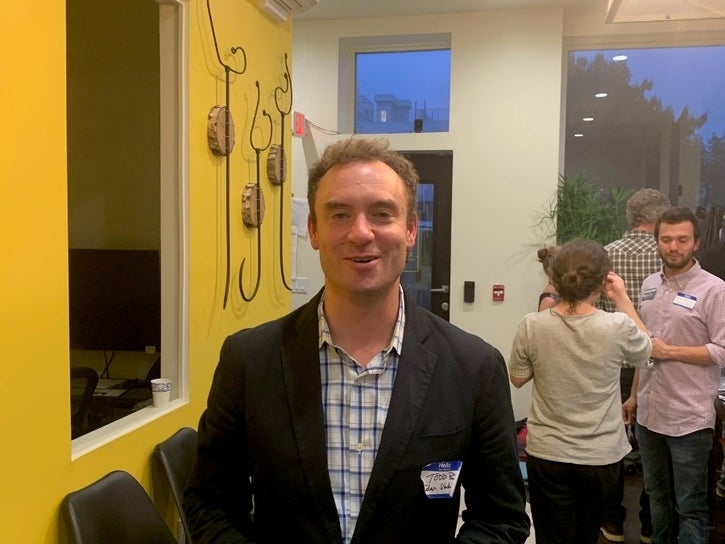 Why do so many people object to burning fossil fuels? And why are those same people excited about solar and other forms of renewable energy? I wanted answers to these questions, so I did some research, then interviewed several people well versed with the subject.
On the website, https://rgsenergy.com/home-solar/solar-vs-traditional-power/,it states that fossil fuels can only produce electricity by being burned.:
Burning them creates unwanted byproducts that can create air and water pollution and release huge amounts of greenhouse gasses into the atmosphere. When in use, solar panels produce power without waste or emissions, and do so through a natural process called photovoltaics.
Alex Lola, a Philadelphia organizer of Penn Environment, whose responsibilities include working across Pennsylvania to protect clean air, clean water, and open space, has been passionate about renewable energy since childhood.
"I grew up in Brooklyn near the Gowanus Canal," said Lola. "I used to walk past it every day to school and I smelled it from half a mile away."
He went on to study climate change, and renewable energy. According to Lola, Pennsylvania does not yet have statewide policies that support solar energy.
Todd Baylson, who does business development and policy work for Solar States, a Philadelphia based solar installation and educational company, said that other states such as New Jersey are far ahead of Pennsylvania in terms of solar energy technology.
"The solar industry has grown a lot, but it still has feast or famine cycles," said Baylson. "We want it to continue to grow."
Why is Pennsylvania behind other states?
According to energy engineer Mark Connolly, in Pennsylvania the upfront cost of using regular energy/natural gasses is quite low. Moreover, unlike many states, Pennsylvania provides fewer incentives to go solar.
"There is a massive supply of energy over production in Pennsylvania, and because we are in a deregulated market and, because we have a phenomenal fracking industry which produces unbelievably cheap gas, that gas is now the choice for the production of energy and electricity," said Connolly.
Connolly believes that Pennsylvania can attract investors to develop solar infrastructure, but the incentives are not there. Connolly said:
"If you look at it from a completely different point of view, you say, 'I'm an investor and I have one dollar. Where do I want to spend it in investing in solar?' You go to a state that gives you an incentive to want to spend that dollar there. Pennsylvania doesn't have the incentives because number one, very low energy prices. Number two, very low solar renewable energy credits. … The major incentive that is used around the country is solar renewable energy credits. The way that the market is structured, the PUC instructs the utilities to purchase a certain amount of solar energy. In Pennsylvania, that's only one half of one percent of the total energy produced."He added that the way that the utility company purchases solar is not directly. "It purchases that generation by providing solar renewable energy credits (S-REC). In Pennsylvania, we have an S-REC market that's worth about $40 dollars. In New Jersey, their S-REC market is much bigger with $160.00. Other states have different approaches to this, but basically the S-REC market is the thing that most people say are driving the incentive investment."
Looking at costs
According to one solar energy enthusiast, Alan Wright:
"If you ignore the uncalculated costs, like the health and environmental impacts, natural gas looks cheap. These costs, what economists call externalities, are the hidden price of burning any fossil fuel. That cost gets picked up by those communities who suffer illnesses caused by pollution, or by those whose homes burn or are flooded from climate change, while the oil and gas industry dance to the bank."
He elaborated that natural gas comes with a price tag, every month.
"You pay PECO for the privilege of being connected to their network, every month, whether you use it or not. Then they charge for every molecule of gas you burn." He said that other costs include cleaning up spills, dealing with contaminated drinking water, treating people for cancer, recovering from earthquakes caused by fracking, and global warming.
"Solar energy, by contrast, is free," Wright continued. "It comes from the sun. Of course, there is an upfront cost for the installation of the technology required to capture the solar energy. That price has been steadily going down as the panels and inverters become more efficient and cheaper."
Wright wonders how long it will take for a solar system to pay for itself based on the savings that come from not having to pay an energy bill.
Why should Pennsylvanians care about lagging behind other states?According to Wright, whose wife works on renewable energy for the Sierra Club, natural gas comes at a price. The technology used to extract natural gas is called fracking, which comes with significant dangers and side effects.
(For those unfamiliar with "fracking", otherwise known as hydraulic fracturing, this is a technique for freeing natural gas from the Earth, by injecting millions of gallons of water, plus chemicals and sand, underground at very high pressure in order to create fractures in the underlying geology to allow natural gas to escape.
Is fracking bad? If so, why do people do it?
According to Mark Overholt, author of "The Environmental Benefits of Fracking,"
Fracking can recover both crude oil and natural gas from shale deposits in unprecedented amounts. This has driven down the price of natural gas and made natural gas a more viable solution than coal. Coal produces three times as many carbon emissions as natural gas and is one of the most harmful fuels in the world. By aiding in the transition from coal to natural gas, fracking has actually improved emissions more than many other sustainable energy initiatives.
Overholt's article can be found at https://www.tigergeneral.com/the-environmental-benefits-of-fracking/
But these supposed benefits of fracking don't sway Wright.
"The process (of fracking) is highly contaminating. "They use toxic chemicals, often including radioactive materials, that get pumped underground wasting millions of gallons of clean water, risking poisoning people's drinking wells. At the same time the process leaks gas into the atmosphere. Methane is 60 times more warming than carbon. That means small amounts have a very negative impact with regards to warming the planet."
The current situation has made Wright worry about what life will be like for his one-year old grandson if the problem of climate change worsens.
Wright does more than just pay lip service. Because he objects to burning gasoline, he has driven an all-electric car, a Nissan Leaf for seven years. It runs on electrons instead of fossil fuel. (One drawback of early electric vehicles (EV's) was that it was harder to drive these cars long distances without time consuming recharging. Today's top EV's can go more than 370 miles on a single charge.) The benefit of caring for the environment means more to him than enjoying the advantages of driving for long periods of time.
These interviews and articles have helped me to understand why solar energy is important and why we should care. I also learned about fracking, a highly significant topic, which will require me to write a separate article.