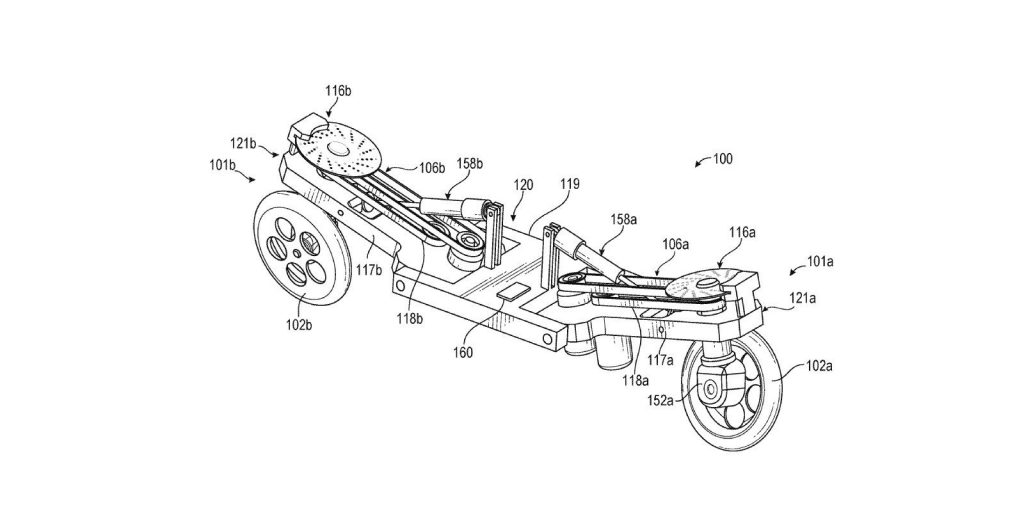 Facebook has apparently been working on developing a robotic electric motorcycle. A recent patent shows more detail than previously known about the strange vehicle.
As other major tech companies are getting into the electric vehicle market, Facebook appears to be hopping on the bandwagon. The exact purpose of Facebook's robotic electric motorcycle isn't known, but we're starting to get a better idea of how it works.
Facebook's robotic electric motorcycle
Based on the patent drawings, the electric two-wheeler appears to feature two-wheel drive.
There are two independent drive motors mounted in a pair of opposing swingarm-style wheel mounts. The motors are connected to the single-side supported wheels via a belt drive system.
However, the drive isn't direct. Rather, the belts spin a short driveshaft that transfers power to the wheels through what appears to be a 90-degree miter gear coupling.
Both drive wheels feature disc brakes, but the brakes aren't mounted like in a typical motorcycle. Instead of placing the rotors on the wheel and calipers on the fork or swingarm, both components are mounted inboard. That would keep the braking system enclosed once the robotic electric motorcycle receives its body.
Steering can be accomplished by one or both wheels via a second belt just below the drive belt. Interestingly, the wheels can rotate through an entire 360-degree arc. While this wouldn't make much sense at higher speeds, it could theoretically provide enhanced low-speed control. The motorcycle could potentially even move sideways for parking or other purposes that require nimble driving.
The robotic electric motorcycle is intended to be self balancing via a control loop stabilizer. As described in the patent:
"The control loop stabilizer may include sensors for detecting balancing input. The balancing input may include information indicative of the linear velocity and angular velocity of the robotic motorcycle, the linear velocity and angular velocity of each wheel, and/or the orientation of each wheel."