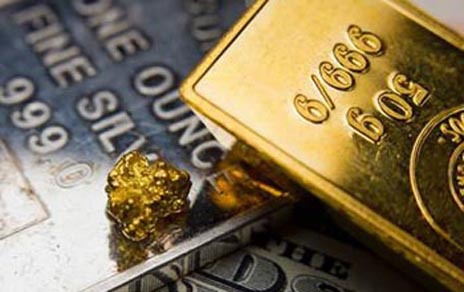 Silver prices may well continue to underperform gold until near the end of the year before silver starts to catch up, said the consultancy Metals Focus in a report Tuesday.
Gold broke back above $1,300 an ounce during a rally in recent days, but silver has remained below $15. As a result, the gold-silver ratio has been above 90, a level not seen since early 1993, Metals Focus said. The ratio measures how many ounces of silver it takes to buy an ounce of gold, with a rising number meaning an underperformance by silver prices, and vice-versa.
"To a large extent, this reflects a lack of investor belief in silver's upside credentials," Metals Focus said. Analysts later added, "In our view, the ratio will remain elevated over the short to medium term before market dynamics start to change, enabling the ratio to start falling."
But if gold continues to tick higher, eventually that should spill over into gains for silver, Metals Focus said.
"Even though the gold price has strengthened this week, further substantial price upside may only emerge towards year-end," analysts wrote. "At that point, we could see the silver price start to gain from positive spill-over effects.
"As silver then starts to strengthen, it will benefit from being a far smaller, less liquid market, compared with gold. As such, the silver price should then start to gradually outperform gold, driving the gold-silver ratio lower, a trend which we expect to continue into 2020."
Factors that reflect the challenges facing silver include lackluster investment in the U.S., Metals Focus said. January-May sales of U.S. Eagle silver bullion coins were up 42% from the same period a year ago. However, Metals Focus said, the comparison looks stronger than it is since sales in the same period a year ago were weak.
"Taking a step back, while 2019 may see U.S. silver coin and bar demand improve, it will still remain low by historical standards," Metals Focus said.
Silver has also struggled because of its dual role as an industrial and precious metal, whereas gold is mainly a precious metal.
"Even though global silver industrial demand has been relatively upbeat, the ratcheting up of U.S. trade tensions, both with China and Mexico, has further encouraged professional investors to either cut their long exposure to silver, or to bet on further price weakness," Metals Focus said. "This helps explain the growth in net managed-money short positions on Comex which, by late May, had risen to their highest since early October 2018."