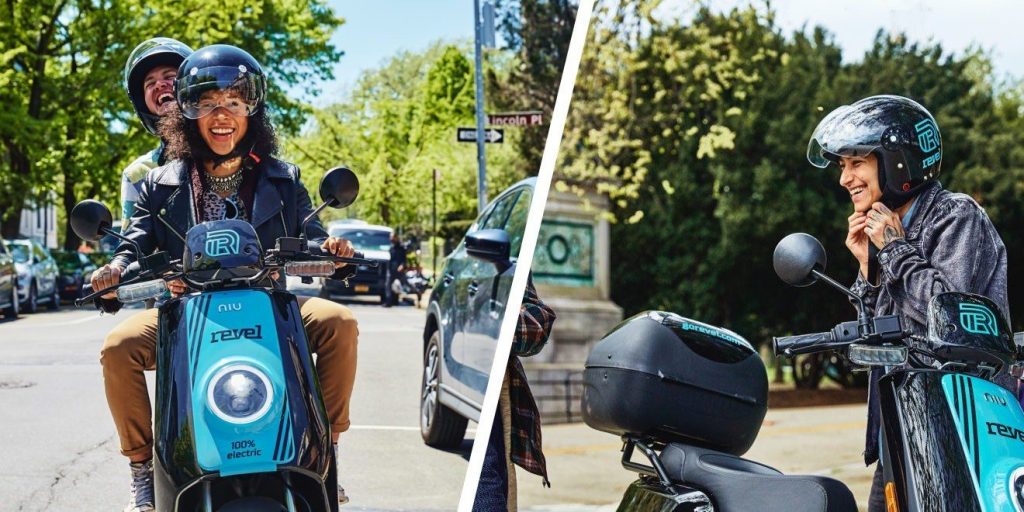 Revel has just dropped 1,000 new electric mopeds in New York City as part of its growing scooter-share program. But these aren't your standard Lime and Bird scooters. They're much bigger — and faster.
Of course, we're not talking breakneck speeds here.
Revel's electric mopeds are limited to a top speed of 30 mph (48 km/h). That's plenty of speed for urban applications, but not enough to venture out on larger roads, bridges or tunnels.
For that reason, Revel's electric mopeds are currently only limited to the boroughs of Queens and Brooklyn.
Revel's shared electric mopeds
Riders can rent the scooters by the minute, where they cost $1 to activate and 25 cents per minute. Rides can also be paused for 10 cents per minute.
Similarly to Bird and Lime scooters, riders use an app to locate a nearby electric moped, then scan the moped on their phone to activate.
Unlike Bird and Lime, rider's don't have to remember to bring a helmet. The electric mopeds come with a helmet already stored inside of the cargo hold.
Revel also offers free 30-minute riding classes after registering for anyone who doesn't feel comfortable riding an electric moped without personal instruction. However, if you are comfortable on a bicycle, you'll probably be able to handle an electric scooter, which generally feels like a heavier version of a bicycle — though one you won't need to pedal.
Revel initially rolled out the NYC-based electric moped sharing program last summer. The trial began with 68 electric mopeds during the trial run. Now that the company is adding 1,000 scooters, it would appear that the first trial was declared a success.
The electric mopeds in the trial run were MUVI scooters manufactured by the Spanish company Torrot. The scooters featured front hydraulic telescopic and rear single monoshock suspension, hydraulic brakes, a 4″ LCD display on the handlebars, CANBUS and Bluetooth communications, GPS connectivity, keyless ignition, two 1.2 kWh 48V Li-ion batteries for a total of 2.4 kWh of battery capacity, and a peppy 3 kW mid-drive motor with belt drive.
The new batch of 1,000 electric mopeds are NGT scooters made by the Chinese company NIU. A world leader in electric scooters, NIU's NGT is their latest model and features both a high powered mid-drive motor and 4.2 kWh of battery. The scooters can actually reach speeds of around 43 mph (70 km/h), but are speed limited to just 30 mph (48 km/h) as part of Revel's program.