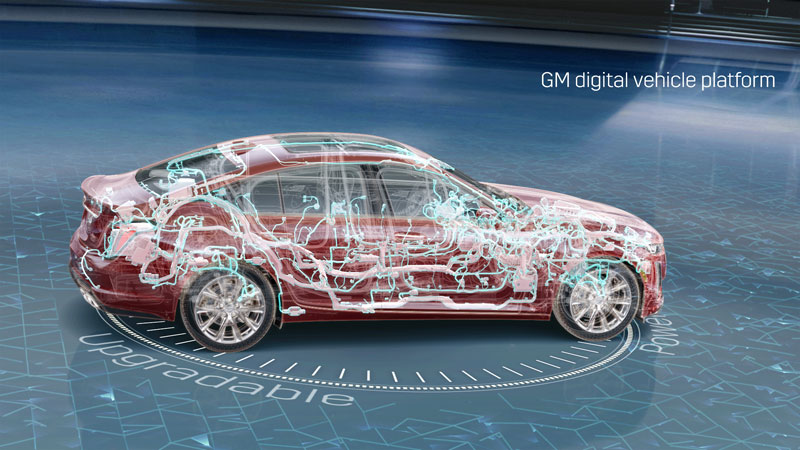 US car giant General Motors has released details of an all-new digital electronic platform that will form the backbone of the carmaker's next generation of connected and electric cars.
GM, which in late 2018 announced its intention to undergo a massive restructure, including closure of five factories and firing 15% of staff in a bid to cut costs to fund a transition to electric mobility, revealed that the new digital architecture has been designed to be "EV-ready" and handle the demands of all the mod-cons such as active safety, infotainment and connectivity features.
To do that, it will deliver a platform with a phenomenal 4.5 terabytes of processing power per hour – five times more than its previous generation of electric architecture.
"It's the brain and nervous system of the vehicle," GM's director of electrical components and subsystems Al Adams, who led the development of the new digital platform, said according to Wired.
It will also (finally) take on the likes of Tesla with the capacity for over-the-air software updates, offering upgrades to functionality for drivers throughout the entire ownership of vehicles.
It will underpin GM's latest electric vehicle announced last week – the Chevy "EUV" crossover, which it is assumed stands for "electric utility vehicle" and is more or less a reworking of the Chevy Bolt but significantly will be one of the first to be able to receive over-the-air software updates.
"The critical role of software and its importance to our vehicles, both now and for years to come, cannot be overstated," said GM President Mark Reuss in a statement to the press.
"Our new digital vehicle platform and its eventual successors will underpin all our future innovations across a wide range of technological advancements, including EVs and expanded automated driving."
The press release, which was obtained by The Driven from Holden Australia, indicates that while the first vehicle to receive the new architecture is the 2020 Cadillac CT5 sedan, the company intends to roll out the new platform to all its vehicles by 2023.
General Motors – which is the parent company of Holden in Australia – has not made any clear statements as to when it intends to completely transition to electric drivetrains, although recent steps in that also direction include committing $US423 million ($A611 million) last month towards the development of a new electric car under the Chevrolet badge.
Recent comments by GM CEO Mary Barra at last quarter's earnings call also indicate this commitment, including a promise to develop an all-electric ute (or pickup).
The last electrified vehicle to be sold in Australia by Holden was the PHEV Volt which was pulled from sales in 2015, but a spokesperson from Holden Australiahas confirmed that it won't be the last, noteing that GM's commitment for "Zero Crashes, Zero Emissions, Zero Congestion" is inclusive of the carmaker's Australian operations.