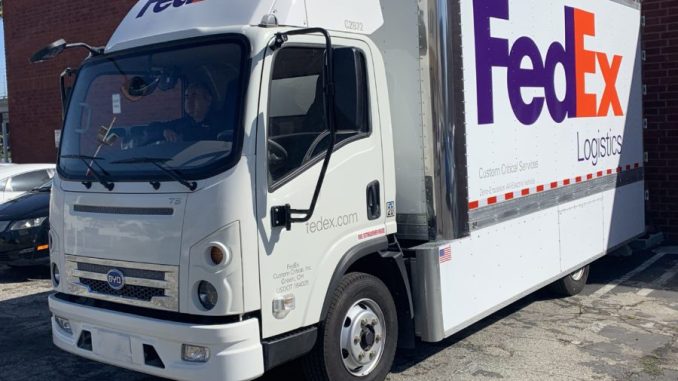 We spotted a battery electric FedEx delivery vehicle in downtown Los Angeles Friday and thought we'd share the find with our readers.
Electric delivery vehicles — the workhorse of the last mile in the delivery chain — are making appearances all over the globe. In fact, earlier this year IKEA announced earlier that by 2025 it will do all of its customer deliveries by electric vehicle.
The North American Council for Freight Efficiency (NAFCE) reports that a medium-duty urban delivery van on a stable route of between 50 to 100 miles per day could be one of the earliest commercial vehicles to viably operate as an all-electric workhorse. That's because charging can be done predictably, stop-and-go traffic can tap into regenerative braking and there's a sweet spot of miles driven. It's the same argument that's being used by companies like BYD and Mack to sell electric refuse trucks.
The sighting of FedEx's BYD light truck, might have been predictable. As Katie Fehrenbacher, Green Biz's senior writer and analyst wrote in March "delivery giants UPS, FedEx and DHL all have been buying electric delivery vans where it makes sense in specific cities. DHL has set a target of operating 70 percent of first and last-mile delivery services with 'clean transport modes' by 2025. Last month, the company said it would roll out 30 electric delivery vans in the San Francisco Bay Area made by Workhorse Group.
The electrification of freight trucks is just starting, but it has the potential to revolutionize the industry just as the dieselization of locomotive engines revolutionized freight transport in the 1940s and 1950s. Mike Roeth, NACFE executive director, said, "Electric trucks present a new world of potential business opportunities and are no longer speculation. Fleets choosing electric trucks today will get on the learning curve ahead of those that wait."