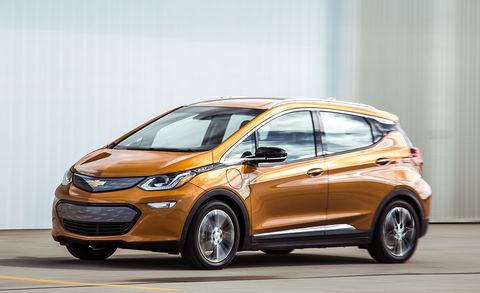 Chevy has talked about producing more electric crossovers besides the Bolt EV, and it now appears much closer to fulfilling that goal. Our sister site Autoblog has obtained photos and video of Chevy testing a more utility-focused crossover, rumored to be named the Bolt EUV, on public streets. It's heavily disguised, to put it mildly, but you can see a more SUV-like design with a larger back and a more vertical snout. While the current Bolt is officially labeled as a crossover, the EUV would bet better-suited to grocery runs and family vacations.
There's no official release schedule for the EUV, but a combination of rumors and GM's overall timeline suggests you'll see the machine arrive in late 2020.
This will likely be a stopgap model for Chevy. GM is in the midst of developing a third-generation platform that will form the foundation of its EVs for years to come, but that will take time — this gives the automaker more variety before it transitions to electric vehicles in earnest. And much like Tesla's Model Y, Chevy could produce the Bolt EUV without making dramatic changes.