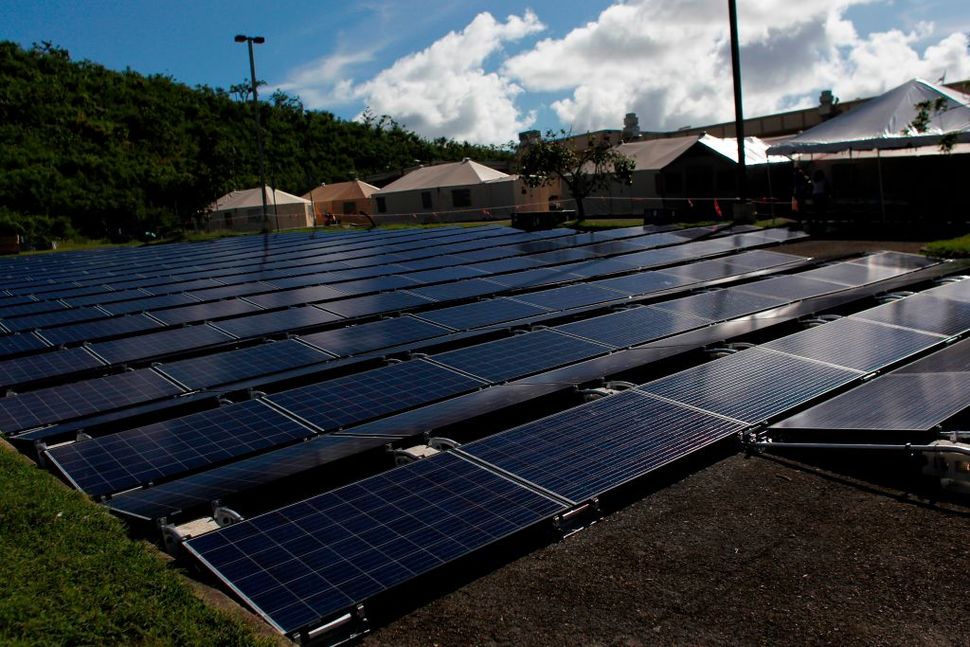 SEVEN MONTHS AFTER Puerto Rico announced an end to the longest blackout in U.S. history, caused by a devastating hurricane that left nearly 3,000 people dead, Gov. Ricardo Rosselló last month signed a bill committing the island to go 100% renewable by 2050.
The governor, a Democrat, as well as environmental groups and local community advocates, cheered the move, one they said would ultimately eliminate Puerto Rico's dependence on expensive imported oil, gas and coal, and make the island more resilient to hurricanes that are only expected to become more powerful with climate change.
"We have designed a regulatory framework to transform our energy system to a resilient, reliable and robust one with fair and reasonable rates for all consumers," Rosselló said in a statement upon signing the bill in April.
Federal overseers in the nation's capital, however, apparently have other ideas.
Weeks after Puerto Rico's legislature approved the 100% renewables bill in April, and before it won Rosselló's signature, Republican members of Congress and the Trump administration came out against the plan.
"It's just unrealistic," Rep. Rob Bishop, R-Utah, said in an April 9 hearing on Puerto Rico's energy infrastructure. "This might be a nice concept of social engineering, but it is still political interference with your primary goal, which is to provide affordable and abundant energy."
The same day, the Trump administration called for building up natural gas infrastructure around San Juan, including a single sprawling multibillion-dollar project that would generate twice the output of an average gas plant in the U.S.
Speaking later at the House hearing, Energy Department Assistant Secretary Bruce Walker acknowledged that such an "investment may be at odds with" Puerto Rico's renewable energy mandate goals but contended that it would be the most cost-effective approach to generating electricity.
"DOE believes an increase in the natural gas generation in San Juan would be one of the single most valuable investments for PREPA's long-term recovery," Walker said in written testimony.
As Puerto Rico repairs its electric grid, experts say that expanding some gas infrastructure, such as by converting heavily polluting existing coal plants to cheaper, cleaner-burning gas plants, makes sense. The utility has proposed a series of smaller-scale projects it says will better support the eventual roll-out of renewables.
The Energy Department's plant proposal, meanwhile, is off the table, Puerto Rico Electric Power Authority CEO Jose Ortiz says.
"It's not technically wrong, but it's against the public policy," Ortiz says.
That wasn't initially the case. PREPA in February introduced a five-year plan that called for less than a quarter of the island's electricity to come from renewable sources such as solar and wind, plus battery storage, with the rest to be made up mostly from new natural gas infrastructure, as well as oil and coal. Puerto Rico's energy regulator rejected the proposal, sending PREPA back to the drawing board, and the utility is now considering a plan that more closely mirrors the law signed by the island's governor last month.
This revised plan is nominally consistent with the mandate of shifting to renewables in that Ortiz says it will operate in the short term while infrastructure is put into place. He says the shorter-term plan will involve a series of five-year contracts with plant owners and operators that will likely involve converting some coal plants to gas and building several other facilities, including three import terminals for liquefied natural gas.
"We still have 31 years to go to the full renewable target as the law enacted, and in the meantime we need a cheaper fuel," Ortiz says. "We are basically trying not to hold long-term contracts and also not to invest in big infrastructure."
Some experts remain skeptical that the short-term approach won't detract from the ultimate goal. Cathy Kunkel, of the Institute for Energy Economics and Financial Analysis, a nonprofit research organization, pointed out that even relatively smaller natural gas projects require sizable investments – ones large enough to lock Puerto Rico into continued reliance on imported fuels that could well upend its effort to go 100% renewable.
"It doesn't seem to make a lot of sense to build a new natural gas plant and say, 'We're only going to run this for five years.' You'll just never recover your investment on that, not to mention needing to build port infrastructure to get the natural gas to Puerto Rico," Kunkel says.
It remains far from certain – perhaps even doubtful – that Puerto Rico will reach 100% renewables by 2050. In 2010, for example, the legislature passed Law 82, requiring PREPA to generate 12 percent of its electricity from renewables by 2015. As of this year, or before even Hurricane Maria, that tally stood at 4 percent.
"We already had a beautiful law, and we didn't comply," says Elivan Martinez Mercado, a fellow at the Energy Institute at the University of Texas-Austin and energy journalist in Puerto Rico. "We may have another beautiful law, and it would not solve anything if we will not comply with it."
The challenge has less to do with technology than political machinations, financial mismanagement, as well as everyday corruption and incompetence that for decades has plagued PREPA, which filed for bankruptcy in the wake of Hurricane Maria and is expected to be privatized.
"There's been a long history of corruption in the energy sector," Kunkel says. Much-needed repairs languished for years, and contracts remained hidden from public view. Most glaringly, and most recently, a Montana-based company named Whitefish Energy Holdings, with only two employees, won a $300 million contract to make repairs to the grid – a pricetag later found to include twice the normal wages for utility workers and abnormally high meal rates.
Ortiz acknowledges that PREPA's past performance does little to inspire confidence in the utility's current plans, saying the credibility questions are "correct."
Consumers are not waiting to see what happens. Individual residents and neighborhoods are investing in rooftop solar and batteries, many with support from environmental nonprofits and community organizers. By one measure, supplying rooftop solar and batteries to Puerto Rico's poorest residents would cost $1.4 billion – $600 million less than one of the planned new natural gas plants.
"Most of the deaths during Hurricane Maria were related to lack of power. So solving Puerto Rico's energy situation is a matter of life and death, and it's a matter of economic development," Mercado says. "These are the priorities: saving lives and having a good quality of life and not losing too much money when a blackout comes for too many days. This affects small businesses, this affects households, this changes everything. So this is the priority for the population."