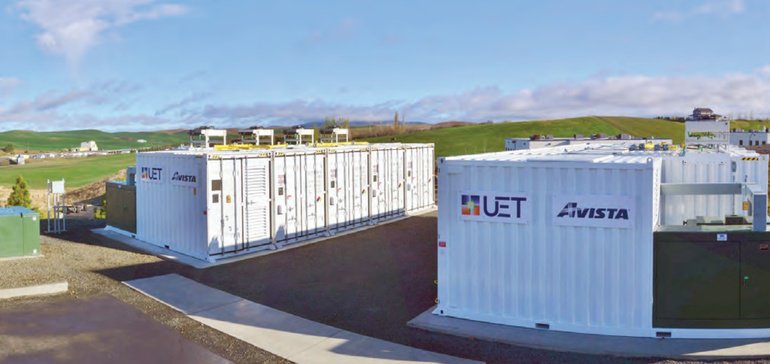 The California Independent System Operator (CAISO) on April 30 said it has become one of the first wholesale power markets in the United States to connect a new and innovative battery storage technology to its grid.
The four-year pilot project is intended to test and evaluate the performance of flow batteries in the commercial wholesale market. San Diego Gas & Electric (SDGE), in coordination with Tokyo-based Sumitomo Electric, started testing a flow battery in 2015, according to CAISO, and the battery started participating in the ISO wholesale market in December.
The vanadium redox battery storage pilot will provide 2 MW/8 MWh of energy storage, enough to power the equivalent of 1,000 homes for up to four hours.
U.S. energy storage deployment is expected to double in 2019 and exceed 4.4 GW by 2024, according to a March report by Wood Mackenzie and the Energy Storage Association. In 2018, the U.S. installed 350.5 MW/777 MWh of storage capacity, with 47% of deployments occurring front-of-the-meter.
Given the nationwide increase in renewable energy targets, utilities and wholesale market operators have ample reason to experiment with different types of storage technologies in order to determine which of them will provide the most benefits to the grid and consumers.
CAISO refers to storage as a "vital strategy" to meet California's goal of 100% zero-carbon electricity by 2045. The state's current oversupply of solar power in the middle of the day and subsequent drop-off in the evening has led to a curtailment of solar. With more storage on the grid, the oversupply of solar could be captured and used later in the day, reducing the need for curtailment and increasing the grid operator's ability to balance load, CAISO said.
"Storage is going to be critical for us to reach our renewable targets and some of our clean energy goals," said CAISO spokeswoman Anne Gonzales. The ISO is "technology agnostic," she said, and seeking different technologies that are "economically sustainable."
"The reason that this one was so important is that it's the first one," Gonzales said. "So we will get some baseline information and be able to have evidence of whether or not it's economically viable on our market."
While the technology is also used in other parts of the country, SDGE's flow battery project is Sumitomo's first such installation in North America, utility spokeswoman Helen Gao said.
In a flow battery rechargeability is provided by two chemical components dissolved in liquids contained within the system and most commonly separated by a membrane, according to the Energy Storage Association.
The configuration of flow batteries could make bulk system electricity storage more cost-efficient, as scaling the battery simply means increasing the size of the electrolyte tanks, said Peter Klauer, senior advisor for smart grid technology at CAISO.
Flow battery systems are also expected to have a long life-span and less degradation from repeated charging cycles.
Last September, the U.S. Department of Energy announced $148 million in funding for two separate initiatives, including $120 million over five years to renew funding for the Joint Center for Energy Storage Research (JCESR) program that does research and development on new battery materials.
The money is allowing JCESR to continue its research on new materials that can improve the energy density of lithium-ion batteries and devise new concepts for flow batteries.