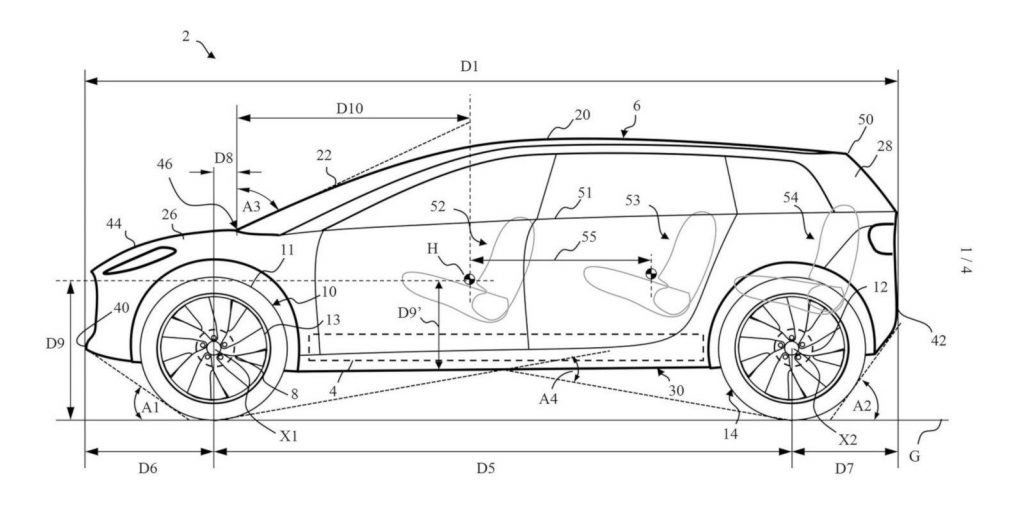 Recently published patents and an interview give a few insights into the possibilities being considered for Dyson's first electric vehicle.
The Telegraph has a few more details about James Dyson's thoughts on the car, as obtained from a memo sent to staff. The company is still planning to launch the vehicle in 2021, with Dyson saying it will be "entirely designed by Dyson, manufactured by Dyson, and sold by Dyson."
Dyson told staff the car would contain "fundamentally new technologies and make some inventive leaps," and such advances could be seen in the vehicle's aerodynamics, efficiency, and architecture.
The drawings in the patents admittedly don't reveal much. They are instead said to "show an androgynous vehicle and provide a glimpse of some of the inventive steps that we are considering."
Nevertheless, the patent hints at relatively large wheels. According to The Telegraph, Dyson says the wheels were inspired by the Mini's design, which would make the vehicle more efficient and ready to take on both "city and rough terrain."
Third-row seats can also be seen in a patent sketch. "Androgynous vehicle" claims notwithstanding, their inclusion leads us to believe Dyson is at least considering this possibility.
To that point, Dyson also mentioned in his memo that he's uninterested in smaller electric cars, noting that the "ride comfort of such vehicles tends to limit their attractiveness and utility."Autocar spoke to Dyson, who confirmed the vehicle would have an aluminium body. The article emphasizes the vehicle's expected long wheelbase, high floor and low roof, with sedan-style seating — Dyson described that as a "command" driving position. Autocar also mocked up the patent filing to a real looking form:
Dyson also spoke to the Financial Times, and he told them the company has already signed on with a major tire manufacturer.
He also expressed his desire to see the UK move up its ban on the sale of new petrol and diesel cars to 2030. A government committee recently recommended the date be moved up to 2035 from 2040.
Dyson announced last October it would build its electric vehicles in Singapore. Another report last year claimed Dyson is planning to build three electric vehicles.