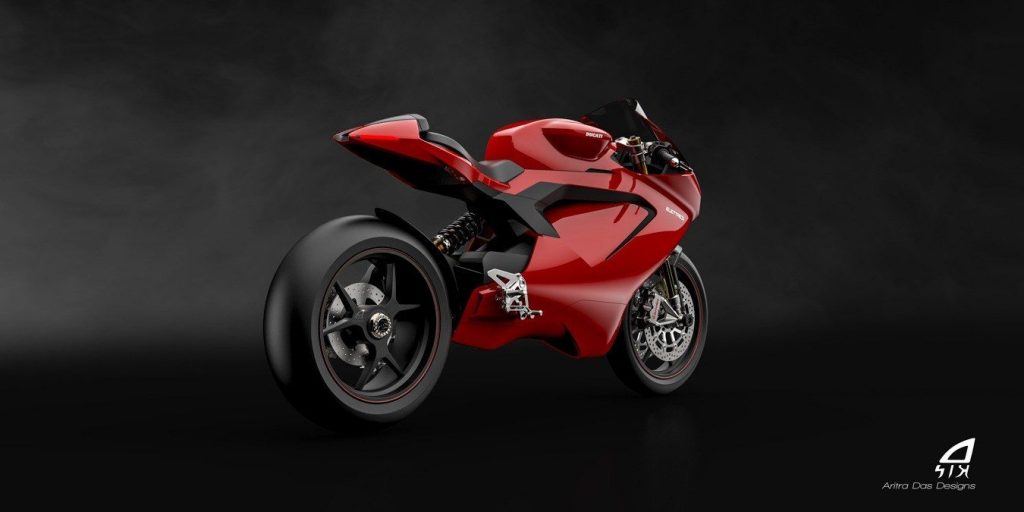 Ducati is well known for its impressive design legacy. The Italian motorcycle brand has often led the industry when it comes to sexy sport bikes.
Now we're getting a look at how the company's first electric motorcycle may look. And you might be surprised by how well it fits into the Ducati lineup.
Ducati is heading towards electric motorcycles

Ducati hasn't been shy about its electric motorcycle ambitions.
Earlier this year Ducati CEO Claudio Domenicali confirmed that the company is already working on their first electric vehicle. Speaking at a Motostudent event in Spain, the Ducati CEO told the crowd:
"The future is electric, we're not far from starting series production."
While we assumed that meant an electric motorcycle, Ducati stunned the industry last week when it announced that it would partner with Vmoto to produced a Ducati-badged Super SOCO CUx electric scooter.
And that's not even Ducati's first electric two-wheeler. Electrek got up close and personal with Ducati's electric bicycle last year at the 2018 EICMA Milan Motorcycle Show.
But those have all been teases on the road towards a true Ducati electric motorcycle. And keeping with that theme, here's one more tease: a potential design for Ducati's first electric superbike.
Could this be the first Ducati electric motorcycle?

These new renderings of a Ducati electric superbike show how the brand could develop its first true electric motorcycle while honoring the famous Ducati design legacy. Designer Aritra Das has shown off what is being dubbed the Ducati Elettrico (not to be confused with the Elettrica – Piaggio's first electric Vespa scooter).
The Ducati Elettrico bears a striking resemblance to the company's other bikes, such as the Ducati Panigale superbike.
While we don't have any hints yet regarding Ducati's plans for an electric powertrain, the renderings give a glimpse at how the bike could be outfitted. The fully faired Elettrico features a single-sided swingarm with offset mono-shock, a mid-mounted motor, chain drive, inverted front fork and Brembo brakes – all standard on many of Ducati's current bikes.
It is important to remember that Elettrico exists only in these renderings and there is no guarantee that Ducati is working on a bike like this. But if you take their CEO at his word, then you might not be surprised to see a bike that looks something like this in the next few years.