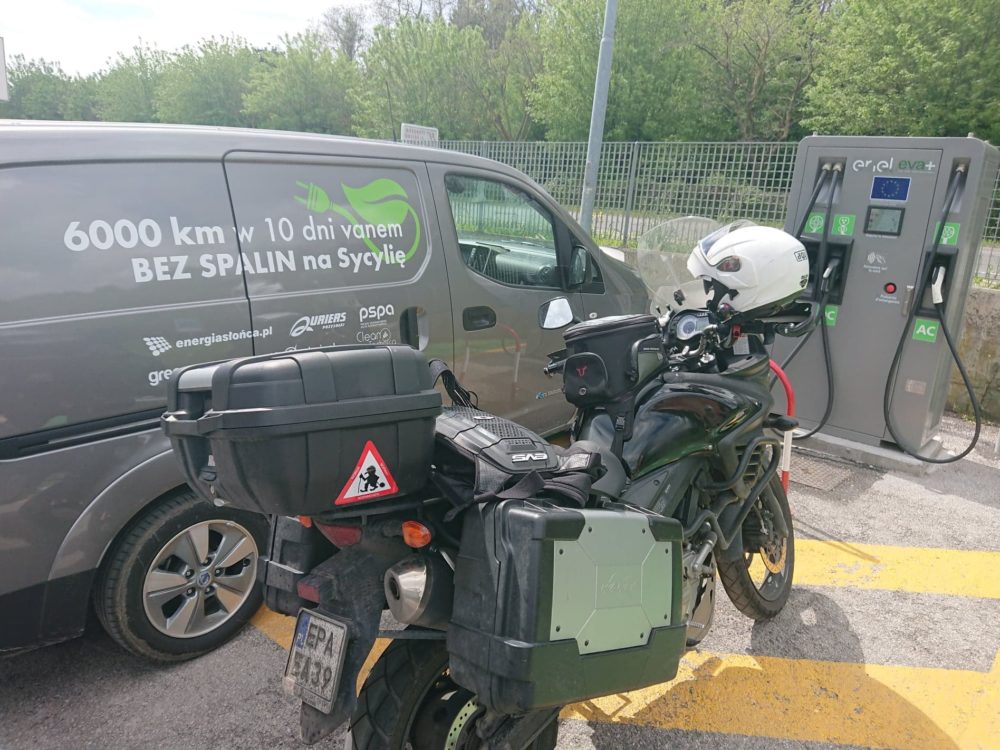 Where did we leave off? Yes, it was that memorable night walk in the streets of Venice with Uncle Google. The plan was simple – charge up where you can and wander around sightseeing the north of Italy while heading towards Rome. Things never seem to go as planned, so right after we left — somewhere near Ravenna — one of the motorbikes in our team broke. It simply refused to go any further. (It's perhaps worth mentioning here that I and my e-NV200 electric van (on loan from Nissan) are being accompanied by … motorbikes and a gang of … friends).
The Nissan and I were free to go to lovely Rimini to enjoy kilowatts from an Enel X network while the bikers spent most of the day searching for a mechanic.
After everything, it turned out the motorbike could not be repaired. Luckily, we are traveling in a van with 700kg of cargo capacity. The eNV200 and I rushed 120km north to rescue my unfortunate friend and carry on the adventure with the entire group. The rebellious bike was loaded in the back and with a slight delay of 8 hours, we headed south again. On that day Nissan did 500km but only moved 200km south. Nobody seems to be complaining, though.
The following day, after charging almost fully at the hotel, we paid a really short visit to San Marino, which happened to be rainy on that day. Thanks to another two Enel X chargers, located in large shopping centers where we grabbed quick meals, we could head south, through Arezzo, to arrive in Rome late in the evening. We did 450 km staying as far as possible from motorways. You can guess why.  Of course, we did the absolute must-sees in Rome on foot — such as the Colosseum and Roman Forum — and we explored the trail of local beverages, some of them even non-alcoholic… 
The following day, we were hoping to repair the bloody ICE motorbike (life would have been easier if it were an electric motorbike, wouldn't it?) at one of the Rome garages. That meant we spent most of the day driving the motorbike around from one service center to another, only to find out the repair would take a couple of days. …
The only thing left to do was to load the motorbike back into the e-NV200 and carry on as before. We finally headed south at 17:00, and after 6 hours, we made it to the coastal city of Sorrentino beyond Naples.
Our accommodation was planned for a campsite. My observation, after many years of traveling, is that campsites offer a great charging opportunity when traveling a long distance in an EV. You may need a camper plug adapter in Italy, though, as there are very few regular sockets. It's easier in Poland or Germany in that respect.
We were going to say what is planned for the next couple of days, but that appears quite pointless, as you can see. Let's wait and see what happens next before I finally make it to Sicily. Till then.