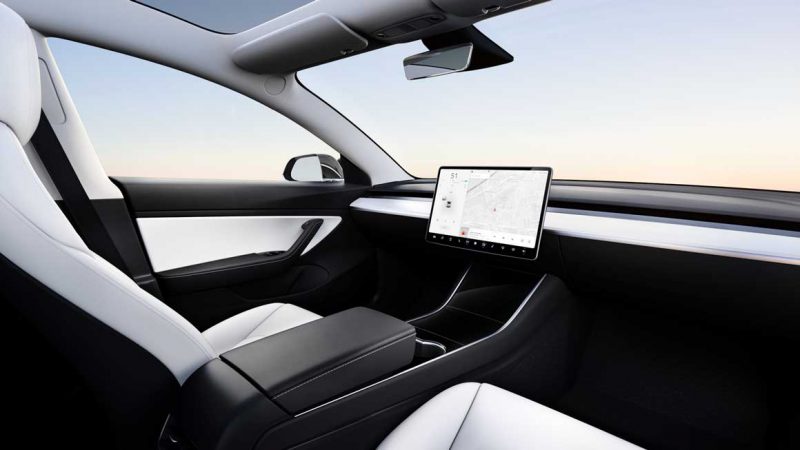 Three figures stood out late last week when Tesla CEO Elon Musk invited us to rethink the future of electric transport, and the worth of Tesla cars and the company itself.
Musk has already turned the trillion-dollar automotive industry on its head, and served notice to the multi-trillion fossil fuel suppliers by making EV driving the ultimate experience on the way to kicking fossil fuels out of the economy.
Now he is inviting us to imagine a world of shared autonomy – where fleets of robo-taxis could soon become the default mode of transport, particularly in big cities. And, he suggests (along with likes of Stanford's Tony Seba) this could within just a few years.
Autonomy, Musk says, and particularly Tesla's proprietary self driving chip, is so far ahead of the rest of the crowd that it could make the company worth $US500 billion ($A711 billion) – more than 10 times its current value of $US42 billion.
And it could even make individual Tesla cars worth significantly more than what the customers paid for them, on the basis that they could serve part time or full time in those autonomous fleets.
In fact, Musk suggested in a closed-door investor call late last week, as self-driving capabilities are added via software, the value of any Tesla could rise by a half order of magnitude, or five times, CNBC reported. The net present value of a single Tesla car, Musk said last week could be $US200,000.
Skeptical analysts scoffed at the idea, saying Musk is overpromising again, because he doesn't deliver on his promised timelines. This has been the default position of naysayers and the self interested short-sellers – as it has been since the day Tesla stock first jumped into the stratosphere, daring to challenge the powerful incumbents, a move some say is still doomed to fail.
But consider this. One of the big take-outs of Tesla's autonomy day – held (quite deliberately) just two days before the company's big quarterly loss announcement and a week before its $3 billion fund raising – was just how far Tesla is ahead of its rivals on some aspects of self-driving and full autonomy.
It is impossible for anyone to gauge just who will win this race, but everyone acknowledges now that the race is on – and like every other technology development, it will happen quicker than anyone thinks, not withstanding the considerable legal, regulatory and ethical problems that will arise.
But as for costs and efficiency, analysts at Morgan Stanley noted that the Tesla "chips" installed in its cars create a "neural network" and machine learning from an un-matched data base that in turn will enable it deliver self-driving capabilities at maybe 1/200th of the price of most of its rivals.
What's that figure again? 1/200th. (One two hundredth).
"We believe Tesla has at least comparable full self driving technology at between 1/100th and 1/200th the cost of many peers demonstrating exquisite, Lidar-encrusted robot taxis," the Morgan Stanley analysts wrote in a report.
"To be clear, we estimate Tesla's vision based sensor and compute hardware solution costs around $1k/car vs. other L5 autonomous prototypes with $100k to $200k of hardware cost per unit or more."
Tesla expects to have one million such cars on the road and ready to take part in a robo-fleet as early as next year. It's not clear where that will happen. Musk says "somewhere in the world", but Morgan Stanley notes there is a lot of work to be done before Musk can get his robo-fleet operating on the streets.
For one, Musk claims Tesla self driving is twice as safe as human driving. Great, but for regulators to give approval, for insurers to come on board and force the hand of governments and consumers, self driving is going to have to be a lot safer than that.
Even a few accidents with robo-cars will create an extraordinary amount of media and legal pressure, so Tesla – or any other company, for that matter – will have to deliver on what it promises to be a significant improvement. It will need to be near faultless.
The reaction of the Morgan Stanley analysts when they went on a self-driving excursion in a Tesla was interesting.
"The biggest differentiator, in our view, is that Tesla conducted a complete, fully autonomous 20 minute test drive including on-highway and off-highway suburban streets without Lidar.
"Was it perfect? No. Did the driver have to manually intervene/disengage autopilot? On our drive, yes – one time when the car was about to miss a right-hand turn on a ramp. Did I feel safe? Yes. Would I want to fall asleep behind the wheel while in autopilot? Not yet."
Still, this is a reminder of just how quickly transport will change over the next decade. Musk is confident enough to predict that Tesla will be making cars without steering wheels or pedals within a few years.
Even now, if you lease one of Tesla cars – a popular form of purchase – you will not be able to buy it. Tesla will be buying it, to add to its own proprietary fleet. If you do buy it, then the options for sharing and putting it into the autonomous fleet will vary (see blow).
Musk insists that Lidar – favoured by the likes of GM's Cruise and the Google spin-off Waymo – will be dumped by the other car makers as they consider their costs. Tesla cars use cameras rather than lasers.
"It is financially insane to buy anything other than a Tesla," Musk said, comparing the purchase of an electric vehicle without self driving capability to that of buying a horse when vehicles first took hold.
Well, he would say that, wouldn't he? But what if he is right? Stanford University's Tony Seba has long predicted the radical re-shaping of electric transport, and autonomy and shared, or common ownership.
Seba says that by 2025, all new cars sold in major markets will be electric. He has suggested that by 2030, individuals (particularly those in cities), may not even own a car,because shared ownership and full autonomy will deliver such cheap and convenient travel.
Musk will likely be first to deliver that scenario at the costs anticipated, just as he opened up the EV market place and allowed governments to imagine cities freed of their vehicle pollution.
Still, investors are not getting too far ahead of themselves just yet.
The Morgan Stanley analysts noted they had been criticised over their $10 billion valuation of GM's Cruise division as being too low. At the same time, "we have long received investor pushback for being too aggressive for ascribing a value of Tesla's automated fleet network business greater than $0."