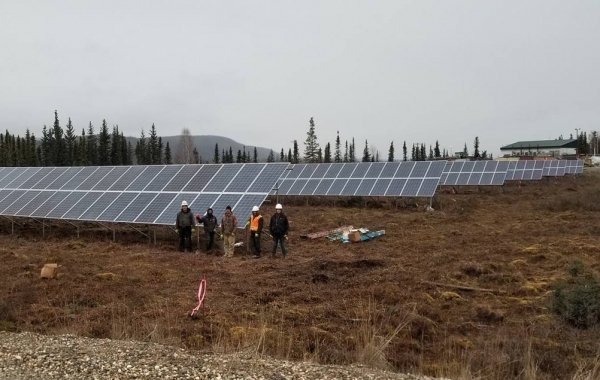 File this one under W for When You've Lost Alaska, You've Lost. The great oil-producing state of Alaska is beginning to deploy solar panels to reduce the use of diesel fuel for electricity generation and reduce sky-high electricity bills in remote rural villages — and yes, the solar panels work just fine in cold, snowy weather.
Also did you know that Alaska has solar resources comparable to Germany?
Killing Diesel With Solar Panels, One Alaskan Village At A Time
Our friends over at the US Department of Energy are so excited about prospect of killing off diesel with PV panels in Alaska that they can't contain themselves. Earlier this month they wrote a whole long blog post about a new PV project in Alaska before it goes into operation.
The new project is located in the Native Village of Hughes and is being partially funded by the Energy Department. In its blog, the DOE noted that Hughes currently consumes 40,000 gallons of diesel for power generation every year.
The diesel situation is really messing with the local economy:
…The Village powerhouse generates 100% of the electricity it produces from diesel flown in on Korean War-era planes. And because Hughes lacks sufficient fuel storage to make fuel delivery by barge cost effective, residents who use over 500 kWh per month pay more than $0.70/kWh—nearly four times the state average.
Yikes! Those are Douglas DC-6 planes, to be exact. The last one rolled off the assembly line in 1958, so you do the math.
Where were we? Oh right, the solar panels. The size of the new installation is smallish, at 120 kilowatts, but everything is relative. When completed, it will be the largest solar installation in Alaska to date.
The new solar panels will be part of a solar-diesel microgrid that includes energy storage. Once up and running later this spring, the microgrid will reduce the village's dependency on diesel by about 25% and save about $1 million in electricity costs over the next 20 years.
Yes, Solar Panels Work In Cold Weather
Hughes sits on a 500-foot bluff above the Koyukuk River, 115 miles northeast of Galena and 210 miles northwest of Fairbanks as the crow flies.
For those of you keeping score at home, here's the official score on the weather:
The area experiences a cold, continental climate with extreme temperature differences. The average high temperature during July is 70 °F; the average low during January is well below 0 °F. Extended periods of -40 °F are common. The highest temperature ever recorded was 90 °F; the lowest was -68 °F. Average annual precipitation is 13 inches, with 30 inches of snowfall.
For those of you new to the solar panel topic, that thing about working in cold weather may seem counter-intuitive. However, the research shows that solar panels are more efficient at colder temperatures. Excessive heat is the real culprit in terms of crimping solar panel efficiency.
Researchers are also finding that snow cover is not a deal-breaker for solar power.
How About Many Villages At A Time? This Many!
There's another reason why DOE is so excited about the Hughes project. DOE lent its financial assistance to the project with replication in mind.
That's consistent with the aims of local energy policy makers. Here's the money quote from the rural energy coordinator for the Tanana Chiefs Conference in Alaska, David Pelunis-Messier:
We're not trying to find a one-off system that works in one community. We're after projects we can do across as many of our communities as possible because it's not just Hughes that has a high cost of energy.
The Tanana Chiefs Conference is a nonprofit that serves 42 federally recognized tribes and 37 Alaska Native communities spread out over 235,000 square miles in Alaska's Interior. All 37 have no access to the state's road system. They are accessible only by plane, snow machine, or boat.
All together, DOE estimates that the Interior villages go through about 1.7 million gallons of diesel annually for power generation. Replicating Hughes's diesel-solar panel hybrid microgrid across the Interior would kill off about half a million gallons of diesel every year.
It's Not Just About The Solar Panels
There's yet another reason why both DOE and TCC are excited about the Hughes project.
Policy makers in Hughes recognized that solar panels would accomplish more than reduce electricity bills. They would also have a ripple effect on the local economy, and they would improve security and reliability, too.
In 2015, Hughes adopted a renewable portfolio standard to achieve those goals.
Pelunis-Messier notes that "Hughes' leadership is very forward-thinking, and they realized every dollar they spent on oil was a dollar that was leaving the community."
Speaking to the potential for replicating the Hughes project across the Interior, Pelunis-Messier also encourages other villages to adopt renewable energy standards:
An RPS is a place to start—and anybody can do it. They're a sovereign entity, and they said, 'As a community that's reliant on diesel, we want to look toward renewables and displace 50% of our diesel by 2025.'"
For the record, the DOE Office of Indian Energy chipped in $623,900 for the Hughes Village Council's "Sustainable Solar Energy for Hughes Village" project. TCC chipped in another $127,737.
According to DOE, the solar panels will fulfill all of the community's electricity needs during peak summertime production months. That includes the clinic, airport, and water plant.
Green New Deal? Alaska Already Has One!
As CleanTechnica has noted many (many, many) times previously, DOE routinely promotes renewable energy in the context of job creation, economic development, and energy security.
DOE is also pursuing renewable energy as a means of improving energy access and affordability for underserved communities and low-and-middle income households.
If that sounds Green New Deal-ish, it is. DOE brings out those aspects of the Hughes project in its blog post. Here's one example:
The Village also prioritized hiring local workers—an objective TCC shares. "One of the most important parts of this project is that we were able to put up this 120-kilowatt solar array using 100% local labor," said Pelunis-Messier. "That was a big win … because a major goal of any project is always maximizing the number of local guys on the ground.
DOE also gives a shoutout to the manager of the Hughes PV project, Edwin Bifelt:
Bringing solar energy to rural Alaska has been a longtime vision for Bifelt, who founded his company to help villages like his lower their energy costs.
[snip]
As Bifelt's neighbors to the north begin to reap the benefits, he hopes other villages will see they too can produce electricity from renewable sources.
The microgrid part of job is still a work in progress, but so far it looks like the project is on track to start pumping out clean power within the next few months. CleanTechnica is also reaching out Bifelt for more details about his work in Alaska, so stay tuned for more.