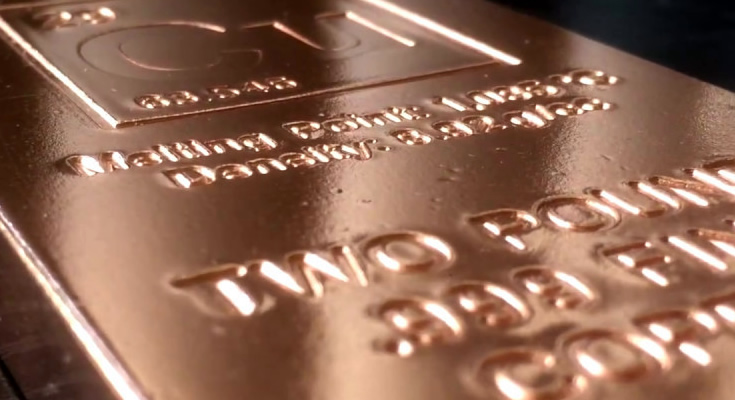 It was a good week for copper, gold, and oil while iron ore weakened a touch.
Copper was the standout but oil wasn't too far behind as crude futures again rose on Friday and last week hitting highs not see for more than three months.
In New York April West Texas Intermediate (WTI) crude futures rose 30 cents, or 0.5%, to end at $US57.26 a barrel, which would represent the most-active contract's highest close since November 12, according to FactSet data.
For the week, WTI rose roughly 3%.
In Europe, global marker crude, April Brent added 5 cents, or less than 0.1%, to settle at $US67.12 a barrel. That was also representing its highest finish since November 12.
Brent rose 1.3% over the week, its second weekly gain in a row.
On Friday the weekly rig-count data from oil-field services firm Baker Hughes showed a fall of 4 in the number of rigs drilling for oil back to 853. The number drilling for gas was unchanged at 194, making the total number of rigs in use across the US at 1,047. The number of active oil rigs is still down around 20 over the past six weeks.
The US Energy Information Administration on Thursday reported that US crude supplies rose for a 5th week in a row, up 3.7 million barrels for the week ended February 15 to 457 million barrels, 6% above the five year average for this time of year (late winter).
US Daily production returned to 12 million barrels in the week ending February 15. The EIA now estimates US daily production will rise to 12.4 million barrels this year and 13.2 million in 201
Meanwhile, gold futures settled higher Friday as the US dollar weakened, with metal enjoying its second straight weekly gain, a day after the metal's largest one-day drop since August.
Comex gold for April delivery on Comex rose $US5, or 0.4%, to end at $US1,332.80 an ounce, while March silver picked up 11.3 cents, or 0.7%, to finish at $US15.914 an ounce.
Gold futures were up 0.8% for the week while silver saw a 1.1% weekly gain
On Thursday, gold prices dropped 1.5%, retreating from a 10-month high, with analysts blaming the slide on less-dovish-than-expected minutes from the Federal Reserve's January meeting, which were released after Wednesday's market close.
Copper did well all week closing at a seven month high on Comex above $US2.95 a pound. That was up 5.6%. LME copper rose more than 4%.
Comex March palladium jumped $US17.10, or 1.2%, to $US1,462.20 an ounce, a weekly gain of 3.9%, while April platinum rose $19.60, or 2.4%, to end at $US845.90 an ounce, for a gain of 4.8% over the week.
And iron ore prices eased on Friday and over the week. The Metal Bulletin 62% Fe index price was $US86.65 per tonne, down three cents a tonne. That was down on the previous Friday's close of $US88.16 a tonne but higher than the $US86.53 a tonne mark from Friday two weeks ago.