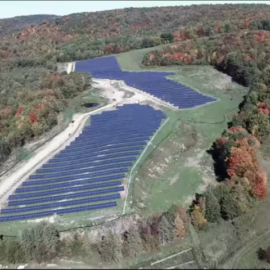 21 public and private universities in the state of New York have banded together to create the New York Campuses' Aggregate Renewable Energy Solutions consortium (NYCARES), which seeks to lower financial barriers to renewable energy procurement through combined purchases. The consortium plans to consider large scale solar photovoltaic, wind, hydroelectric and/or energy storage projects for development in New York State, according to the Sustainable Campus initiative at Cornell University.
The new group says its mission is to "create positive change in our regional renewable energy market, advance partnerships between New York State higher education campuses, and help us advance our academic missions by powering our campuses in a manner that is financially viable, environmentally conscious and socially just." That translates into obtaining all the electricity needed to operate all 21 campuses from net zero carbon resources.
The group includes all 16 campuses in the State University of New York (SUNY) system together with Cornell University's Ithaca campus as well as other private universities. To reach its goal, the group will solicit new projects in the state to supply new renewable energy resources and promote the development of a "green economy," keeping jobs and economic benefit within the state. The NYCARES members expect their efforts to lower costs for renewable energy procurement, protect the institutions they represent from volatile gas prices, and provide new research opportunities for faculty, students, and others.
Sarah Zemanick, director of the campus sustainability office at Cornell says, "As the land grant university to New York state, our commitment to sustainability begins on campus and extends beyond our boundaries. We are pleased to be a founding member of NYCARES. Purchasing net-zero electricity brings our campus one step closer to meeting our carbon neutrality goals." The consortium's activities will also assist the state of New York in meeting its own goal of obtaining 50% of the state's energy needs from renewable sources by 2030. The consortium will focus its efforts on projects that will be ready for operation no later than 2020.