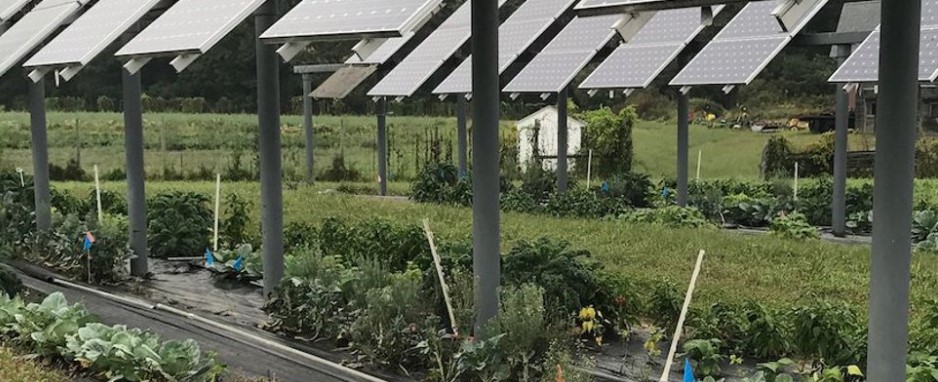 The solar panels in the fields at the University of Massachusetts Crop Research and Education Center don't look like what most of us have come to expect. Instead of hunkering close to the earth, they're mounted seven feet off the ground, with ample room for farmers or cows to wander underneath. Panels are separated by two- and three-foot gaps, instead of clustering tightly together. Light streams through these spaces and, underneath, rows of leafy kale and Brussels sprouts replace the typical bare earth or grass.
This unusual arrangement is one of the first examples of a dual-use solar installation—sometimes called agrivoltaics. It's a photovoltaic array that's raised far enough off the ground and spaced in such a way that some crops can still grow around and beneath the panels. The goal is to help farmers diversify their income through renewable energy generation, while keeping land in agricultural use and reducing greenhouse gas emissions.
"This would seem like a great thing — you get to farm and use the same exact space to generate money from solar production," said Brad Mitchell, deputy executive director of the Massachusetts Farm Bureau Federation. "But it's still in the early stages."
The idea of producing solar energy and growing crops on the same land has been around for a while. Isolated demonstration and research installations are in place or planned in Arizona, Japan, and France. In recent years, however, the concept has become more attractive, as the price of photovoltaic panels has plummeted, interest in renewable energy has risen, and financial pressures on small farmers have grown. And because solar arrays often displace agriculture, causing tension between the two land uses, agrivoltaics is being seen as a potential win-win.
Massachusetts is at the forefront of the push. The state's ambitious renewable energy goals—current targets call for 3,600 megawatts of wind and solar capacity by the end of 2020, doubling the state's current output of 1,800 megawatts — have created a surge of interest in developing solar projects, but the state's high population density means that available land is scarce.
Furthermore, many local food advocates argue that an inadequate portion of the food consumed in Massachusetts is grown there. The short growing season along with high costs for labor and land can make farming in Massachusetts a financially precarious proposition. Some advocates say that dual-use solar installations have the potential to ease a number of these problems at once.
Traditionally, when solar developers turn to farmland for their projects, the property is leased or sold to the developer, the topsoil is stripped, and the panels are mounted on concrete footings embedded in the land. While the shift boosts renewable energy generation, it weakens the local food supply. Some countieshave even started prohibiting large-scale solar developments on agricultural property as a way to preserve the land.
Dual-use developments are particularly suited to Massachusetts' needs, and the state is seizing the opportunity. The UMass installation, a partnership between private solar company Hyperion Systems and the university, is home to a unique research project aimed at calculating exactly well how different crops fare when grown beneath raised panels. And the state's new solar incentive program, known as Solar Massachusetts Renewable Target (SMART), offers extra compensation for dual-use projects.
"To our knowledge, no place else is doing what we're doing," said Michael Lehan, an advisor to Hyperion Systems.