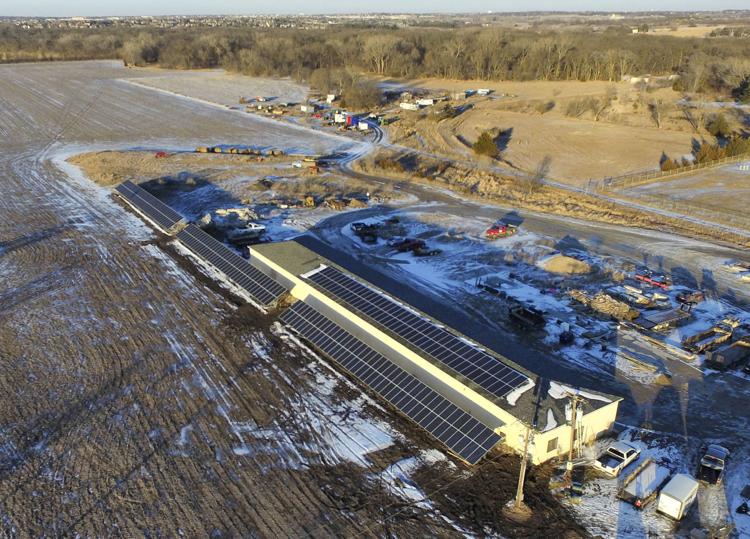 A company that wants to build a wind farm in southern Lancaster County also is considering putting a large solar farm in northeast Nebraska.
NextEra Energy Resources is in the "very early stages of looking at the viability of solar projects in Nebraska," said company spokesman Bryan Garner.
Specifically, the potential project in northeast Nebraska could be one of the country's largest.
At a possible 423 megawatts, it would be the largest solar project not only in Nebraska but also in the Midwest.
There is still a lot of work to do before anything concrete can happen, however.
Garner said NextEra has applied for an interconnection agreement with the Southwest Power Pool, a 14-state organization that operates the regional electric grid and wholesale market in which electricity producers buy and sell power.
Getting an agreement at a reasonable cost would be vital to the project.
Garner said NextEra also is looking at the solar energy potential in the area — as in is there enough sunlight to make the project work.
While wind energy generation has grown more than tenfold in Nebraska in the past decade, solar power generation has barely made a blip on the screen.
According to the Solar Energies Industry Association, Nebraska's solar installations produced about 40.6 megawatts of power in the third quarter of last year, which ranked 44th among all the states. However, a 2006 study cited on the Nebraska Energy Office's website ranked Nebraska as having the 13th best solar potential among all the states.
Garner said in addition to solar potential, "one of the things that's attractive in Nebraska is available land."
Solar installations, especially large ones, take up a large area, so having wide swaths of open ground is important.
NextEra has signed a lease for 2,500 acres in Pierce County with brothers Ryan and Aaron Zimmerman, who have a 345-kilovolt Nebraska Public Power District power line running through their land.
The brothers told the Energy News Network website that they previously had an agreement with a smaller solar company a couple of years ago. But the cost to connect with the Southwest Power Pool, "pretty much shut it down," Ryan Zimmerman told the website.
Florida-based NextEra has been very active in wind development in Nebraska, with the 75-megawatt Steele Flats wind farm near Diller and the 90-megawatt Cottonwood wind farm in Webster County in operation, and the 160-megawatt Sholes wind farm under construction in Wayne County. The company also is considering building a wind farm in southern Lancaster and northern Gage counties.
Though the Pierce County project would be its first solar installation in Nebraska, it has more than 30 solar projects across the U.S. and Canada generating more than 2,000 megawatts of power.
Garner said if the Nebraska solar project winds up being feasible, the earliest any construction would start would be in 2022.