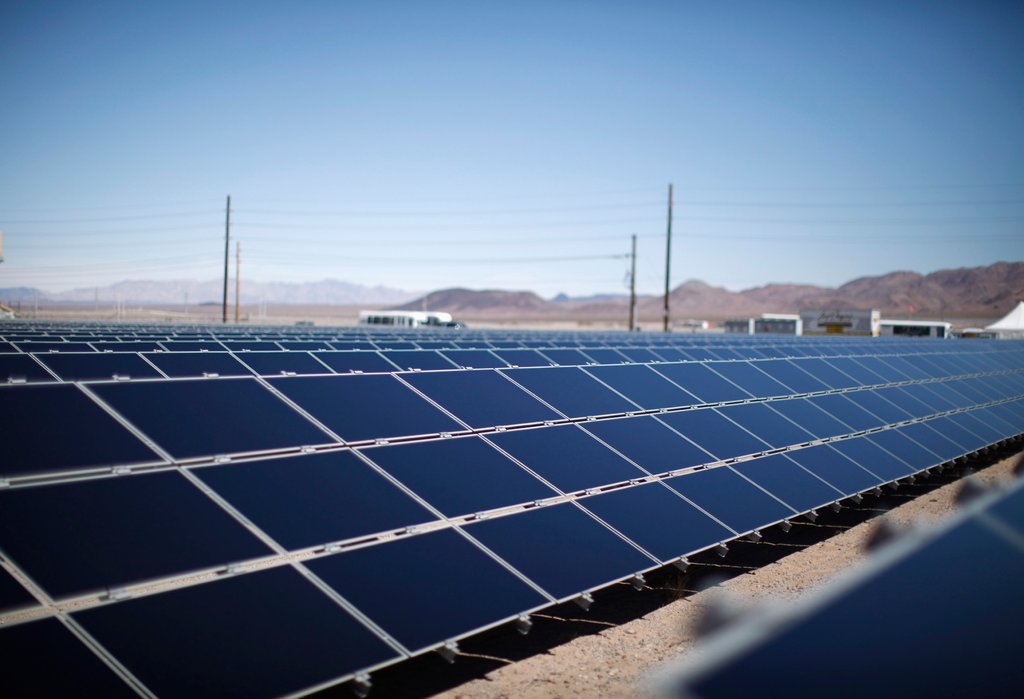 Pacific Gas and Electric promises that its customers' lights will stay on if it follows through on plans to file for bankruptcy this month. But companies that supply the California utility's electricity may have more to worry about.
PG&E said Monday that it would use bankruptcy to resolve huge liabilities arising from two years of deadly wildfires. Such a move would allow the company to try to revoke or renegotiate contracts it signed with suppliers when power prices were higher than they are now. That, analysts said, could hurt companies that borrowed based on the higher prices — especially those whose power comes from renewable resources.
That prospect was underscored this week when credit-rating agencies downgraded the debt of Topaz Solar Farms, which is owned by a unit of Warren E. Buffett's Berkshire Hathaway and whose sole customer is PG&E, and Genesis Solar Farm, a large project in the Mojave Desert developed by NextEra Energy. Both companies said they were operating normally, but were monitoring PG&E's problems closely.
"People often think utilities are safe investments, but this is such a crazy situation," said Daniel Lowenthal, a partner at the law firm Patterson Belknap Webb & Tyler who specializes in bankruptcy and corporate restructuring, referring to PG&E's suppliers, shareholders and lenders.
"Investors and claimants are going to potentially take a huge haircut on their investments due to a catastrophic situation no one foresaw," he added.
PG&E, one of the world's largest electric utilities, faces an estimated $30 billion in damages tied to wildfires that killed scores of people and destroyed thousands of homes and other properties in 2017 and 2018. State officials have blamed the company's equipment for starting at least 17 of 21 major fires in Northern California in 2017, and they suspect PG&E of causing additional fires last year.
If the company proceeds with a bankruptcy filing, it will be its second in about 20 years. In 2001, PG&E sought Chapter 11 protection after a bungled deregulation of the energy sector by California.
Legal experts said the utility's looming bankruptcy could be more complicated than its previous filing. PG&E is not insolvent — it has money to pay its current bills — but bankruptcy specialists said it probably faced tens of thousands of claims from people whose relatives died in the fires or whose homes were destroyed, as well as from bondholders, creditors, contractors and others.
Bankruptcy offers the utility the opportunity to reduce how much it must pay those claimants while managing all of their claims in a single case before one judge.
"It didn't take a crystal ball to figure out what PG&E is doing here is what we call a defensive bankruptcy filing," said G. Marcus Cole, a professor at Stanford Law School. "This is completely voluntarily. What PG&E is doing is circling the wagons."
For power producers, especially those in renewable resources, a bankruptcy filing by PG&E could be wrenching.
In bankruptcy, companies can reject contracts with suppliers, forcing them to join other creditors in asserting claims. PG&E could threaten to walk away from older contracts, particularly those with developers of renewable energy that were negotiated several years ago when prices for solar panels were higher than they are now. (Most of the renewable energy the utility uses is solar power.)
If PG&E succeeded in renegotiating the contracts, it could use the money it saved to pay fire-related damages. That could help shield ratepayers from sizable increases in their electric bills.
Analysts at Credit Suisse estimate that PG&E could save $2.2 billion a year by renegotiating renewable power contracts down to current market prices. Those savings could offset the utility's annual cost of paying off wildfire claims from the last two years, the analysts wrote in a research note.
"It makes a lot of economic sense for PG&E to try and reject the older, higher-priced contracts," said Clifford J. Kim, a senior analyst at Moody's Investors Service.
Opening up existing contracts would be problematic for Clearway Energy, which operates seven plants that supply power to PG&E, according to S&P Global Ratings. All but one of Clearway's plants use renewable energy. The company's stock price is down nearly 30 percent from its high last year, falling sharply on Monday after PG&E said it would file for bankruptcy. Clearway declined to comment.
Con Edison, the New York utility, is also exposed because it supplies power to PG&E through a subsidiary that has operations in California and neighboring states. PG&E is one of the biggest buyers of electricity produced by Con Edison at installations like the Copper Mountain Solar Project in Boulder City, Nev. PG&E pays Con Edison an average $197 per megawatt-hour for its electricity, compared with the $25 to $30 per megawatt-hour cost of power from new solar plants, the Credit Suisse analysts said.
Michael Clendenin, a spokesman for Con Edison, declined to comment on PG&E's planned bankruptcy except to say the company was "monitoring any developments."
Some experts warned that it could be harder than it seemed for PG&E to renegotiate contracts with suppliers. A bankruptcy court could require the utility to pay damages for breach of contract because it still has enough money to operate, Professor Cole of Stanford said.
In one recent utility bankruptcy, an effort by FirstEnergy Solutions of Akron, Ohio, to renegotiate an energy supply contract is mired in litigation. Ohio Valley Energy, a supplier to FirstEnergy Solutions, argued that the contract should be resolved by the Federal Energy Regulatory Commission, which oversees wholesale electricity deals, not by a bankruptcy court. The case is before the United States Court of Appeals for the Sixth Circuit.
The utility could also anger state lawmakers. California's government is trying to increase the use of renewable energy. But investors might be scared off if they thought utilities that operate in the state could easily renege on their contracts with suppliers.
Some California lawmakers have already expressed frustration that PG&E announced plans for a bankruptcy filing without waiting for them to come up with a solution to the company's financial problems.
"What we know today is PG&E has put their fate in the hands of the court instead of the Legislature," said Assemblyman Chris Holden, a Democrat and the chairman of the Utilities and Energy Committee. "We're just trying to get our arms around what's next."
Gov. Gavin Newsom, a Democrat who took office last week, has pledged to protect the state's ambitious clean energy goals, which include producing 100 percent of California's electricity from carbon-free sources by 2045. But the state's efforts have been complicated by the complexity and wide-ranging impact of PG&E's impending case.
Some solar power suppliers said they would seek the state's help to pressure PG&E to honor its contracts.
Bernadette Del Chiaro, executive director of the California Solar & Storage Association, said that members of the group were in discussions with the governor.
"This is definitely the topic of concern," Ms. Del Chiaro said. "It's definitely a real thing. Just how extensive it is, that's the level I don't understand."