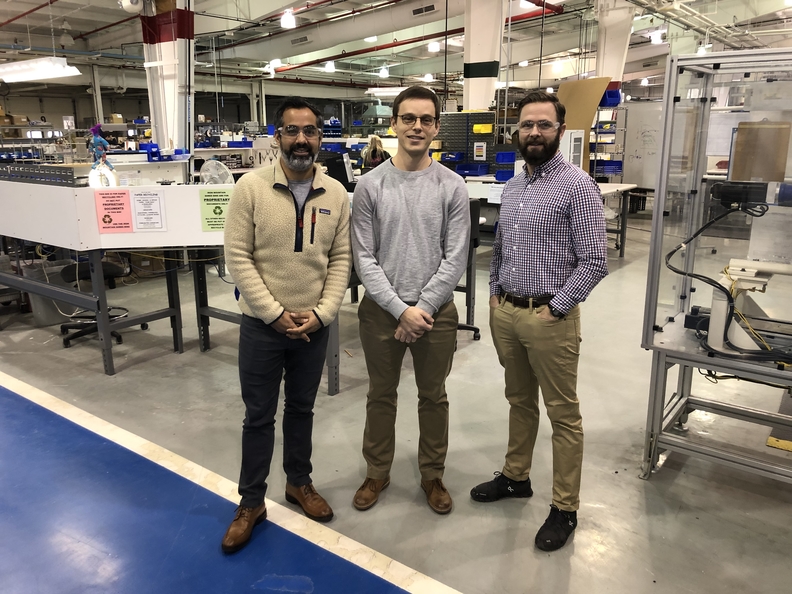 A new technology-focused private equity firm founded by a metro Detroit expatriate has acquired Ann Arbor-based Adaptive Energy LLC, a fuel-cell subsidiary of the British defense conglomerate Ultra Electronics Holdings plc.
Sleeping Bear Capital acquired the company formerly known as Adaptive Materials Inc., a company that produces propane-powered fuel cells for the railroad infrastructure firm RedHawk Energy System LLC and a fuel cell for military-grade drones built by defense contractor Lockheed Martin.
The San Francisco-based private equity firm with a Lake Michigan dune-themed name is headed by Ranvir Gujral, 40, who graduated from Detroit Country Day in 1996 and University of Michigan in 2000.
Ultra Electronics acquired Adaptive Materials in 2011 for $23 million and put it under another U.S. subsidiary, Fort Wayne-based USSI Inc., which makes sonobuoys for the military.
"In many ways, this business was orphaned — it didn't get necessarily the attention it deserved or the resources or the ability to make its way autonomously either," Gujral said. "Those businesses were really not very related."
Terms of the sale were not disclosed. But as part of transaction, Lockheed Martin and RedHawk entered into new supply orders totaling $5.5 million, Gujral said.
"It has all of the hallmarks of a great private equity opportunity — an orphaned business that has great potential, has a really strong set of customers," said Gujral, who sold a San Francisco software firm called Chute in June before forging into the venture capital business.
Before Ultra Electronics taking over, AMI was a company spun off from the University of Michigan that had been largely operating off a series of grants from the U.S. Department of Defense and other government research agencies.
The company's patented solid-oxide fuel cell technology allows for the power-generating cell to be portable.
The fuel cells Adaptive Energy builds for RedHawk for backup power at railroad crossings in remote parts of Alaska and the hurricane-prone Gulf Coast are the size of a desktop computer and can be placed inside a steel cabinet that gets bolted to existing infrastructure to withstand severe weather. Each steel cabinet contains two ordinary propane tanks.
"You can swap out your backyard barbecue tank — and our fuel cells will just keep running," Gujral said. "That's a lot easier after a disaster or power outage."
As unmanned aerial vehicles become more widely used by the military and there are more efforts nationally to harden infrastructure to guard against disastrous weather events amid climate change, the company's leaders see potential for more use of fuel cells.
"As there's more epic disasters, our technology is going to be more critical," Gujral said.
Adaptive Energy's fuel cells for Lockheed Martin's fuel cells can fly the unmanned aerial vehicles for two-to-three times longer than a battery-powered drone. Lockheed Martin has been actively using the fuel cells since 2012, said Tom Westrich, the company's chief technology officer.
"That drone and our fuel cell is currently in Afghanistan and combat zones being used and have seen thousands of hours of actual military flight time," Gujral said.
Gujral is chairman of Adaptive Energy, which has 20 employees at its 47,000-square-foot manufacturing facility on South State Street in Pittsfield Township. He hired Mike Edison from DTE Energy Co. to be the company's CEO. Edison spent 10 years at DTE in the utility company's power industrials group working on finance and small-scale industrial energy development.
Gujral and Edison met at UM as undergraduates nearly 20 years ago.
"To find this opportunity and keep this company in Ann Arbor was really exciting and really fortunate," Gujral said.
For Gujral, Sleeping Bear Capital's purchase of Adaptive Energy is a homecoming of sorts. He's been attending the Crain's Detroit Homecoming event in recent years, looking for an investment opportunity in the region where he grew up and got his education before forging a career in Silicon Valley.
"This is a business that hasn't had an enterprise sales team, there's been no large go-to-market effort," Gujral said. "We have great people here who have been doing a really great job, all things considered. But in many ways, this company has been under-resourced. And I think there's a much larger market opportunity in front of us that we're just growing into."