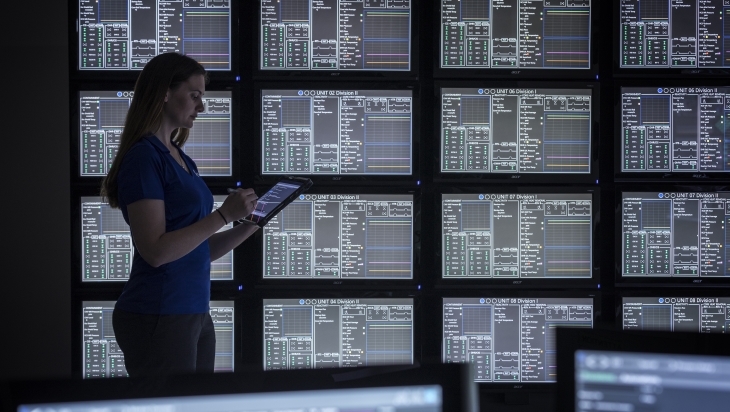 The innovative digital display system shows safety-critical plant data in high resolution, high fidelity graphics for each of the 12 power modules making up a NuScale plant, with dedicated displays for each reactor. The configurable displays will receive input from NuScale's Module Protection System, and can graphically display historical data trends as well as safety-related data in real time.
Use of FPGA technology also means a simpler, more efficient and predictable design, the companies said. The safety display and indication system shows plant data without using microprocessors, operating systems or software in the runtime environment, and the innovative design has improved obsolescence tolerance and reduced cyber security attack vectors compared to other digital display systems currently available.
"NuScale's plant design brings superior safety features that are revolutionising nuclear safety, and we're proud to pioneer the use of FPGA technology in a ground-breaking application for our safety display system," said NuScale co-founder and Chief Technology Officer José Reyes. "We continue to make significant progress in the development of NuScale's state-of-the-art digital instrumentation and control systems, as we build our systems from the ground up to meet technical, safety and regulatory criteria."
Ultra's Vice President of Strategy Mark Ealing said: "These exceptional new safety displays show what is possible when two innovative companies come together and reimagine what the future of nuclear instrumentation and control systems can be."
NuScale's modular light water reactor nuclear power plant design features a factory-fabricated NuScale Power Module capable of generating 60 MWe with the reactor core, pressuriser and steam generator housed inside a single containment vessel. The scalable design – a power plant can house up to 12 individual power modules – can supply energy for electrical generation and process heat applications including district heating and desalination.
The US Nuclear Regulatory Commission is scheduled to complete a design certification review of the SMR in September 2020.The US Department of Energy in December signed a memorandum of understanding on the use of two of the 12 modules of a demonstration small modular reactor project planned for Idaho National Laboratory.
The majority investor in NuScale is Fluor Corporation.
Ultra Electronics is a group of businesses which manage a portfolio of specialist capabilities, generating highly differentiated solutions and products in the defence, aerospace, security, cyber, transport and energy markets.