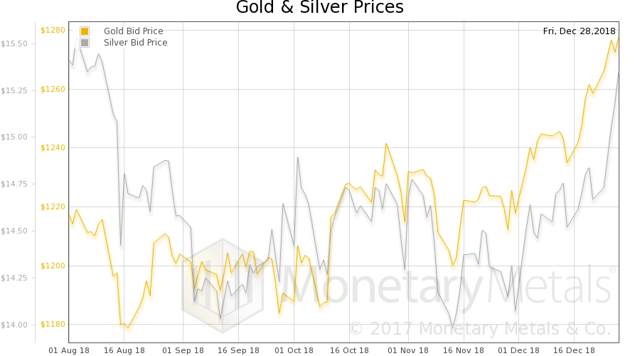 Fundamental Developments: Physical Gold Scarcity Increases
Last week, the price of gold rose $25, and that of silver $0.60. Is it our turn? Is now when gold begins to go up? To outperform stocks?
Something has changed in the supply and demand picture. Let's look at that picture. But, first, here is the chart of the prices of gold and silver.
Next, this is a graph of the gold price measured in silver, otherwise known as the gold to silver ratio.
It fell sharply this week.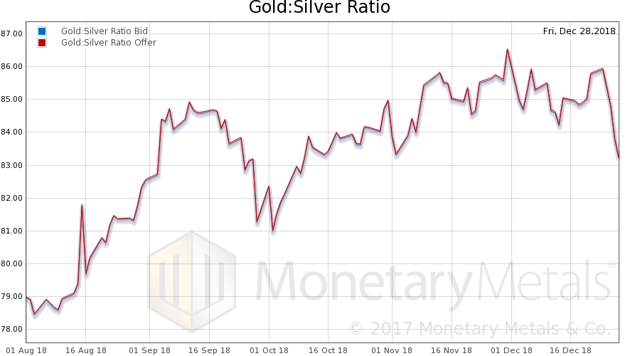 Gold-silver ratio: note that declines in this ratio often go hand in hand with firmer prices for gold and silver mining stocks. The recent move in the ratio constitutes an initial technical breakdown, as the nearest level of lateral support has given way. 
Here is the gold graph showing gold basis, co-basis and the price of the dollar in terms of gold price.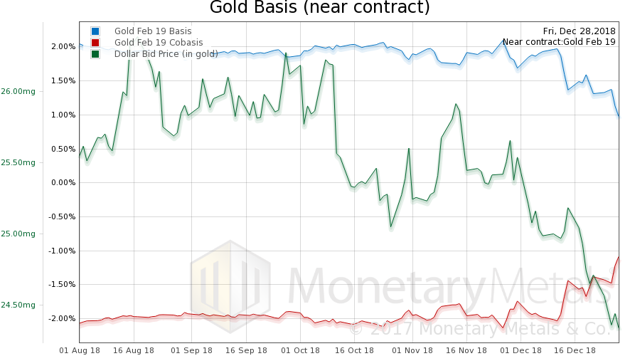 Gold basis, co-basis and the USD priced in milligrams of gold. It is fairly rare and encouraging to see the co-basis rise in the face of a rally in gold prices. 
Notice the price of the dollar (i.e., the inverse of the price of gold, measured in dollars) moving opposite to the scarcity of gold (i.e., the co-basis).
Gold is becoming scarcer to the market, while its price is rising. This is not a move driven by leveraged speculators arbitraging their gold market to stock market expectations or Wall Street betting that gold will go up when stocks go down. Or at least not only that.
There is buying of metal here. The Monetary Metals Gold Fundamental Price rose another $18 to $1,325.
Now let's look at silver.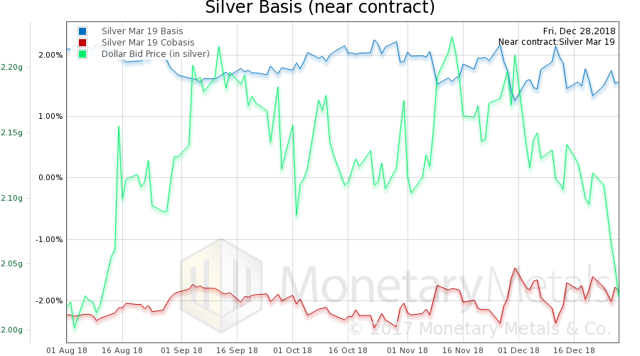 Silver basis, co-basis and the USD priced in grams of silver. In this case, the relative size of the price change and the change in the co-basis remain favorable.
In silver, we see a similar trend. We had a much bigger price change proportionally. And the co-basis dropped, but not a lot. There is buying of silver metal too.
And like in gold, the Monetary Metals Silver Fundamental Price rose 68 cents, to $15.79.
It makes sense, in our broken monetary system, that if people perceive the stock market as having topped many people may begin to turn to precious metals in the hope they may become the next bubble.
Others begin to heed the now out-of-fashion idea of having some money set aside, apart from their portfolio.