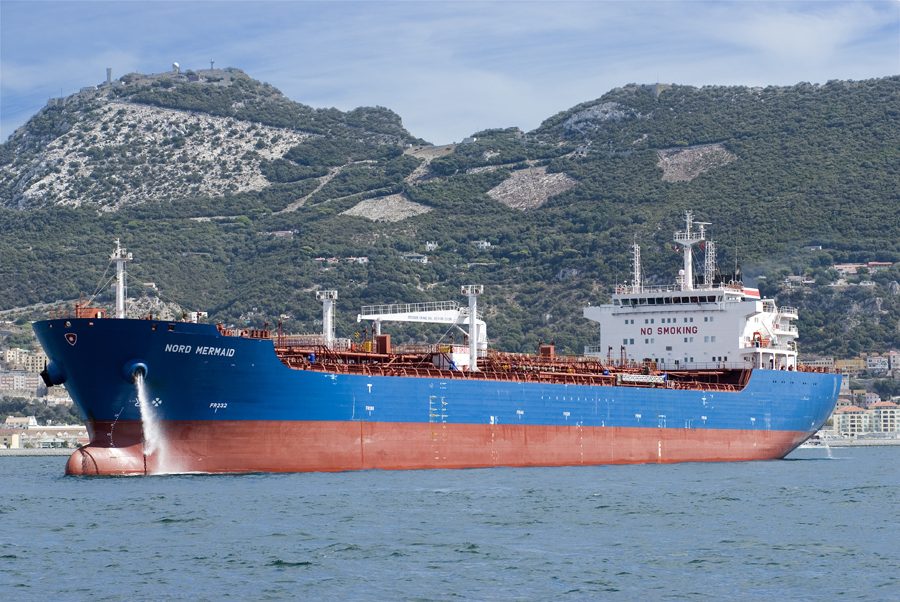 Decarbonisation is in focus for the shipping industry and as a firm advocate of more environmentally responsible shipping, NORDEN has been investigating alternatives to the current fuel types.
In September 2018, NORDEN made a breakthrough, when the company successfully completed a first: a test voyage with a large ocean-going commercial vessel, with the main engine powered 100% by CO2 neutral biofuel.
CEO Jan Rindbo says of the milestone: "NORDEN is proud to be at the forefront of testing and introducing carbon neutral fuel that truly makes an impact on the highly important agenda of reducing the carbon footprint of shipping". He adds, "We have come a long way in increasing fuel efficiency and have among other things reduced CO2 emissions per tonne cargo transported on owned tanker vessels by 25% between 2007 to 2017. With the newly introduced IMO targets on CO2 reductions, however, it is evident that increased fuel efficiency alone is not enough. We need alternative solutions and with this test, NORDEN has shown a viable method to help us reach these targets."
Successful test voyage
The test voyage, which follows months of planning and analysis, was conducted in co-operation with the Rotterdam-based GoodFuels – an innovative and market leading company in the field of advanced sustainable fuels. The test voyage was a ballast trip from Rotterdam in the Netherlands to Tallinn in Estonia on the 37,000 dwt, 182-meter-long Handysize product tanker vessel NORD HIGHLANDER.
To compare how the engine reacted to the biofuel as an alternative to low sulphur fossil fuel, the departure from Rotterdam was conducted on fossil fuel. After a visual inspection of the engine, the vessel switched to biofuel. During the voyage, the engine was operated at different loads for sufficiently long periods to establish stable performance. After the test, a final visual inspection of the engine was conducted. The engine was not negatively affected by the biofuel.
"The test documented that second-generation CO2 neutral biofuel is a technically and economically suitable and thereby realistic alternative to comparable fossil fuel. During the voyage, it was documented that the engine performance is not affected, i.e. the full performance envelope can be delivered without restrictions," says Erik Carlsen, Senior Technical Manager, NORDEN, who oversaw the test.
On offer to customers from 2019
Based on the research, NORDEN has concluded that second-generation bio fuel is a viable alternative to fossil fuels. Several other test voyages have since been conducted, also successfully.
"Now that we have proven CO2 neutral transport as a viable alternative, I am convinced many carbon conscious customers within a foreseeable future will demand this type of transport," says Jan Rindbo.
Interest has already emerged, as Adam Nielsen, Head of Industrial Bulk at NORDEN tells NORDEN News:
"While we have only just concluded the test voyage, our early conversations with potential customers are so far very positive."
He adds, "If all goes according to plan, we will offer the first customer CO2 neutral transport in 2019 and scale up with larger volumes from 2020 when the new MARPOL regulations will be in force.
NORDEN acknowledges that biofuel may not be the sole solution in the long run, however, believes that the carefully chosen second generation biofuels used can contribute significantly to reducing CO2 emission here and now. NORDEN will also continue working with GoodFuels to gain further experience with biofuel as an alternative to low sulphur fossil fuel and is also considering other possibilities to lower the carbon footprint.
GoodFuels and the company's product has been thoroughly investigated by NORDEN, which found both the company and the product to be truly sustainable. Among items of special interest is GoodFuels' sustainability board, consisting of leading NGOs such as the Carbon War Room and academics overseeing and monitoring GoodFuels' operations.