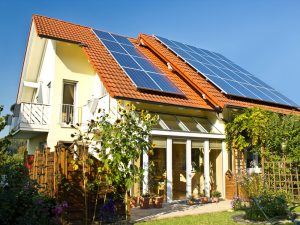 Sophie Vorrath of One Step Off the Grid describes the promising growth in home battery storage underway in Australia.
There is no doubt that 2018 has been a massive year for solar PV, with any number of major milestones and records notched up over the course of the year, including two million solar homes.
But could 2019 be the year of the home battery?
It just might be, if the popularity of the Queensland state government's solar battery loan scheme is anything to go by — lending credence to the theory that canny consumers have been putting their purchases on hold while they wait for state and federal incentives to be put into effect.
That's proved to be a smart move, particularly given that two of the major battery providers in the country — Tesla and LG Chem — have announced price hikes of between 10 and 20 per cent this year.
Loans and grants quickly exhausted
The recently launched Queensland policy — just one of a number being offered by state governments around Australia — provides eligible households with interest-free loans of up to $10,000 and grants of $3,000 to buy batteries or solar-battery systems. Small businesses can also apply for the $3,000 grant.
And it has been a huge hit — "all but exhausted" in just two weeks after its November release, according to Queensland energy minister Anthony Lynham.
By December 3, about 1,200 applications had been lodged for the original 1,500 packages, and — due to the overwhelming response — another 1,000 packages made available.
A further update from the energy minister's office told One Step the total number of applications after four weeks climbed to 1,830. Roughly one-third of those were for battery only, with the other two thirds applying for a combined solar loan-battery grant deal.
The quota is expected to be met by mid-to-late January.
"This response has yet again highlighted Queenslanders' thirst for the savings and environmental benefits of renewable energy," Lynham said.
But does this "thirst" for home battery storage extend to Australia's other states and territories?
Either way, 2019 will be the year to find out. As we have reported throughout the year on One Step, there are a number of similar, if not much bigger, home battery storage subsidy and loan schemes being rolled out by other state governments.
1M home battery storage systems for Australia by 2025?
And there is even the promise of a federal incentive, if Bill Shorten's Labor Party wins the national poll: $200 million for up to 100,000 households as a first step on a path to one million home battery systems by 2025.
In South Australia, the Liberal government's $100 million Home Battery Scheme, capped at a maximum of $6,000 per battery installed, is available to 40,000 households.
As SwitchDin's James Martin wrote, the SA home battery scheme – one of the most generous in the country – is separate from the ambitious (and headline-grabbing) SA Virtual Power Plant project, which could include battery systems for up to 50,000 households.
So far, the SA scheme has already attracted three manufacturers to set up manufacturing and assembly plants in the state, helping to replenish the manufacturing hole created by the end of to car manufacturing.
That should lead to overall price reductions — at least that is the key plank of both the Coalition state government and the federal Labor proposals.
In Victoria, the Labor government has put in place a $40 million program providing battery incentives up to $4,838 (tapering down annually to 2026) for up to 10,000 homes who already have solar in 'growth areas' where there are already large amounts solar connected to the grid.
The ACT's Next Generation Energy Storage program has lead the way on home battery incentives, and is about to enter its third round since 2016, with $3 million committed for the current tranche.
The program aims to put battery storage in 5,000 ACT households by 2020, subsidised on a 'per kilowatt' basis. The ACT is also running a 250-home virtual power plant pilot within the Next Generation scheme.
$50M New South Wales smart energy offering
And in New South Wales, a $50 million smart energy for homes and businesses program offers a $1,000 incentive for customers who have batteries and/or 'smart' air conditioners and "agree to contribute" when called upon for a maximum of five days out of the year for at least three years.
It also has a $20 million commitment to back the installation of batteries for government buildings, under the proviso that the battery systems can function as a virtual power plant with demand response capacity of up to 13 MW across 900 systems.
More news is expected to follow in the lead-up to the state poll in March, with both the Coalition and Labor expected to deliver details of their household battery schemes.
As for the Queensland scheme, the website notes that the application portal will be closed over Christmas and New Year, and reopen on January 2, 2019.
Any applications received after funding has been exhausted will be placed on a waitlist, but cannot be guaranteed a loan and/or grant.