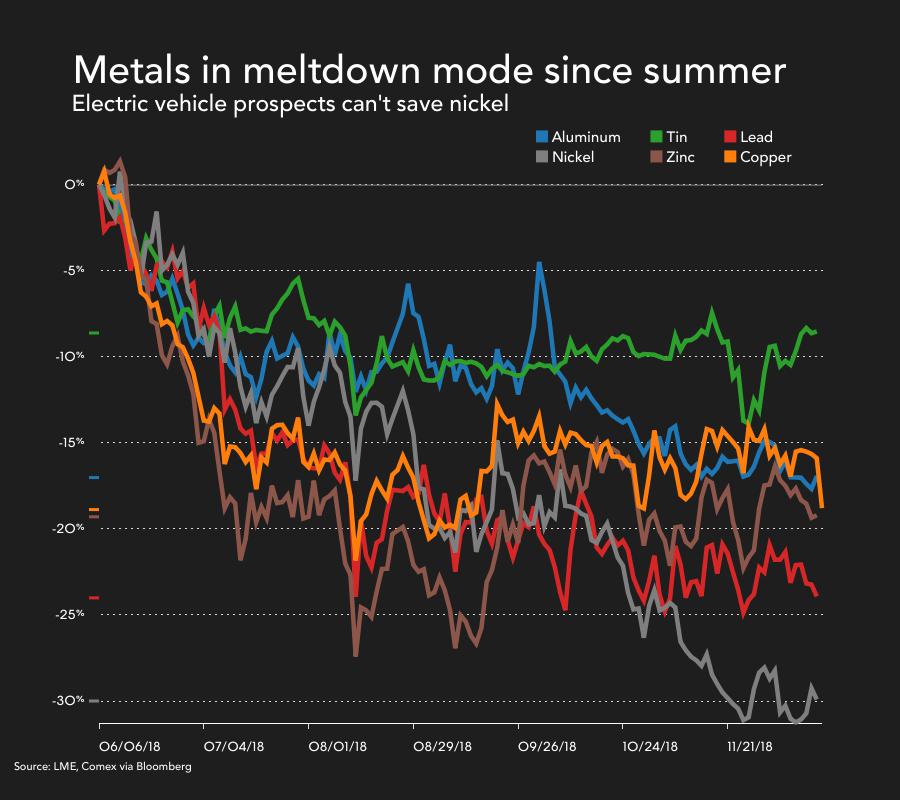 Industrial metals came under renewed pressure on Tuesday after a defiant speech from China's president Xi Jinping diminished hopes of an early settlement in the top commodity importer's intensifying trade dispute with the US.
President Jinping used the occasion of the 40-year anniversary of the start of China's "Reform and Opening Up" to congratulate the stewardship of the communist party and reaffirm state control of industry. While promising Chinese economic "miracles that will impress the world," the president's speech was light on detail about further free-market reforms.
Little indication of fresh economic stimulus for the country's slowing economy and a commitment to its "Made in China 2025" policy – a major sticking point in negotiations between the world's two largest economies – sent base metal prices tumbling.
Bellwether copper touched a low of $2.6550 a pound ($5,860 a tonne) in New York, down 3.6% on the day. China accounts for nearly half the world's copper usage and mounting fears of a trade war has seen the metal decline 20% or nearly $1,500 a tonne from multi-year highs reached in June.
After a strong start to 2018 following a 22% rally last year, nickel's fall has also been swift, with the metal mainly used in steelmaking down 30% from its summer highs. Zinc and lead have reversed most of their 2017 gains while tin is the only base metal with a shot at ending the year in positive territory. The London Metal Exchange index is set to suffer its first down year since 2015.
Copper producers have been the worst hit in the mining sector this year, with US-based Freeport-McMoRan declining 47% from its 2018 peak. Toronto's First Quantum Minerals is trading 53% below its 52-week high. Peru-focused Southern Copper Corp has dropped 46% since the summer while the decline for London-listed Antofagasta is 36%.
Among the diversifieds, Rio Tinto is also in bear market territory, but BHP has fared better – containing share price decline to 10% compared to the counter's year high. Like the Anglo-Australian giants, Brazil's Vale – down 18% from its 2018 high – has benefited from a relatively strong iron ore price, comprising the bulk of earnings for mining's Big 3.