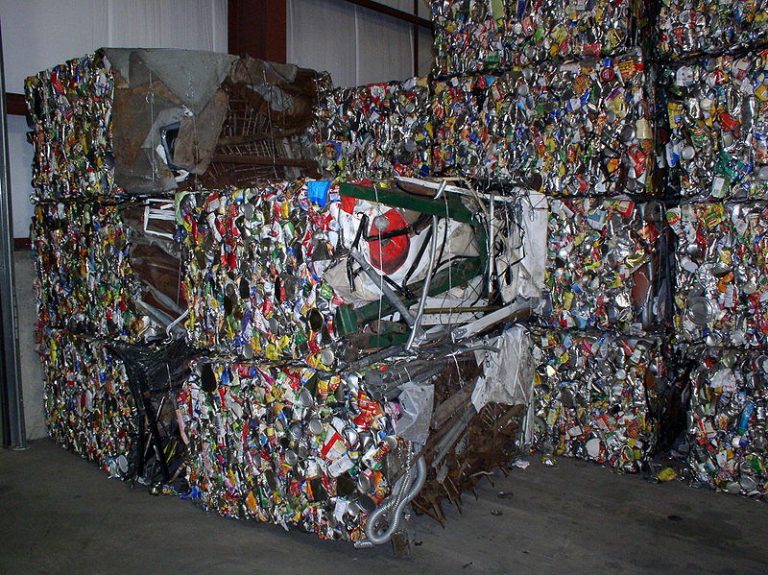 Schnitzer Steel Industries of Portland, Oregon recently released its latest sustainability report, highlighting the progress the company — one of the largest ferrous and nonferrous scrap metal recyclers and metals manufacturers in the U.S. – says it is making across a broad range of key sustainability indicators.
The company, which generated over $2.3 billion in revenues for its last fiscal year, says it has reduced its carbon emissions, energy consumption, water usage and waste per ton produced during recycling processes in fiscal 2017 and 2018, according to the report. Based on the volume of ferrous scrap it recycled in 2018, Schnitzer estimated it avoided over 4 million metric tons of carbon dioxide (CO2) emissions. That's compared to the emissions that would likely have been produced if the equivalent amount of new steel had been produced from iron ore or removing 900,000 cars from roads for a year, according to the company's management.
A big reason for that is that nearly 80 percent of the energy Schnitzer uses comes from renewable energy resources. "As one of North America's largest metals recyclers, sustainability is at the core of what we do and how we operate," said Tamara Lundgren, President and Chief Executive Officer at Schnitzer Steel.
"As part of our multi-year corporate sustainability strategy, we continue to decrease our carbon and process waste generated volumes per ton, and are deploying capital with a keen focus on making our operations even more environmentally efficient so we can consistently deliver sustainable value in the future," added Chief Sustainability Officer Andrew Naporano.
Tracking and evaluating sustainability progress
Schnitzer salvages millions of tons of discarded ferrous and nonferrous metals destined for landfills and dumps and turns them into usable metal products. That conserves mineral and other natural resources, and it significantly reduces greenhouse gas emissions as compared to manufacturing new metals products from the mining and refining of raw metal ores.
The company operates facilities in 23 U.S. states, Puerto Rico and Western Canada. The company's operations include deep-water export facilities on the U.S. east and west coasts, as well as others in Hawaii and Puerto Rico.
Schnitzer evaluates progress on corporate responsibility along five strategic lines:
Integrity, ethics and compliance
Safety, health and wellness
Diversity, inclusion and cultural awareness
Community engagement and partnerships
Environmental performance and protection
The results of the company's sustainability audits and reporting are externally verified and their accuracy assured. In addition, this latest report marks the first time Schnitzer will track its sustainability key performance indicators against the Global Reporting Initiative (GRI) framework, another step towards enhancing the credibility and legitimacy of its sustainability efforts.
The company insists that its sustainability efforts extend to playing an active, positive role in the communities where it has a presence. For example, Schnitzer and its employees hosted community scrap drives and supported communities and organizations in emergency preparedness and disaster relief during the past two fiscal years, as management points out in this report.
Schnitzer's management also created an internal Sustainability Leadership Group with the aim of developing and implementing sustainability and socially responsible business practices. Spanning internal functions within the company, the group interacts with business unit leaders and employees across geographic regions and job functions with an eye towards developing and implementing practical solutions, management explains.
Recycling in the U.S.: a challenging operating environment
Rising international trade tensions prompted by the Trump administration's decisions to levy punitive duties on imports of steel and aluminum, among other products, has been taking a heavy toll on U.S. metals recycling businesses, according to industry experts.
Speaking at the Bureau of International Recycling's Non-Ferrous Metals Division conference in London in October, Edward Meir, director of U.S.-based Commodity Research Group, said that Washington's current trade policy was "dangerous and built on faulty assumptions," according to a trade news report. He added that the U.S. recycling industry is a "big casualty" of recently imposed tariffs by the U.S. and China, and that the tariffs will create more problems than they will solve, leading management to cut back on investments and cancel projects.
In 2017, the U.S. produced 82 million metric tons of steel. Far and away the world's largest producer, China produced 843 million metric tons, up from 808 million in 2016, according to the U.S. Geological Survey (USGS).
The U.S. makes most of its steel and aluminum by recycling scrap metal from manufacturers and materials discarded and gathered from demolished buildings, discarded cars, trucks and other vehicles and cans. Some 68 percent of the steel produced in the U.S. last year was made from secondary or recycled steel products, according to the USGS.
An assistant professor of mechanical engineering at the University of Michigan, Daniel Cooper has been researching how to make U.S. steel and aluminum production more efficient and sustainable for the past eight years. Cooper believes it's possible for the U.S. to reduce steel and aluminum imports dramatically by boosting reuse and recycling, which he says are much better alternatives to the imposition of trade tariffs. "Making far more of the nation's discarded steel and aluminum scrap as good as new would have many advantages aside from its diplomatic dividends, such as cutting pollution and energy consumption," Cooper writes in a June 2018 article.
Schnitzer says it intends to move forward with its sustainability and corporate social responsibility initiatives despite having to deal with these challenges. Looking ahead to 2019, the company is investing in environmental control and advanced processing technologies, which would increase the fuel efficiency of its front-line recycling equipment, according to the report. "Our commitment to sustainable business practices and further integration of sustainability throughout our operations are key components of our long-term strategy," Lundgren said.