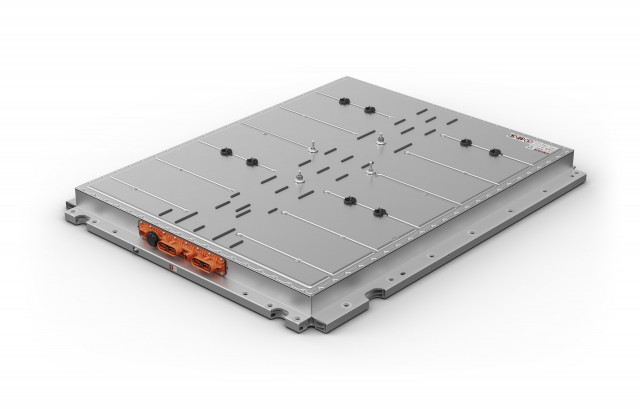 Daimler, the parent company of Mercedes-Benz, last week revealed that it will be buying $23 billion in battery cells by 2030.
What it didn't fully reveal—its sources for those cells—says as much, if not more about a point of unease among German automakers.
Battery packs—and specifically the cells inside—are the single most expensive component in an electric car, often costing as much as an engine, transmission, fuel, and exhaust systems combined for the gasoline-powered vehicles they replace, much of which is traditionally made by the German automakers directly or by entrenched suppliers. And there's a lot of pressure, in the EU and elsewhere, to keep that manufacturing base at home.
A European Battery Alliance exists, in part, for that reason. It estimates that with the EU taking a lead role in cell manufacture, it could create four to five million jobs.
In addition to that battery investment, Daimler will make an additional $1.1 billion investment into the construction of eight global battery factories—including one in Tuscaloosa, Alabama, and a joint venture with BAIC Motor in China. It's already finished constructing the first of these, in Germany.
Daimler aims to electrify much of its passenger-vehicle fleet, with 130 electrified models (electric, hybrid, and plug-in hybrid) by 2022. It also has big plans to compete with electric commercial vehicles, including buses and vans.
The plan assumes, as it points out, that electric vehicles increase to 15-25 percent of total vehicle sales by 2025.
BMW's commitment to battery packs is also a big-money figure, but not quite in the same realm yet as Daimler's number. It's planning to source $4.7 billion from the Chinese supplier CATL, with some of that coming from a CATL "gigafactory" in Erfurt, Germany.
That follows a $200 million investment in a Battery Cell Competence Center that exists to test different cell types. BMW has given some indications it also may be looking to source batteries from the Swedish startup Northvolt.
Other European players that may become involved in cell manufacturing but aren't yet involved on a significant scale include Saft, BASF, and Siemens.
The current heavyweight for electric-vehicle spending in Europe is, of course, Volkswagen. For what could be 15 million vehicles by the early 2030s, from its modular electric-vehicle architecture (MEB), the VW Group plans to spend $48 billion on batteries and related components, from a range of sources. It's already named four strategic partners for cell supplies: CATL, LG Chem, Samsung, and SK Innovation.
It's an issue the U.S. will have to deal with as well. Outside of Tesla, which jointly operates its Gigafactory with Japan's Panasonic, there are no U.S. automakers directly involved in cell production on any significant scale; and for now, the answer appears to be in localized cell production, by foreign companies.
An LG Chem plant in Michigan supplies cells to GM for the Bolt EV. And a plant recently announced by LG Chem's Korean rival, SK Innovation, has been announced for Georgia and will probably end up supplying cells to several automakers—likely including Daimler, for the upcoming EQC electric crossover, which will be assembled in Alabama.
The environmental and social issues are another motivating point behind the European Battery Alliance. Electric-vehicle makers have emphasized the need to not escalate the scramble for cobalt, which is sourced primarily from the Democratic Republic of Congo. To this end, Daimler will have a crew of 700 engineers audit raw-materials suppliers, and over the longer term greatly decrease the cobalt content in its cells.
In this era of tough talk about tariffs, it's an astronomical amount to either be handing overseas, or handing to an overseas company that otherwise has very little manufacturing footprint or legacy. It's understandable that the Germans are nervous. Perhaps Detroit should be a little more nervous, too.