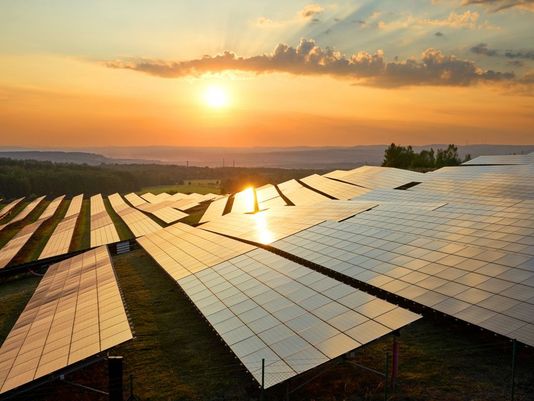 A University of Evansville class is working to raise the money to provide solar power to a school in Puerto Rico, helping it save money it can reinvest into education.
The project is one of the university's ChangeLab courses. The classes are semester-long courses in which students work to create positive change for businesses, nonprofits and the community. The small, multidisciplinary student teams are for-credit courses guided by faculty.
Physics Professor Angela Reisetter has taught her alternative energy ChangeLab course for seven semesters, helping a variety of local clients.
"We have a goal of educating the Evansville community that you can be environmentally minded and still save money. There is a conception that you can't do both of those things," she said. "You do have to put money into it upfront but it saves money in the long run."
This is the first time, however, that the class has taken on a project outside the area.
Rosa-Bell school in Guaynabo, Puerto Rico, was chosen because several of the students also play on the UE women's volleyball team. Both of its coaches attended the school, Reisetter said.
When Hurricane Maria hit Puerto Rico in 2017, Rosa-Bell students were out of school several months because the school lost power when its connection to the conventional electric grid was destroyed.
Patricia Joseph, a political science and international relations student and volleyball player, said the goal is to raise $500,000. The money will be used to buy materials and install solar panels so the school no longer needs to rely on the power grid. UE students also want to make the Puerto Rico school more energy efficient, installing LED lights and insulation.
The money saved by the school, an estimated $5,000 a month, could then be used for new educational programming, supplies and other school improvements, Joseph said.
While students are individually working to raise money through social media, Reisetter said the bulk of the funding will need to come from corporate sponsors, hopefully including companies in the solar industry.
Once the materials are procured, students will travel to Puerto Rico help work on the project, Reisetter said, although that may be a semester or two away.
The Powering Rosa-Bell Project will be discussed at a free, public event at 5 p.m. Tuesday in Room 100 of UE's Koch Center for Engineering and Science. Students will make presentations of their project. There will also be food, prizes, a panel discussion and trivia games focusing on climate change and the environment, alternative energy and Puerto Rico.