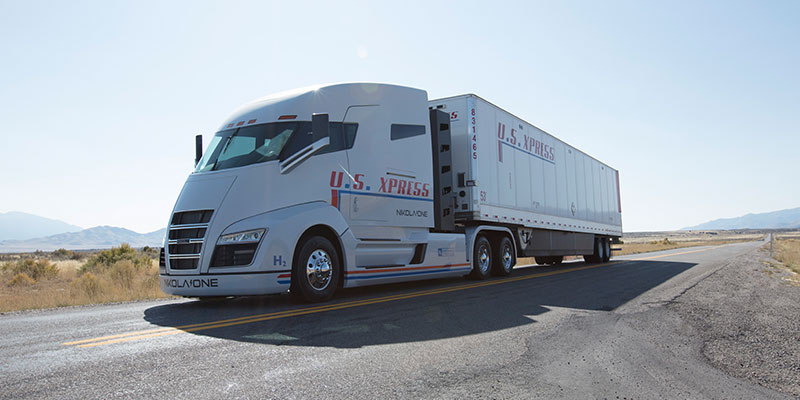 An Air Liquide hydrogen plant in the Western U.S. could hasten adoption of fuel cell-powered trucks by creating a sustainable supply of hydrogen for transportation fuel.
The plant would supply hydrogen to FirstElement Fuel's 19 NetZero hydrogen stations in California, where the majority of fuel cell-powered vehicles in the U.S operate.
The move "will enable an exponential increase (in) medium and heavy-duty trucks, buses, materials-handling equipment and other applications," Morry Markowitz, president of the Fuel Cell & Hydrogen Energy Association, told Trucks.com.
Air Liquide, the French-owned maker of industrial gases, said the plant would cost more than $150 million. It would be able to produce nearly 30 tons of hydrogen per day, enough for 35,000 fuel cell electric vehicles.
The plant site has not been announced, but construction is expected to begin in 2019.
HONDA, TOYOTA COLLABORATION
Air Liquide said it would collaborate with Japanese automakers Toyota and Honda to boost the adoption of fuel cell vehicles. Most of those are in California, which is expected to have 40,000 hydrogen-powered vehicles on the roads by 2022.
"It represents an important step in treating hydrogen as a real vehicle fuel," Mary Nichols, chair of California's Air Resources Board, told Trucks.com. "There was no real long-term, well-established source of supply."
Nikola Motors, which is developing fuel cell-powered semi tractors and its own hydrogen network, welcomes the additional source of hydrogen, Trevor Milton, Nikola chief executive, told Trucks.com.
NIKOLA'S NETWORK
Nikola has $13 billion in preorders for the Nikola One and Nikola Two tractors it will assemble at a plant under construction in Arizona. A start-of-production date has not been announced, but Milton has told Trucks.com the trucks should be in production in 2021.
The company is building a network of 16 hydrogen stations with Norwegian partner NEL ASA along 2,000 miles of North American freeways. Each of the stations will be able to produce at least eight tons of hydrogen per day.
Nikola has committed to having 700 hydrogen stations by 2028, a spokeswoman said.
"The investments by Air Liquide, Nikola and others in hydrogen production and fueling are a critical and necessary step to realize the benefits of this technology," said Jason Roycht, head of commercial and off-road vehicles in North America for Robert Bosch LLC.
Bosch is partnering with Nikola to mate its e-axle, which includes an electric motor, transmission and power electronics, to the fuel cells in Nikola's trucks.
RETROFITTING KENWORTH TRUCKS
Toyota is partnering with Paccar Inc. truck unit Kenworth to retrofit fuel cell powerplants in 10 Kenworth tractor cabs. The Japanese automaker said hydrogen from the plants could help lead fuel cell adoption because the trucks could travel the same routes and have return-to-base fueling available.
Toyota will use the Kenworth fuel cell trucks for short-haul drayage and possibly as car haulers. Shipping giant UPS will use two of the trucks for runs from the ports to Los Angeles International Airport, said Russ Koble, advanced technology spokesman for Toyota.
The first production truck is being retrofitted in Michigan, Koble said.