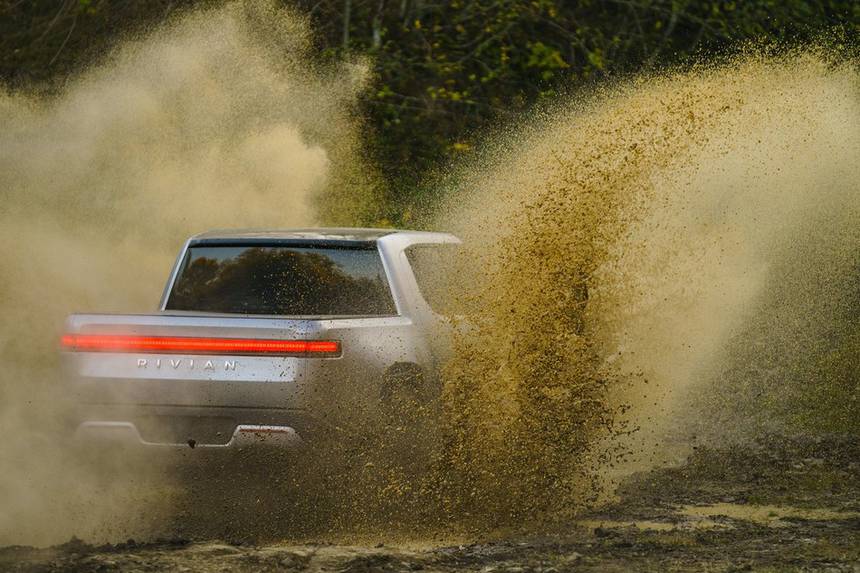 Is this really the future we want?
It's the classic pickup truck ad shot, wheels spinning as it crashes through the mud. The truck is the new Rivian electric pickup. Rivian founder RJ Scaringe says in a press release, "We're launching Rivian with two vehicles that reimagine the pickup and SUV segments. I started Rivian to deliver products that the world didn't already have – to redefine expectations through the application of technology and innovation."
It won't be truck-like inside, more like a moving living room:
"Although the exterior of the vehicle is what first attracts you, the interior is where you spend the most of your time, so we really focused on creating a transformational space," said VP of Vehicle Design Jeff Hammoud. "The biggest challenge was creating an interior design that delivered a premium experience, while still being comfortable as a space that is heavily used. To do this, we looked outside the automotive industry and took inspiration from contemporary furniture, as well as hiking and outdoor gear, to drive the design."
The truck comes with 180 kWh of batteries that will push it 400 miles. It's a big truck with very big batteries. (A Tesla Model S only has 100 kWh.) On average, in the USA, generating one kWh of electricity produces 1.13 pounds of CO2. So just as big cars produce more pollution than small cars, a big electric SUV uses more electricity and produces more CO2 from power generation than a little one.
And this is a very big truck or in this case, SUV. It weighs 2670 kg (5886 pounds) empty and 3470 kg (7650 pounds) fully loaded. That means that if the driver weighs more than 114 pounds, he or she will not be allowed to drive over the Brooklyn Bridge. Most of that weight is probably aluminum and batteries, having embodied carbon that might take years to pay off in fossil fuel savings.
Rivian's vehicles also feature a quad-motor system that delivers 147kW with precise torque control to each wheel, enabling active torque vectoring and maximum performance in every situation, from high-speed cornering to low-speed rock crawling. With 3,500 Nm of grounded torque per wheel (14,000 Nm of torque for the full vehicle), the R1T can reach 60 mph in 3 seconds and 100 mph in less than 7 seconds. This powertrain and chassis also enable the R1T's tow rating of 11,000 pounds.
It starts at $61,500 after Federal Tax credit, which President Trump is promising to cancel.
Meanwhile, over at General Motors, they are closing five factories that make cars and laying off ten thousand people because about the only vehicles people are buying these days are pickups and SUVs. They hope to sell electric ones as well. Justin Fox of Bloomberg writes:
It's enough to lead a person to wonder what will happen the next time gasoline prices spike and make fuel efficiency a priority again — which, when it occurred amid a brutal recession in 2008 and 2009, left two of Detroit's Big Three bankrupt. U.S. automakers seem to be betting that (1) with the spectacular resurgence in domestic oil production, a gas price spike won't happen again for a while and (2) maybe when it does they'll have a big enough assortment of electric vehicles on offer ("GM now intends to prioritize future vehicle investments in its next-generation battery-electric architectures," the company said in its announcement) to keep everybody from switching to Honda and Toyota. I wouldn't say they're wrong to think that. But they're definitely making a bet.
So this is the future we want: a whole bunch of giant heavy electricity sucking SUVs and pickups. It doesn't take a whole lot of imagination to realize that a world full of these doesn't look much different that what we have today. They take up just as much room and barely fit in parking spaces. Those flat walls of aluminum on the fronts will kill just as many pedestrians and cyclists.
None of this makes any sense. We need smaller vehicles that use fewer resources to manufacture and don't require so much energy to push, no matter what the source. We just don't have enough of anything to fill North America with three ton electric pickups and SUVs. It's all too much. Or as I have said before, we don't need electric cars, but need to get rid of cars.