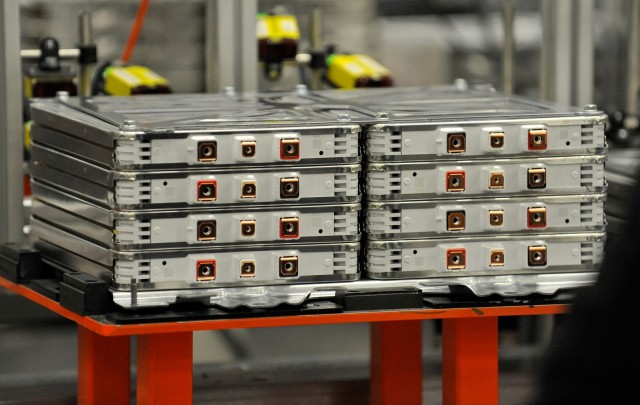 Envision Energy, a Chinese company that bought Nissan's former AESC battery business, says it will be able to make battery packs for less than $100 per kilowatt-hour in the next two years.
That number is significant, because it's the threshold at which automakers and analysts say electric cars will become cheaper to manufacture and sell than gas cars.
Currently, the Union of Concerned Scientists estimates that manufacturing automotive-quality lithium-ion cells costs about $145 per kwh, and that rises to $190 per kwh for automakers to build them into packs for cars.
The revelation came at Stanford University's Global Energy Forum last month, and was first reported by Forbes.
Stanford's Arun Majumdar, who was formerly a founding director of the Department of Energy's ARPA-E energy research program, opened the forum by raving that those $100-per-kwh battery packs would be attainable in the next five to seven years. That development, he said, would lead to "deep penetration of EVs around the world" in another 15 to 20 years.
Envision CEO Lei Zhang responded with a much more optimistic prediction: that envision will have battery packs that cheap by 2020, and that by 2025, the cost of its battery packs will drop to $50 per kwh. Stanford recently posted a video of his speech on YouTube.
At that level, he said that widespread adoption of electric cars will come almost "overnight." Electric cars will be 20 to 30 percent cheaper (than a diesel), and any government subsidies will be unnecessary. "Overnight, people are going t change, because it's a consumer market," Lei said.
That doesn't mean, though that cheap electric cars will become ubiquitous by 2020. Once a supplier like Envision is able to produce packs that cheaply, it could take as long as five years for automakers to build them into new car models.
Envision's immediate interest is in batteries appears to be for its primary business installing wind turbines and energy management systems.
Nissan, meanwhile, is converting to batteries from LG Chem for its next-generation long-range Leaf electric car.
At that rate, cheaper batteries may come even before a wide variety of electric cars is available for consumers to buy, though.
As Congress, the Trump administration, and world leaders debate how (or whether) to reduce tailpipe emissions, technological and business developments may pass them by.