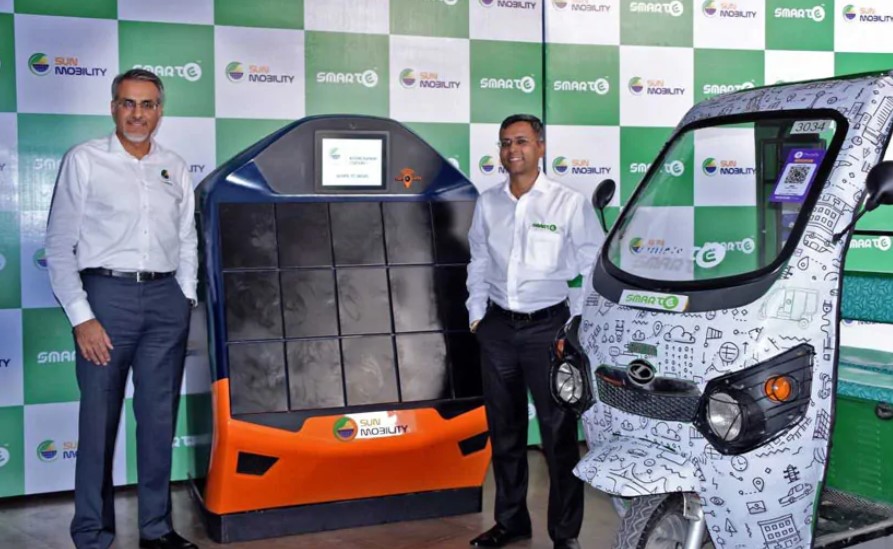 Sun Mobility and Smart E have entered into a strategic partnership to develop a new EV battery swapping system. Earlier this year, Sun mobility had showcased the interoperable smart mobility solution for two and three wheelers. SmartE's fleet of electric three-wheelers will make use of SUN Mobility's solution and will be deployed at SmartE park & charge Hubs across the Delhi-NCR, to cater to the first and last-mile connectivity services. The month-long field trials for this solution concluded in Gurugram last week and is claimed to be successfully. The partnership will see SUN Mobility scaling the battery swapping infrastructure in next 3 months to support 500 electric three-wheelers in Phase 1.
Goldie Srivastava, Co-Founder and CEO, SmartE, said, "The partnership underscores our commitment to make last-mile commute easy, safe, affordable and eco-friendly for everyone. SUN Mobility's Interoperable Smart Mobility solution will enable us to rapidly scale up our vision without having to worry about the energy infrastructure. As a pioneer in the electric mobility service space, SmartE plans to roll-out 100,000 vehicles by 2022. At 100,000 vehicles, SmartE will help reduce close to a million tonnes of carbon emissions, equivalent of planting 17 million trees per year."
Chetan Maini, Co-Founder and Vice-Chairman, SUN Mobility," Conventional electric three-wheelers that run on lead-acid batteries usually require eight hours of overnight charging and four hours of opportunity charge during the day. The assets remain idle half of the time during the day and could only cover 60-80 km which cause a loss of potential revenue. Our solution, through swapping, enables them to realize the full potential of last-mile transport and clock more than 150 kms per day. The partnership with SmartE will enable us to tangibly impact the lives of hundreds of people by making 'refueling' of electric vehicles faster, cheaper and more convenient for them to adopt."
By using SUN Mobility's smart batteries which use the advanced Lithium ion technology, the weight of the vehicle is reduced by 100 Kgs improving the efficiency of the vehicle, therefore allowing for increased mileage, better pickup and higher gradients. The Quick Interchange Stations enable electric three-wheeler drivers to swap their batteries in less than two minutes. The pilot results show a spike in the revenue as drivers are able to operate the vehicle for 40% longer range compared to the conventional Li-Ion battery-based vehicles and 80% more compared to conventional Lead-Acid battery-based vehicles.