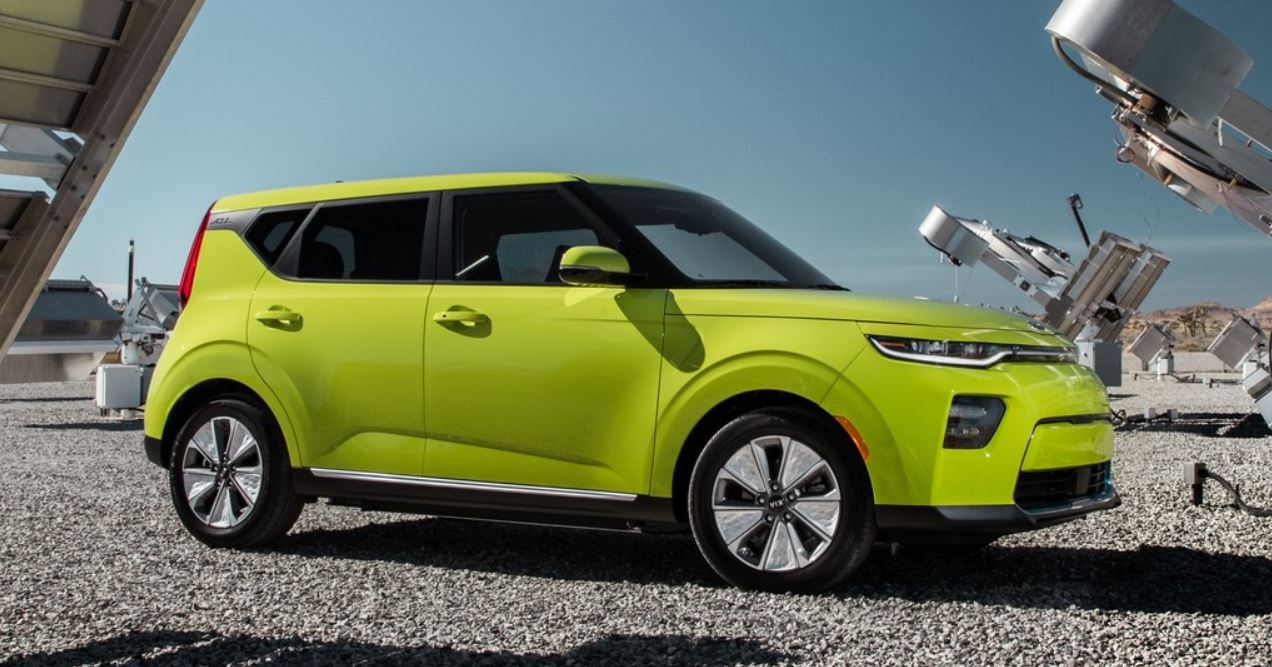 The slick next-generation urban electric compact crossover is hugely improved.
The next generation Kia Soul EV celebrates its world premiere at the 2018 Los Angeles Auto Show. One of the most upbeat urban compact crossovers is back with even more appeal & upgrades. The vehicle will be powered by a next-generation, state-of-the-art liquid-cooled lithium-ion polymer 64 kWh battery. That's the same as what's found in the Kia Niro EV, which goes some 301 miles per charge (WLTP) or an estimated 260 miles EPA.
Considering that the current Soul EV, with its 30-kWh battery pack, is EPA-rated at 111 miles, we figure this 2020 Soul EV, with 64-kWh on board, will travel close to 240 miles per charge, maybe even more. Sadly, since its Kia, this will be a limited offering in the U.S., so availability will be an issue.
The 2020 Kia Soul EV is set to utilize a 201 horsepower electric motor, delivering 291 lb-ft of torque. However, the new battery is currently being tested to ascertain precise EPA-estimated range. Results are expected early in 2019 and will be announced at a later date.
The award-winning and unconventional compact utility vehicle is one of the best looking compact crossovers on the market today. It's also one of the quirkiest and people pleasing cars money can buy, allowing Kia to successfully target the younger, more upbeat and better at EV adoption crowds as well.
One of the most impressive features of the new Soul EV is the new state-of-the-art liquid-cooled lithium ion polymer 64 kWh battery. According to Kia, it will allow owners much less need for daily charging, and with Combined Charging System (CCS) DC fast-charging as standard, charges should be brief so road trip fun can happily continue after only a short break.
The 2020 Kia Soul EV will come with Four drive modes – Eco, Comfort, Sport and Eco+ – that automatically adjusts power output to the traction motor, regenerative braking, air conditioning and heating settings, and set speed limits to help manage operating efficiency depending on driving conditions. Furthermore, smart regenerative braking operated via paddle shifters is also available. This will help drivers to slow the car with the electric motors, allowing less brake pad wear and helping to recapture kinetic energy, adding extra range. Three regenerative braking levels will be offered, depending on the desired driving smoothness and personal preferences, resulting in more enjoyment and improved efficiency.
However, one of the most interesting items on the 2020 Kia Soul EV is the Smart Eco Pedal Guide display on the instrument cluster. In a nutshell, the system keeps the driver aware of real-time battery usage based on accelerator pedal input. In turn, this allows every driver to fine tune their driving habits, allowing for longer range, better energy consumption and in the end, a more eco-friendly and cheaper motoring. That, alongside a big list of safety features, dubbed the "Kia Drive Wise" Advanced Driver-Assistance Systems, makes sure the driver and passengers can enjoy a safe drive.
In a nutshell, the 2020 Kia Soul arrives with more technology, available advanced driver assistance systems, increased cargo room and a more fun feeling behind the wheel.
Full press blast from Kia below:
ALL-NEW 2020 KIA SOUL EVi COMBINES SOUL-FUL VIBE WITH ALL-ELECTRIC BUZZ
Super Cool and Electric Too

• Next-generation uber-popular urban runabout again available with battery-only power
• Powered by a state-of-the-art liquid-cooled lithium ion polymer 64 kWh battery
• Combined Charging System (CCS) DC fast-charge is standard equipmentii
• 201-horsepower electric motor with 291 lb.-ft. of torque

LOS ANGELES, November 28, 2018 – Today Kia Motors America (KMA) introduced the 2020 Soul, a completely new version of Kia's beloved, award-winning and unconventional compact utility vehicle. In conjunction with that world-debut, the all-electric, battery-powered Soul EV was also unveiled. Just as quirky, fun-loving and crowd-pleasing, the Soul EV provides the opportunity for lovers of the Soul to drive without ever stopping for gas.

A Much Better Battery

The new Soul EV has a new state-of-the-art liquid-cooled lithium ion polymer 64 kWh battery which is expected to mean much less need for daily charging, and with Combined Charging System (CCS) DC fast-chargeiii as standard equipment, battery refills should be brief so road trip fun can happily continue after only a short break.

The new battery is currently being tested to ascertain precise EPA-estimated range. Results are expected early in 2019 and will be announced at a later date.

Driving Dynamics – The Soul EV is More Fun Than Ever

The Soul EV has always provided a bit of a magic carpet ride, whisking along silently with seemingly effortless pull. Now, with 201 horsepower and 291 lb.-ft. of torque (way up from 210 lb.-ft. in the outgoing model), drivers will feel like a virtual Aladdin. Handling and driving dynamics are also much improved, thanks to the addition of independent rear suspension. The new Soul EV also provides plenty of tools for drivers to customize their driving experience and their battery usage, including:

• Four drive modes – Eco, Comfort, Sport and Eco+ – that automatically adjust power output to the traction motor, regenerative braking, air conditioning and heating settings, and set speed limits to help manage operating efficiencyiv depending on driving conditions
• Smart regenerative braking operated via paddle shifters provides drivers the ability to slow the car and capture kinetic energy, adding extra range. Drivers can choose from four regen braking levels (0 to 3) depending on desired driving smoothness, enjoyment and efficiency
• Brake and Hold System feature allows regen paddle shifter to bring the car to a full stopv
• Smart Regen System adjusts the regenerative braking level based on a vehicle being detected in front of the Soul EV and creates smoother coast-down driving, especially when descending a steep roadvi
• Smart Eco Pedal Guide display on the instrument cluster keeps the driver aware of real-time battery usage based on accelerator pedal input

Technology Befitting a Thoroughly Modern Vehicle

The Soul EV comes equipped with a long list of state-of-the-art features to help enhance safety, improve the driving experience and provide ease of operation and ownership. Kia engineers and designers have thought of everything. Every Soul EV includes a suite of "Kia Drive Wise" Advanced Driver-Assistance Systems, and a long list of standard and optional equipment, highlights of which are listed below.
• High-tech rotary shifter (shift-by-wire)
• 10.25-inch color touchscreenvii with rear view monitorviii and parking guidance
• 6-speaker audio system (AM/FM/SiriusXM)ix with USB input
• Steering wheel-mounted audio controls
• Apple CarPlayx and Android Autoxi
• Bluetoothxii wireless connectivity with voice recognition
• 7 airbagsxiii (dual front advanced air bags, dual front seat-mounted side air bags, side curtain air bags with rollover sensor, driver's side knee air bag)
• Vehicle Safety Systemsxiv
◦ Antilock braking
◦ Traction control
◦ Electronic stability control
◦ Hill-start assist control
◦ Tire pressure monitoring system
◦ Pedestrian warning system
• "Kia Drive Wise" Advanced Driver-Assistance Systems (ADAS)xv
◦ Forward Collision Warning (FCW)
◦ Forward Collision-Avoidance Assist (FCA)
◦ Lane Departure Warning (LDW)
◦ Lane Keeping Assist (LKA)
◦ Driver Attention Warning (DAW)xvi
◦ Smart Cruise Control with Stop & Go
◦ Blind Spot Collision Warning (BSW) (available)
◦ Rear Cross-Traffic Collision Warning (available)
◦ Parking Distance Warning – Reverse only (available)
New for Soul EV is a revamped UVOxvii telematics system that allows owners to monitor and control a long list of vehicle operations, including:
• Notifications of battery and charging status
• Real-time charging station update
• Scheduled charging
• Panic notifications – the vehicle will send a notification to the server if the panic alarm is triggered and the system dials 911 emergency services, provides the car position via GPS, and opens a live microphone so that emergency workers can communicate with the vehicle occupants
• "Send2Car" points of interest (POI) and waypoints — owners will be able to plan a road trip with waypoints and send it to the vehicles' navigation system

Made in Korea and One Soul with a Whole Lot More

Built at the Gwangju plant in Korea, the Soul EV is expected to go on sale next year. Pricing will be announced closer to the on-sale date. Buyers can choose from two trims, the Soul EV and the Soul EV Designer Collection. Supporting its super-fancy sounding name, the Designer Collection model gets all the Soul EV goodies, plus a whole lot more, including:
• Two-tone paint: Gravity Grey with a Platinum Gold roof; Cherry Black with an Inferno Red roof; and Neptune Blue with a Cherry Black roof
• Power-folding gloss-black heated, power-adjustable outside mirrors with signal repeater
• 10-speaker Harman/Kardonxviii premium audio with external amplifier
• Wireless phone chargerxix
• Leather-wrapped steering wheel
• Heated front seats with Sofino premium non-animal seating upholstery
• Auto-dimming rear view mirror