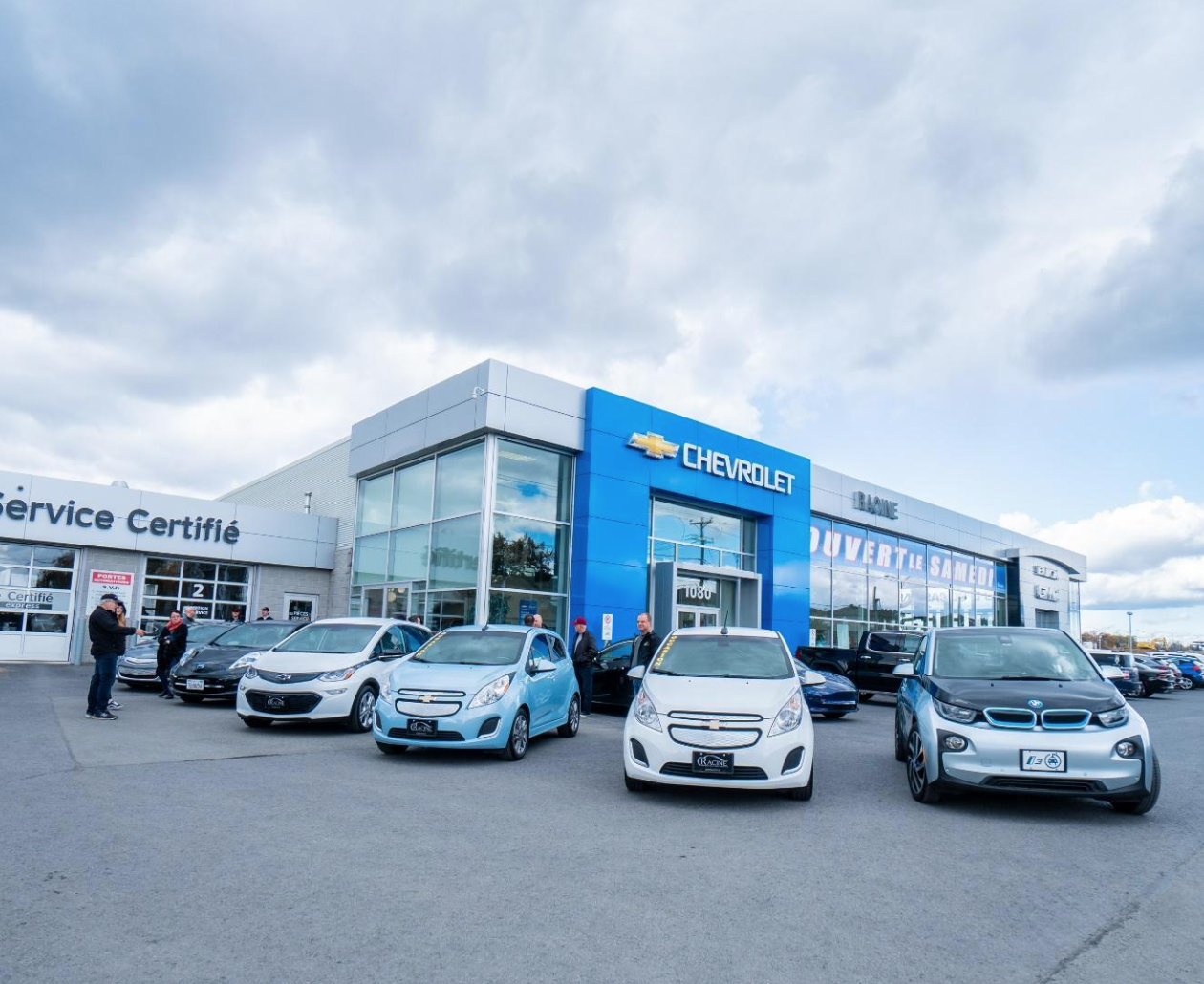 What? A GM dealership offering rides in a Model 3? And not just any Model 3, but a high-performance Model 3 from Québec's very own Ian Pavelko's — aka "The Mad Hungarian" — who slept 2 days in a tent to have the privilege of being Québec's first Model 3 reservation holder.
Ian's Model 3, which he has named "Magneto," is a modified Performance version of the Tesla Model 3 with upgraded wheels. He believes it is the fastest Model 3 in the world (best time so far is 0–60 mph in 3.12 seconds).
But wait, Racine Chevrolet is promoting a competitor? Why would it do that?
Until December 31st, 2018, Québec has a pre-owned electric vehicle (EV) incentive of $4,000 CAD. The aim is to increase the availability and purchase of inexpensive used EVs to accelerate the electrification of Québec's transport system. The target of the new incentive is to hit 100,000 EVs in the province by 2020. The last tally at the end of September showed that 35,170 EVs had been sold and sales were on the rise, following an exponential growth curve. According to FleetCarma, Québec achieved a 3.3% EV market share in the second quarter of 2018, which is quite high globally.
Despite Québec's Zero Emission Law forcing manufacturers to offer electric vehicles, the offerings are always smaller than demand. However, with the new incentive, drivers can purchase pre-owned EVs from the 1 million used plug-in vehicles in the United States and import them into Québec. Since the incentive was implemented a year ago, 1,136 plug-in vehicles have been imported from the US.
In the province of Québec, the #1 EV on the road is the Chevy Volt, and the #4 is the Bolt. This leads to Racine Chevrolet wanting to sell more EVs, but it is limited by what is available. If it could get its hands on more clean vehicles, they would sell more.
Racine Chevrolet's president, Florian Boire, has set a goal of becoming the #1 dealership in electric vehicle sales in Québec. In order to achieve this, the dealership opened a pre-owned EV division that will sell all EV brands, not just those from Chevrolet or even General Motors. The improved system is starting with Nissan LEAFs and BMW i3s, but all other EVs will follow, even Teslas. Racine is currently keeping 15 pre-owned EVs in inventory and is working to increase that number to 75.
At the rate at which Chevy Spark EVs are being imported into Québec, it seems likely that 100% of all the pre-owned Spark EVs from the US will end up in Québec, largely thanks to the structure of the new rebate. To celebrate the grand opening of the new EV division at Racine Chevrolet, Ian Pavelko brought his record-holding Tesla Model 3 Performance to show off to customers.
The festivities and adrenaline from all of the 0–60 mph runs might be over, but the dealership is still taking names from customers interested in getting into the Tesla Model 3 Performance at the dealership. To sign up, head over to this short survey and enter a few quick details to let them know you're interested. As a special bonus, each person who completes the survey is entered to in a raffle to win a $99 CAD credit on your circuit électrique card.
The grand opening also featured road tests in a handful of electric vehicles for attendees to run through the paces, including: the Chevy Bolt, Chevy Volt, Chevy Spark EV, Nissan LEAF, BMW i3, Hyundai Ioniq, and Ford C-Max Energi.