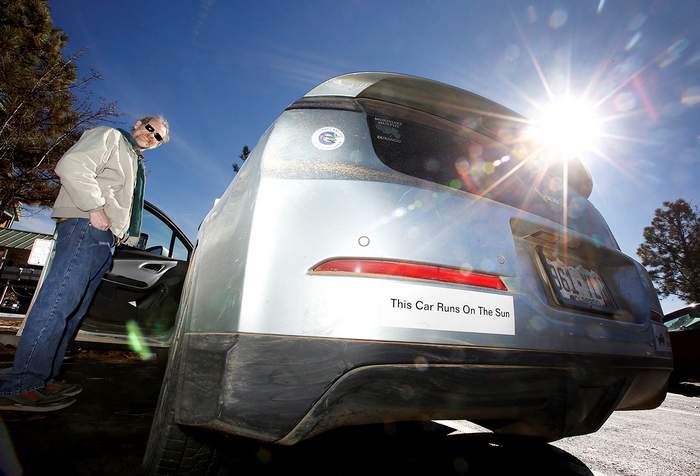 Durangoans are known as avid outdoor enthusiasts, taking to the road to get to recreational opportunities all over the Four Corners, whether it is high in the San Juan Mountains or low in the red rock canyons of Utah.
But all that driving takes a lot of fuel that sends carbon emissions into the atmosphere, which raises the question for many environmentally-minded residents: Has the electric vehicle caught up to the Durango lifestyle?
The short answer: Not yet, but it is getting there.
"A new day is dawning," said Gordon Rodda, a Hesperus resident who bought his first electric vehicle in 2012. "It's just a matter of another year or two until those vehicles are available."
Instead of categorizing car models by year, as is commonly done with vehicles powered by gasoline, electric cars are better thought of in terms of "generations," Rodda said.
One of the main issues with electric vehicles is the cars' range, in terms of mileage that can be covered on a battery charge. But with each new generation, the vehicles are pushing the limits of how far that charge can go, he said.
The first generation of Nissan Leafs, for instance, got about 100 miles on one charge. The second generation, about 140 miles. And now, the Leaf, in its third generation, can travel up to 240 miles on a single charge.
For perspective, one could easily travel to Moab, about a 160-mile journey one-way, and recharge at the several charging stations there.
John Lyons, a Durango resident and retired NASA research engineer, said electric vehicles also boast the special quality of recharging when traveling downhill, which comes in handy when going up and down mountain passes.
But even with better range, Lyon acquiesced that the current models of electric cars can't handle the mountainous, windy terrain or desert back roads that commonly lead to the best hiking and camping spots.
"These generations of electric vehicles are built for highway and road use," he said, "not for anything off paved roads."
A better option, however, might be on its way.
Recently, for instance, the president of General Motors announced every car GM produces will have an option to be powered by electricity, which includes off-road vehicles, Lyons said.
And Rodda said next year a number of car manufacturers are coming out with electric SUV four-wheel-drive vehicles.
"The world is changing very quickly with regards to options for electric vehicles," he said.
As always, the infrastructure for electric vehicles, namely charging stations, is an ever-evolving obstacle for widespread use of the vehicles, said Laurie Dickinson, executive director of the Four Corners Office for Resource Efficiency (4CORE).
There are a number of charging stations around Durango, including at the Smiley Building, the La Plata Electric Association offices and Mercy Regional Medical Center. But Dickinson said there has been a greater push to get charging stations around the region.
This year, for instance, the town of Mancos will install a solar-powered charging station in its Town Park, and Pagosa Springs is also installing a charging station in its town park.
A new, fast-powered charging station at Poncha Springs, just outside Salida, makes trips to Denver exponentially more convenient, she said.
"Getting the infrastructure that supports the electric vehicle is such a critical piece," Dickinson said.
The website www.plugshare.com (also available as an app called PlugShare) is perhaps the most comprehensive database for showing where charging stations are located around the country, she said.
With that information in hand, electric vehicle owners can plan out their trips to, say, Bluff, Utah, and know exactly where they can stop to charge, and what kind of charging station is available.
Benny Gutierrez, a sales agent at Nissan of Durango, said he sold about 50 Leafs in 2017 and 25 Leafs so far this year, driven in part by a group-buy program through 4CORE that offers up to $15,000 in savings.
He said most of his customers use the cars to get around town, especially considering it is possible to travel 190 miles at the cost of $4.50.
After using an electric car for a while, Gutierrez said drivers learn tricks.
For instance, to get to his home on Florida Mesa, he'll take the short trip up Farmington Hill. But to get back to town, he'll travel on U.S. Highway 160 through Elmore's Corner, which is on a lengthy downhill gradient.
That way, with the electric car recharging on the downward slope, he has evened out his battery use.
"People really do love these cars," he said.
Rodda said once the four-wheel-drive SUV electric vehicles come out in the next year or so, he'll make the purchase. That way, he can travel to the outdoor places he loves while having less of a carbon footprint, he said.
"Still, a lot of the places we do go are accessible with this vehicle," he said. "I don't take it all the way up to Kennebec Pass, but I can get within a few miles."