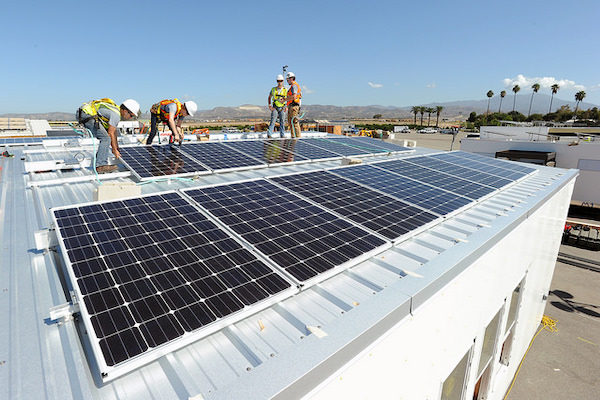 There they go again. President Trump has made a few attempts to keep coal stakeholders in his fold, but the simple fact is that coal just can't keep up with the 21st century energy landscape. Climate change, resiliency impacts, and plain old bottom line considerations are driving renewable energy policies in the US military, in cities and states, and even within Trump's own cabinet. A case in point is the US Department of Energy, which is placing a $46 million bet on solar energy to address the problem of supplying emergency power for key community facilities.
Solar Energy And National Security
The new pot of $46 million is coming from the perspective that on-site energy generation is the most efficient way to ensure that the lights stay on at critical facilities.
Somewhat ironically, coal used to fulfill that on-site energy function, at least for heat and hot water. Coal chutes and smokestacks were once a common feature of hospitals and other critical infrastructure around the US, including military facilities. Whatever happened to that? Who knows!
Anyways, that was then, this is now. The new funding will go to a program called "Situational Awareness and Resilient Solutions for Critical Infrastructure."
The aim is to "strengthen the integration of solar on the electricity grid, especially at critical infrastructure sites, improve the resilience of the nation's electricity grid, and streamline technology transfer challenges."
The Energy Department defines critical infrastructure as "the essential services that are vital to the economy, security, and health of the nation," which leads to this statement of confidence in solar energy:
Solar generation can play a critical role in ensuring continuity of service at these sites during widespread disruptions from either man-made or natural threats.
If that thing about security is starting to ring some bells, there's a good reason for that. The US military is all over on-site renewables as a means of improving energy security at its facilities. That trend is beginning to intersect with and help drive renewable energy and resiliency initiatives in communities that host military installations, too.
Solar Energy And The Internet of Things
The new $46 million in funding will be split in two areas. One is an R&D area that seeks "unique and innovative solutions that increase grid operators' situational awareness of solar PV systems deployed throughout the electricity system at strategic locations."
That's already pretty close to reality with the advent of microgrids and smart grid technology. If you're thinking of IoT and cloud-based data services that provide grid operators withe the ability to coordinate and predict intermittent outputs, you're on the right track.
CleanTechnica just spent a few days over at Schneider Electric's Digital Innovation Summit in Atlanta, Georgia, and the takeaway from that event was pretty clear: today's microgrid technology can seamlessly coordinate multiple distributed energy resources including storage, and also enable grid-connected facilities to go into island mode without an interruption in power.
If you have any other ideas, drop us a note in the comment thread. In the meantime, the Energy Department drops a hint:
These tools are expected to improve resilience of the nation's critical infrastructure and can help to ensure continuity of service during widespread disruptions from either man-made or natural threats. Projects should also show how a fleet of multiple solar systems in different locations could respond to fast-changing conditions under normal operations and could provide power to critical loads during grid outages.
Got all that? The other topic area focuses on projects that are past or well into the R&D phase, and are ready for field testing with a focus on a high penetration of solar energy:
…These solutions should identify the strategic location of solar PV systems that will ensure that critical infrastructure will have power during widespread disruptions from either man-made or natural threats. These projects must demonstrate how the technology solutions result in greater resilience of the nation's critical infrastructure.
Not for nothing, but the $46 million funding pot is just one initiative in a full suite of Energy Department programs that promote solar energy grid integration.
In addition to grid integration, the agency continues to support research that helps keep the cost of solar cells down, down, and downer (check out the latest perovskite research, for example). Its funding umbrella also covers ongoing support for solar energy adoption by rural electric co-ops as well as tribal lands and cities and towns.
Helping to grow the PV industry workforce is another area of focus, which is kind of ironic considering that the US coal workforce continues to shrink with no relief in sight.
The Shrinking World Of US Coal Power
Speaking of the US coal industry, it's worth nothing the Energy Department is carrying out its renewable energy mission against the backdrop of White House directives intended to protect US coal power plants.
The task of carrying out those directives has fallen to the agency's chief, Rick Perry. So far, though, his stabs at saving US coal jobs have been ill conceived (shocker!) and all but doomed to fail out of the gate.
The series kicked off with the notorious 2017 "grid study" shortly after Trump took office, which was roundly criticized from all quarters, including oil and gas stakeholders.
The grid study lead to an equally excoriated rate re-structuring proposal, which was promptly torpedoed by FERC. A followup proposal aimed at saving coal also died a quick and merciful death, at the hands of Trumps's own appointed FERC chairman, no less.
And so on. The latest attempt to keep the nation's aging fleet of coal power plants chugging along pivots on national security. That's a legitimate issue, but DOE's ham-handed approach was practically laughed out of the room by the National Security Council last month. The National Economic Council is also prepared to give it the bum's rush, as reported by our friends over at E&E News.
A recent trip by Perry to Eastern Europe indicates that the Trump administration is leaning on the export market to prop up the US coal mining sector, but that's cold comfort for workers at US coal power plants.
That's also not the greatest news for US coal miners. The countries Perry visited — Poland, Ukraine, Hungary, and Czech Republic — have been late to the low carbon economy game, but they are starting to come around.
In the meantime, Perry has been quite effective at cheerleading for the growth of renewables in the US, so go figure.