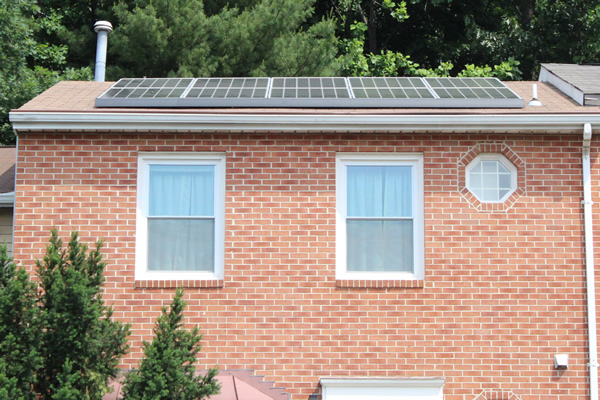 Founded by electro-mechanical engineer Herve Billiet and environmental scientist Joe Marhamati, Ipsun Power's mission is to "fight climate change by installing as many solar panels as we can." Billiet and Marhamati believe that solar energy should be accessible universally so that everyone can generate their own power through a clean and renewable source.
The name "Ipsun" comes from the Latin word Ipsum meaning, yours. The company does residential, commercial and utility-scale solar panel installations in the Washington D.C., Maryland and Northern Virginia areas.
Billiet and Marhamati met while working at the U.S. Department of Energy collaborating on the technical analysis of financing for some of the world's largest renewable energy projects. Their teams financed more than $30 billion of projects, including the generation of renewable energy and electric vehicles.
"Herve and I worked together on a number of projects at DOE, from technical analyses and greenhouse gas inventories to understanding how the projects we financed were helping the environment," Marhamati said. "But from the time we met and recognized the ambition and entrepreneurial spirit in each of us, there was a real desire to start a business of our own. After the change in administration, it was clear that much of the work to be done in bringing more clean energy to the grid would be from the private sector. We saw that with solar prices decreasing, the greater adoption of electric vehicles, and the greater acceptance of pro-solar regulatory policies in the D.C. area, that now was the time to start our business."
Marhamati expressed that what differentiates his work at the Department of Energy from that at Ipsun Power is that Ipsun is "not subject to political winds which can favor priorities and leave a team with deep uncertainty about the future of their program." He says politics and agency budgets are fluid, but you can plan for the long term with greater certainty with solar energy because solar energy brings an untaxed stock market return with no volatility along with technology constantly advancing and improving upon that value.
Marhamati sees Ipsun as a positive and proactive response to the reality of the dire scenarios that could result from humans altering the climate as a result of sending large amounts of carbon pollution into the atmosphere. He believes that it is possible to avoid the most serious scenarios from carbon pollution if all economies and countries do their part. According to Marhamati, added benefits of going solar include saving money for residents and businesses and making communities healthier by reducing dependence on energy from sources that make air unhealthy and cause asthma and other problems.
Ipsun's services to residential and commercial properties are similar, with a few key differences. Both residential and commercial services involve an electric service meter that keeps track of volume and have a roof or area of land suitable for laying out solar panels. Approach and timing are the differences. According to Marhamati, businesses are usually slower to finalize a decision-making process about a solar power investment. It can take time to discuss all the angles, such as the economics, tax advantages and the potential to get the whole community excited about what the business is doing with solar as a reason to move ahead. Homeowners typically only involve a single person or a couple who have been considering solar for a long time and have different goals than those of businesses. Manufacturer warranty is typically discussed more often with homeowners as well, since homeowners want to be sure they have a reliable product that will last.
"We want people to take ownership of their power, regardless of who they are. That's why we made inclusion central to our beliefs and central to our internal ethos," Marhamati said. "Our employee handbook is signed by each and every member of our team, and it outlines in clear detail not just that we don't tolerate discrimination on the basis of sex, gender, creed, sexual orientation, and any other marker, but that each and every day we will foster a community of inclusion so that everyone we interface with can be part of our movement to bring clean, renewable energy into their homes and under their control."
Marhamati told the Blade that Ipsun currently has no plans to expand, as he has seen a trend toward local, hands-on, family and employee owned companies. Additionally, Ipsun's current service area allows for the company to work efficiently, often getting projects completed in a single day. Marhamati describes growth for Ipsun as "adding more rooftop crew members to keep up with business."